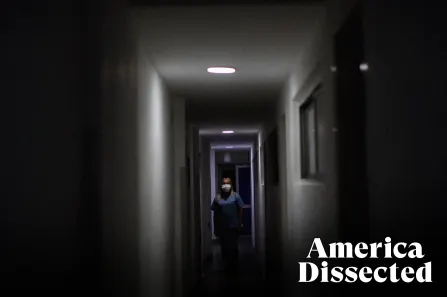 America Dissected : Private Equity vs. Public Health with Eileen O'Grady
PESP Healthcare Director Eileen O'Grady joined Dr. Abdul El-Sayed on Crooked Media's America Dissected podcast to talk about private equity and public health. Eileen spoke about the trends seen with private equity investment in healthcare, especially the trend of purchasing and shuttering hospital services in rural communities.
---
Episode description
Across the country, healthcare chains have been buying hospitals up like properties on a Monopoly board — changing their names and shuttering hospitals in rural communities. What's driving this? The corporate influence on healthcare. Private equity firms with no expertise in healthcare have gotten into the game of consolidation, too, buying up clinics, healthcare companies, and community hospitals and stripping them for their parts. Abdul talks about the consequences and interviews Eileen O'Grady, a researcher and organizer who's been on the front lines of exposing it.
---
PESP recently released a new report, "Private Equity Descends on Rural Healthcare," which provides an unprecedented look at the private equity industry's incursion into rural healthcare.
By most measures, the health of people living in rural areas is significantly worse than in non-rural areas. Compared to urban residents, rural residents generally experience poorer health outcomes and a higher prevalence of chronic conditions. An estimated one in three rural adults lives with a disability, impacting their hearing, vision, cognition, mobility, self-care, or independent living. Americans in rural areas more likely to die by suicide.
This new survey examines the extent to which private equity has invested in rural health, as well as key financial drivers of significant investment activity in this uniquely distressed part of our health system. The report also examines case studies of PE-owned companies in several rural healthcare sectors that highlight some of the risks posed by private equity's incursion into rural healthcare.