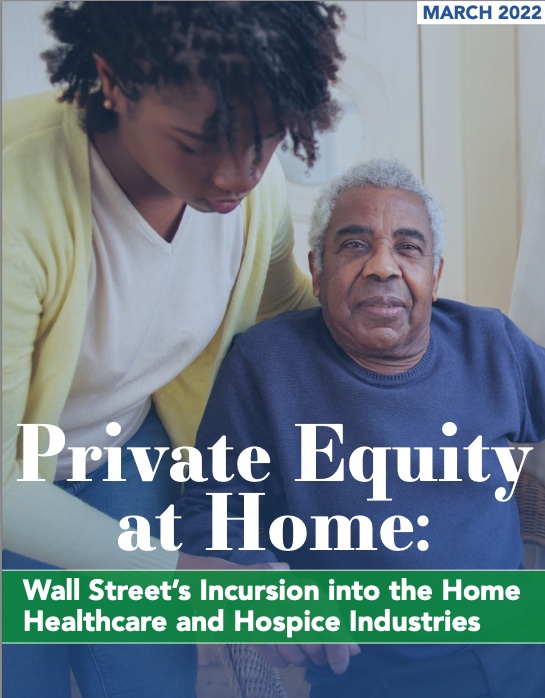 Common Dreams: Report Rings Alarm Over Private Equity's Grip on Home Health, Hospice Industries
McKnights Home Care and Common Dreams reported on the Private Equity Stakeholder Project's latest report, "Private Equity at Home: Wall Street's Incursion into the Home Healthcare and Hospice Industries."
The report reveals how for-profit home health and hospice agencies have been linked to lower standards of care, fewer patient visits, higher hospitalization rates and poorer pay than their nonprofit counterparts.
McKnights Home Care, March 22, 2022: Watchdog sounds alarm over private equity investment in home health, hospice
While non-profits have previously constituted the majority of home healthcare and hospice companies, both sectors are now dominated by for-profit companies. Although the industries remain fragmented, private equity firms have acquired large home healthcare and hospice companies and consolidated smaller ones to establish large footholds in both industries.
In an extensive interview with Common Dreams, PESP's policy coordinator and report author Chris Noble said that home healthcare is "an even less regulated space than nursing homes."
Common Dreams, March 18, 2022: Report Rings Alarm Over Private Equity's Grip on Home Health, Hospice Industries
Noble told Common Dreams, "As folks in this country especially are utilizing home health and at-home hospice a lot more… this is something we should at least take as serious," added Noble, who is calling on lawmakers to pay more attention to private equity's incursion into the home healthcare and hospice sectors.
He warned that as private equity's takeover of the home healthcare and hospice industries gains speed, "profit incentives continue to jeopardize quality of care for patients and quality of life for employees."
For-profit home healthcare and hospice companies have experienced their share of controversy, including:
Underpaid and overworked employees (who are mostly women of color);
Medicare fraud; and
Lower quality of care compared to their non-profit counterparts.
Such problems have the potential to be exacerbated by the common private equity strategy of pursuing outsized returns over relatively short periods of time (e.g., 25% return over a period of 3-7 years).
Noble shared ways "to mitigate the harms of what he termed private equity's 'model of profit extraction,' including urging "Congress to strengthen transparency laws to require changes in ownership and control of home healthcare and hospice companies to be reported to the federal government." which "would allow the public to 'know what entities are ultimately accountable for the care of their loved ones.'"
Another recommendation included "prohibiting or limiting dividend recapitalization and strengthening regulatory oversight in the home-care industry by requiring a higher frequency of inspection for a period after a period after a change in ownership."
Companies like Brightspring Health Services, Interim Healthcare and Aveanna Healthcare are examples of controversial home healthcare and hospice companies that are, or were previously, owned by private equity firms:
Brightspring Healthcare (KKR, Onex Corporation) has been subject to a number of wage theft lawsuits and investigations related to lapses in patient care.
Interim Healthcare (Levine Leichtman Capital Partners, Wellspring Capital) has been investigated for violations of the False Claims Act, similar to other companies under its private equity owner's control.
Aveanna Healthcare (J.H. Whitney and Bain Capital) was subject to a Bloomberg investigation that shed light on its cost-cutting practices and their relationship to staffing issues and patient neglect.
Noble told Common Dreams, "As the home healthcare and hospice industries continue to be consolidated by private companies, policymakers should be vigilant as to the effects that such consolidation may have on patient care and employee wellbeing.
"Transparency and accountability for privately-owned home healthcare and hospice companies is key to ensuring that quality of care, competition, and fair labor standards remain intact, and that public money goes towards improvements in the industry rather than simply lining the pockets of private equity shareholders."