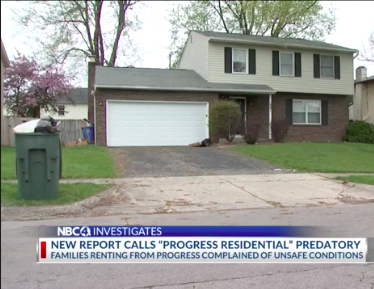 NBC Covers PESP Report on Progress Residential
Columbus, Ohio's NBC4 featured a story about PESP's recent report that looked at Progress Residential, a landlord with more than 1,100 properties in central Ohio.
NBC4, April 17, 2023: Report calls for changes by 'predatory' central Ohio landlord
NBC4 reported that PESP's "Progress for Who?" calls Progress Residential predatory and harmful to local housing markets.
"They go into these markets, they buy up a lot of homes, and that doesn't always have really great impacts for the people who are living in the city that's both renters and would-be homeowners," PESP's Madeline Bankson said in an interview with NBC4.
The report, explains NBC4, outlines three major problems Progress tenants often face: frivolous evictions, deferred maintenance and what it calls "junk fees" – like the $40 dollars a Columbus tenant said she was charged to have an eviction notice taped to her door after Progress failed to retrieve her rent check.
Jyoshu Tsushima, an attorney with the Columbus Legal Aid Society, told NBC4 that issues in the report have become more common in recent years as more corporations buy up housing stock in Franklin County.
"I think a lot of people out there do not understand how few protections they actually have as renters. And that is being taken advantage of," Tsushima said.