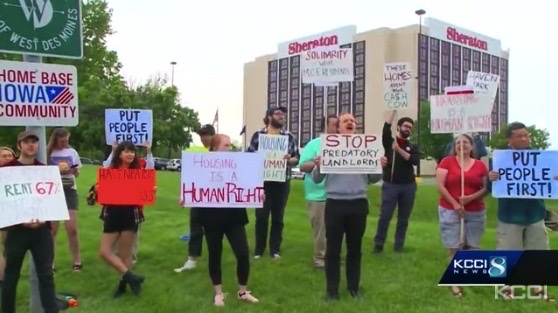 NPR: How the government helps investors buy mobile home parks, raise rent and evict people
NPR extended its ongoing investigation of corporate investor buy-ups of mobile home communities, flagging how companies such as Havenpark Communities are aided by billions of dollars of low-interest-rate loans backed by the federal government. And the volume of that financing has risen sharply in recent years.
NPR, December 18, 2021: How the government helps investors buy mobile home parks, raise rent and evict people
According to NPR, this trend is "hurting the homeowners that can least afford it. For millions of Americans, owning a home in a mobile home park has been an affordable way to keep a roof over their heads. Families living in them make around $32,000 a year."
Havenpark Communities President and CEO Robbie Pratt said that US government-owned Fannie Mae-backed loans have, "supercharged our asset acquisitions." and that "the loans allowed the company to buy more than $100 million worth of mobile home parks in a single year."
As mom and pop owners of mobile home parks are retiring and looking to sell, NPR reported how investors and companies "are swooping in to buy up these parks. They raise fees and rents for the land under the homes, and evict people who can't pay….a disturbing trend that's happening to residents in parks around the country."
See our 2019 report with MHAction and Americans for Financial Reform Education Fund: Private Equity Giants Converge on Manufactured Homes
One tenant who has been threatened with eviction three times during the pandemic told reporters that Havenpark started raising her lot-rent and fees – about 40 percent since 2017. When she fell behind on the lot rent, Havenpark filed an eviction case against her.
Worse, NPR spotlighted how mobile home park investors like Havenpark "put the squeeze on residents" with billions of dollars in taxpayer assistance through federally backed companies that have "a core mission of helping to make homeownership affordable."
An economist told NPR that "When private investors come to buy parks, [they] raise the rent, sometimes 20, sometimes 50, sometimes 70 percent" and what's really troubling "is that the government is basically turbo-charging this trend."
Similar to refinancing one's house and pulling cash out with the new mortgage, "when a company raises the rents and fees in a park, that increases the cash flow and makes the park more valuable on paper so the company can then borrow more money against the property."
This cycle potentially displaces "more of the nation's poorest homeowners" as the companies repeat this again and again, "a cascade of borrowed money used for buying up mobile home parks."
Manufactured Housing Action's (MHAction) Elisabeth Voigt told NPR, "If [Havenpark's] goal was to preserve affordable housing they would be working with tenants to come up with a payment plan, to accept partial payments. The last thing they would be doing is immediately filing for eviction as soon as a family falls a little bit behind, especially in the middle of a global pandemic."
NPR cited a previous report of "a family with a 5-year-old son who lost their home of 16 years during the pandemic after Havenpark evicted them. The company filed for eviction after the family fell just one month behind on lot rent and owed $621."
MHAction "is leading a new coalition of 20 affordable housing groups that are pushing the federal regulator overseeing Fannie and Freddie to do more to help residents of mobile home parks."
In the meantime thousands of residents of manufactured homes remain in a vulnerable situation – unable to afford increasing lot rent and fees of their corporate landlords and being threatened with eviction.