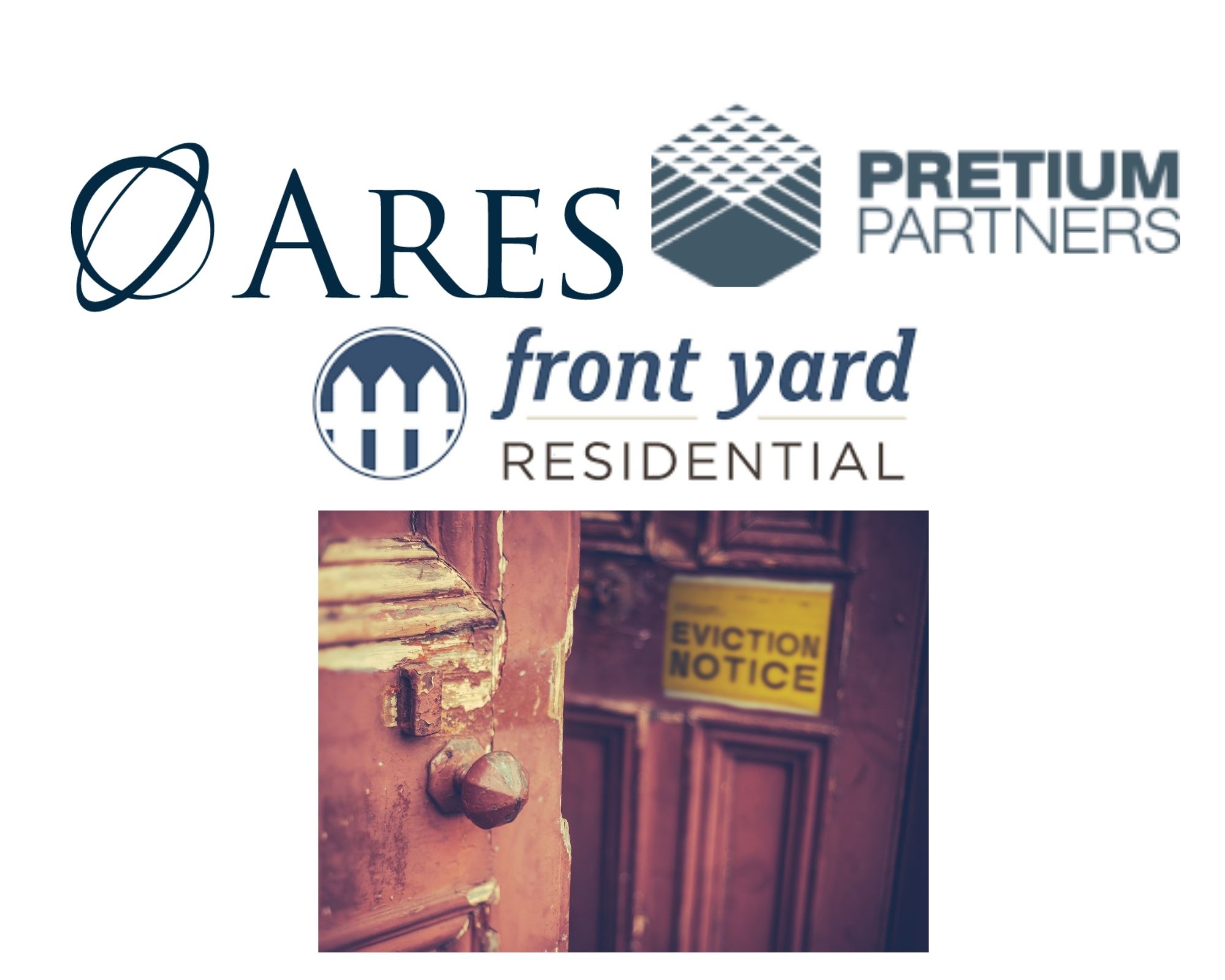 PERE News on Growing Scrutiny of Evictions by Ares Management's and Pretium Partners' Front Yard Residential, Private Equity Investments in Rental Homes
Evictions are just one of the headline risks that have cropped up around growing private equity investments in single-family rental homes. Concerns about private equity buyers inflating home prices and elbowing out first-time homebuyers have featured prominently in newspapers ranging from the New York Post to the Wall Street Journal, according to PERE News.
PERE News, June 17, 2021:CalPERS feels the heat as single-family rentals face more scrutiny
During the California Public Employees' Retirement System (CalPERS) Board of Administration meeting last Monday, PESP Director Alyssa Giachino shared how Front Yard had filed to evict more than 500 tenants since the beginning of the year despite the CDC eviction moratorium.
She also said the Georgia-based single family rental company acquired by Ares and Pretium Partners had moved to evict residents in majority-Black counties at much higher rates than in majority-white counties. Specifically, she cited majority-Black Clayton and DeKalb counties in metro Atlanta, where the group says Front Yard filed eviction actions against 16 percent and 18 percent of tenants, respectively.
Also see our April report, PANDEMIC EVICTOR: Don Mullen's Pretium Partners Files to Evict Black Renters, Collects Billions From Investors
"The company's eviction filings, particularly its disproportionate filings against Black renters…are clearly a headline risk," Giachino said. "Ares Management's failure to address or even respond to questions about its company eviction practices represents a significant management failure on Ares' part, one that CalPERS should be concerned about given its recent investment of $1.3 billion [with Ares]."
"Given the scope of CalPERS' relationship with Ares, we believe CalPERS should ask Ares Management why its home rental firm is evicting renters in majority-Black counties at five to six times the rate of tenants of majority-white counties," she said. "In addition, please ask Ares to meet with renters to discuss what steps it will take to address concerns that Front Yard-Haven Brook tenants have raised." Haven Brook is Front Yard's property management arm.
According to Pensions & Investments, Giachino also noted that "We have seen a number of filings in the past month where Front Yard has sought to circumvent the moratorium by not renewing leases of residents that have filed CDC hardship declaration."
Pensions & Investments, June 15, 2021: CalPERS weighs revising tracking error to accommodate alts