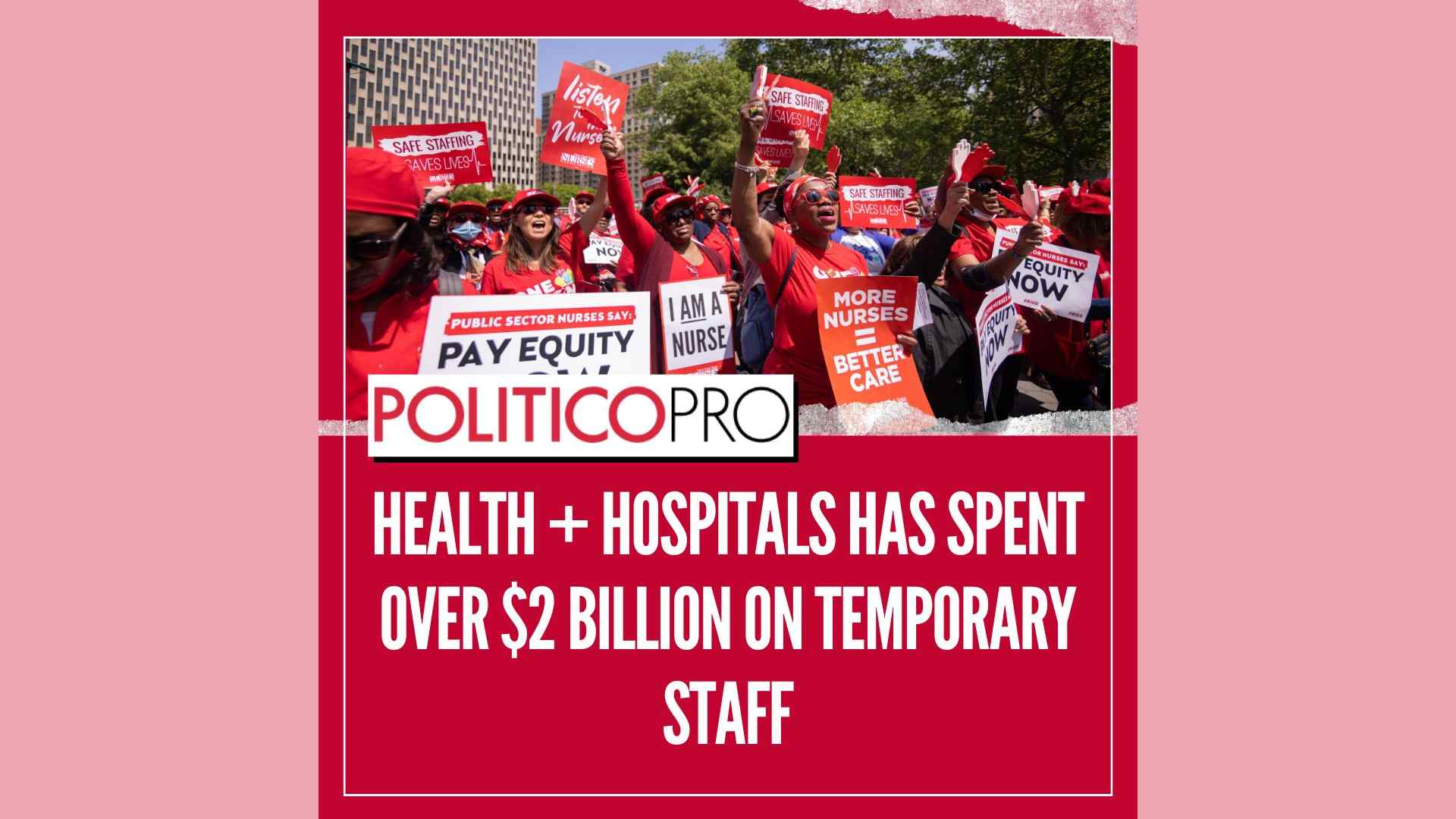 Politico : Health + Hospitals has spent over $2 billion on temporary staff
PESP-obtained invoices regarding the contract between NYC Health + Hospitals and private-equity-owned RightSourcing were shared exclusively with Politico. The PESP public records request led to a story in Politico on how NYC Health + Hospitals has spent billions on temporary staff since the start of the pandemic, much higher than previously reported.
NYC Health + Hospitals continues to heavily rely on temporary staff even after the decline of the Covid-19 pandemic. Invoices obtained by the Private Equity Stakeholder Project reveal that the public hospital system has spent over $2 billion since 2020 on temporary workers. These invoices were shared exclusively with Politico.

The hospital system has a contract with the private-equity-owned company RightSourcing, which collaborates with various staffing agencies to provide temporary healthcare workers for both clinical and nonclinical roles. The original contract approved a spending limit of $140 million annually, as indicated in materials from a 2020 Health + Hospitals finance committee meeting. However, the contract's terms changed due to the pandemic's increased staffing requirements.
At the time of the story publication, the New York State Nurses Association was working to negotiate a new collective bargaining agreement for public-sector nurses at Health + Hospitals. The union has used information about the significant expenditure on temporary nurses and other staff to advocate for higher wages. The union's stance is that increasing staff pay would be more cost-effective by improving recruitment and retention, as opposed to continuously spending large amounts on temporary workers to fill vacant positions throughout the system.
After the story's widespread distribution by advocates and the nurses union itself, the New York State Nurses Association announced on July 31 that NYSNA nurses won a new contract with NYC Health+Hospitals and the City of New York. The contract includes "an award for pay parity and safe staffing, several agreements to improve nurse retention, and the creation of a citywide nurse float pool to improve staffing and reduce the overreliance on temporary travel nurse contracts."
According to the NYSA press release, highlights of the new contract include: 
Two years of pay parity wage increases, effective 7/31/23. The awarded payments of $16,006 in year one and $5,551 in year two bring public-sector salaries up to par with NYC private-sector nurse salaries.

Salary increases of 3%, 3% and 3.25% in years 3, 4, and 5 of the contract that when combined with parity award total an increase of at least 37% over the life of the contract for all full-time members

Improved staffing ratios, and new staffing ratios will be expanded beyond the 11 acute care hospitals into other RN settings.

Improved staffing enforcement, including a new staffing subcommittee, and expanded pool of mediators to hear and resolve staffing disputes, and a fact-finding process if the parties fail to reach an agreement on mediation.

A new system-wide float pool to improve staffing throughout the hospitals and reduce nurse floating and use of expensive temp travel nurses.