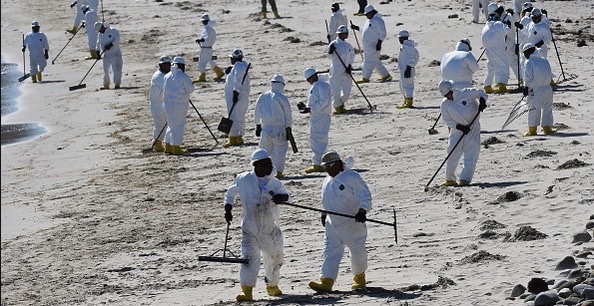 The New York Times Covers Private Equity Stakeholder Project's Report on the Climate Crisis
In its latest report on how private equity is contributing to the global climate crisis, the Private Equity Stakeholder Project examines the energy holdings for ten of the world's largest alternative asset managers that manage a total of $3 trillion in assets: Ares Management, Apollo Global Management, The Blackstone Group, Brookfield Asset Management/Oaktree Capital, The Carlyle Group/NGP Energy Capital, CVC Capital, KKR, Kayne Anderson, TPG Capital and Warburg Pincus.
PRIVATE EQUITY PROPELS THE CLIMATE CRISIS: The risks of a shadowy industry's massive exposure to oil, gas and coal

how the private equity industry has invested at least $1.1 trillion into the energy sector over the last decade — double the combined market value of three of the world's largest energy companies, Exxon, Chevron and Royal Dutch Shell — even as "the oil and gas industry faces upheaval amid global price gyrations and catastrophic climate change."
Private Equity Stakeholder Project Climate Director Alyssa Giachino told The New York Times, "You see oil majors feeling the heat, but private equity is quietly picking up the dregs, perpetuating operations of the least desirable assets."
The report details how the private equity industry has pumped hundreds of billions of dollars into fossil fuel companies—buying up offshore drilling in the Gulf of Mexico, propping up fracking operations, expanding infrastructure through pipelines and export terminals, spewing pollution from gas and coal power plants—with minimal public scrutiny.
The ten private equity firms examined in the report collectively own over 300 portfolio companies across the energy sector, with 80 percent in fossil fuels. These fossil fuel holdings are contributing to the climate crisis through emissions of methane, carbon dioxide and other greenhouse gases — with minimal public scrutiny.
These investments and operations have significant and long-lasting impacts on the planet and its people, with communities of color shouldering a disproportionate share of the harms of fossil fuels including compromised health and damage from extreme weather tied to climate change.
As publicly listed oil majors face growing pressure to cut emissions, many are seeking to demonstrate movement by selling fossil fuel assets. However, private equity firms have repeatedly stepped up as buyers of those assets, negating progress on climate impacts.
The report concludes that the private equity industry must take responsibility for its role in the climate crisis. Firms should disclose all energy holdings and impacts, a plan to swiftly transition to clean energy, and ensure investment practices align with a 1.5 degree Celsius scenario. Investors, regulators and policymakers must compel private equity firms to provide full transparency on their fossil fuel holdings and impacts and act now to ensure a livable future for all.