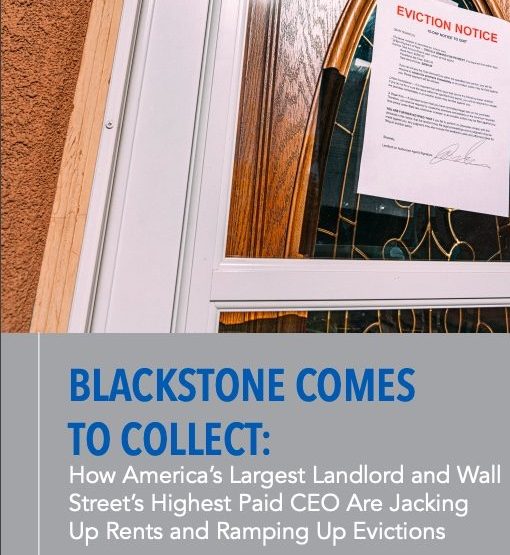 Vice: Tenants of America's Biggest Landlord Form Union to Fight Evictions, Rent Hikes
Vice covered PESP and ACCE's report, BLACKSTONE COMES TO COLLECT: How America's Largest Landlord and Wall Street's Highest Paid CEO Are Jacking Up Rents and Ramping Up Evictions. THe report described how Blackstone, the country's largest landlord, resumed evictions in 2022, resetting some rents with huge increases.
Vice, March 31, 2023: Tenants of America's Biggest Landlord Form Union to Fight Evictions, Rent Hikes
The coverage also described how Blackstone's tenants are organizing. The Blackstone Tenants Union (BTU) in San Diego aims to fight evictions and rising rents since the corporate landlord started evicting families again.
One tenant told Vice how she doesn't understand why such a rich company needs to resort to evicting tenants. "If they have billions of dollars….what's the need of kicking [people] out and getting more money? Why are they so money hungry?"
Vice reported how "Blackstone's reach extends far beyond San Diego, and even the United States. In 2019, the UN accused Blackstone of exacerbating the housing crisis across the globe by inflating rents across its portfolio and charging enormous fees for repairs and maintenance. The problem was not just in the U.S., but also in Denmark, Ireland, the Czech Republic, Spain and Sweden."
Citing the report, the article explained that at a group of apartment buildings at Escondido in San Diego County, Blackstone's evictions appear to have allowed the company to raise rents faster than it would legally be able to through lease renewals, according to the report.
California state law limits rent hikes in lease renewals to 10 percent or less, yet average rents in these buildings have grown by as much as 64 percent between September 2021 and March 2023, according to the report.