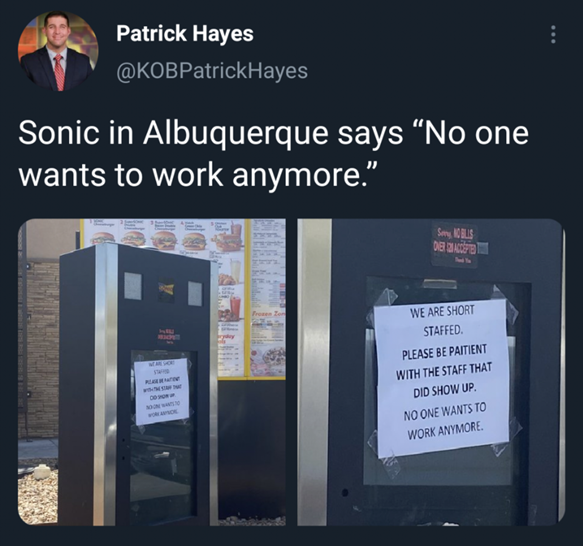 Articles Highlight Roark Capital-Owned Fast Food Chains' Struggle to Find Workers
Roark Capital is an Atlanta-based private equity firm that specializes in buying and running franchise businesses, especially within the food and restaurant industry. 

There have been a number of recent news stories about restaurants and fast-food chains struggling to hire enough workers, which has put a strain on existing workers, causing many of them to quit. Some restaurants are having to close dining rooms or cut hours as a result.

A recent American Prospect article discussed the labor shortage faced by two Roark Capital-owned businesses, Sonic Drive-In and Jimmy John's, citing "low pay and abysmal working conditions."

An assistant manager who worked at Jimmy John's for five years before recently quitting said, "New employees would come in, work for a day or two, and then never show back up – and I don't blame them. Nobody deserves to be treated the way that customer service staff is these days."

Roark Capital-owned Jimmy John's has already seen its sales per store decline in recent years (see our recent report, "Is Roark Capital Building a Franchise Bubble?").

Zella Roberts, who left her job at Sonic in April due to the low pay, is also featured in this and an April Wall Street Journal article. 

Roberts recorded a video message for investors in Sonic's parent company, Roark Capital.
Roberts explains in the video that car hops, who bring food out to customers' cars, are paid below the federal minimum wage – just $5/hour, because Sonic has designated them as tipped workers. The expectation is that they will receive enough in tips to bring them up to the minimum wage.
However, as Roberts points out in the video, since Sonic is a fast-food restaurant, many customers don't realize they're expected to tip, and customers who order at the drive-up stalls are not even able to add a tip if they pay with a debit or credit card. 
In another article, the owner of over 50 Sonic restaurants in Louisiana said that he could use as many as 10 workers more at each location, even though he had raised the starting wage to $8/hour and occasionally gave workers cookies or cake during their shift. "We're just not getting a lot of applications. This (issue) didn't just happen. It's exaggerated right now, but staffing in our industry has been in bit of a decline for a couple of years," the Sonic franchisee said.
A recent social media post that went viral showed a sign at a Sonic drive-through apologizing for being short-staffed because "No one wants to work anymore."
While this is an industry-wide problem, it poses a large operational risk for Roark Capital since so many of its investments are in the fast food industry.