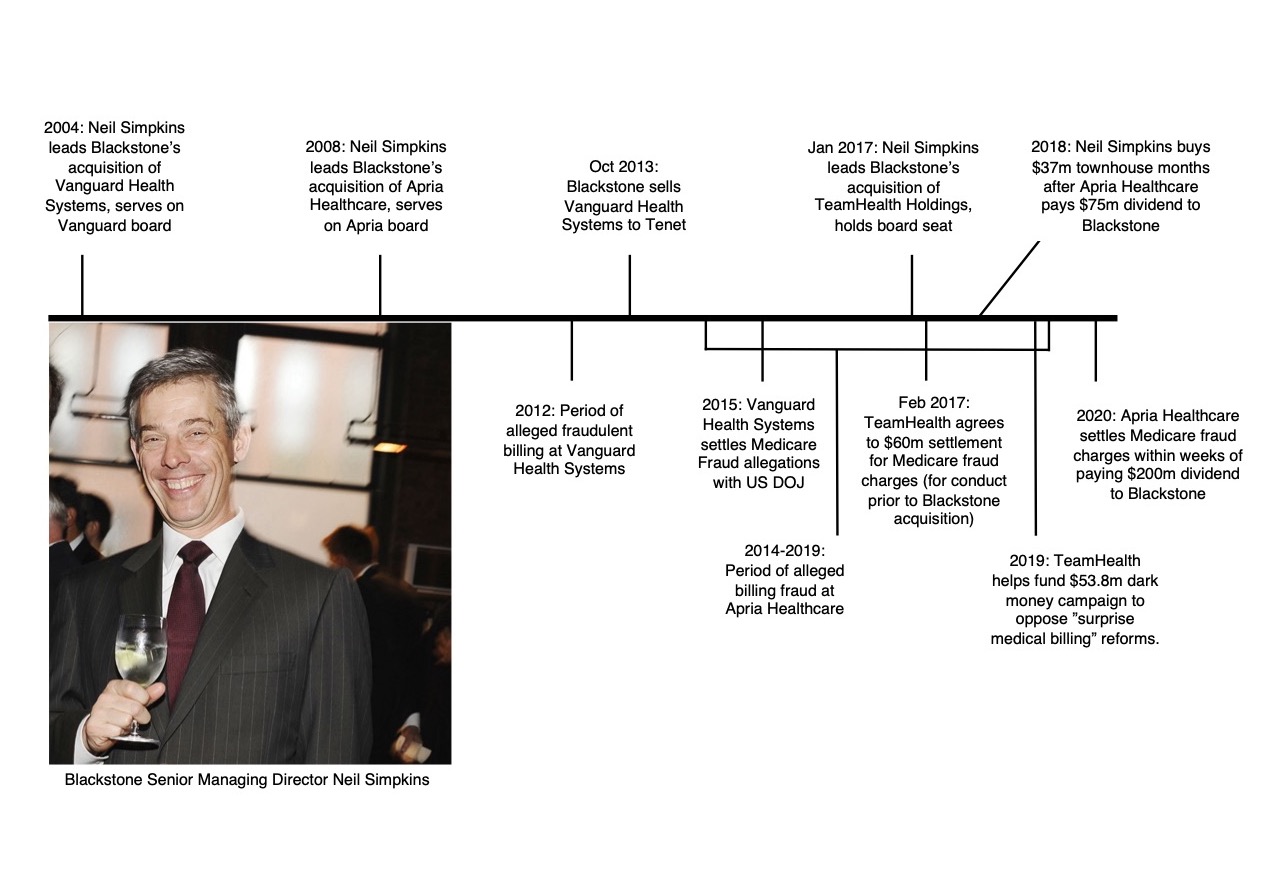 Blackstone a Repeat Offender in Health Care Fraud Settlements
Last week, the Blackstone Group made headlines for extracting hundreds of millions of dollars from a health care company accused of fraud and then cashing out further by taking it through an IPO.
Blackstone is a repeat offender when it comes to owning health care companies that have paid out multimillion dollar settlements for allegedly defrauding Medicare and other government health programs. The same Blackstone executive led acquisitions of multiple healthcare that later paid fraud settlements, suggesting significant failures of monitoring or due diligence.[i]
Blackstone's Apria Healthcare, which rents out at-home ventilators and other medical products, paid its owners a $210 million debt-funded dividend in December, the same month that the company agreed to a $40.5 million to settle allegations of Medicare fraud.[ii]The Washington Post reported that the company submitted false medical claims for ventilator rentals worth millions of dollars to the government, even as it eliminated the jobs of respiratory specialists needed to ensure patients were properly using the machines.[iii]
According to the Washington Post, a Blackstone spokesman claimed its executives were unaware of the conduct at Apria that led to the False Claims Act settlement:
"Anderson said Blackstone executives were 'absolutely not' aware of the conduct described in the complaint as it was occurring."[iv]
See the Washington Post, March 1, 2021: "How private equity extracted hundreds of millions of dollars from a firm accused of Medicare fraud."
Apria is at least the third Blackstone-owned company to settle False Claims Act suits, two of which related to conduct that occurred under Blackstone's ownership. The acquisition of all three of those companies (Apria, Vanguard Health Systems, and TeamHealth Holdings) was led by Blackstone Senior Managing Director Neil Simpkins.
Simpkins led Blackstone's acquisition of Apria and has been on Apria's board since Blackstone acquired the company in 2008.[v] In September 2018, just months after Apria paid a $75 million dividend (in June 2018) and during the period Apria was accused of defrauding Medicare, Simpkins bought a $37 million townhouse in Greenwich Village.[vi]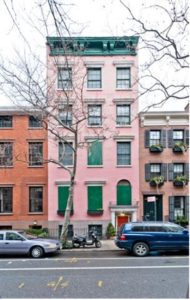 Simpkins also led Blackstone's 2004 acquisition of Vanguard Health Systems, which in 2015 settled False Claims Act allegations with the U.S. Department of Justice (DOJ). The complaint against Vanguard alleged that the company inflated patient bills, billed for services not provided, performed unnecessary tests to fraudulently increase billing, and altered certain data to fraudulently increase billing.[vii] Blackstone sold Vanguard Health Systems to Tenet Healthcare in 2013, but the False Claims Act allegations related to actions taken in 2012, while Blackstone owned the company.[viii]
Simpkins also led Blackstone's 2017 acquisition of TeamHealth, a physician practice platform that in 2017 also settled with the DOJ related to Medicare fraud allegations. The alleged fraud occurred at a company TeamHealth acquired prior to Blackstone's ownership.
In 2019, TeamHealth helped fund a $53.8 million dark money campaign to block federal legislation cracking down on "surprise medical billing" practices in which patients are unexpectedly hit with exorbitant charges, often following visits to emergency rooms.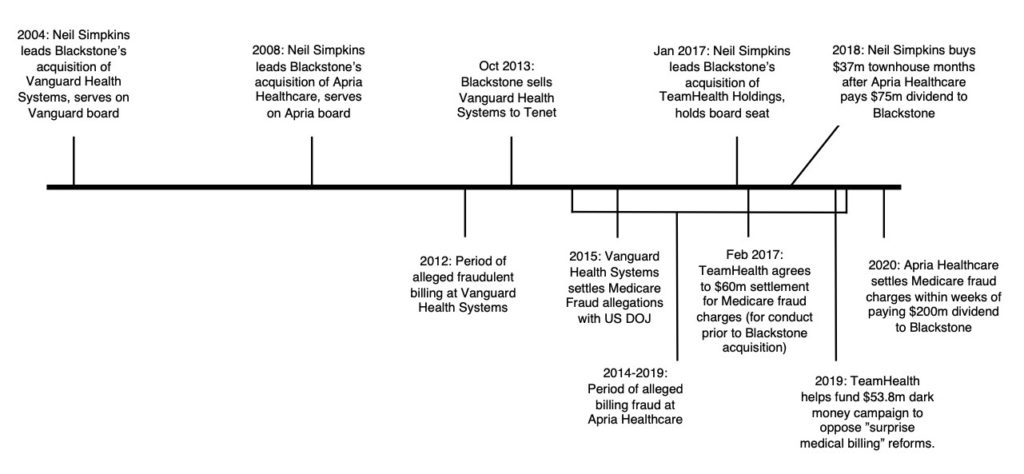 Given the fraud allegations and settlements at TeamHealth and Vanguard Health, Simpkins should have been familiar with Medicare compliance issues at the time the alleged fraud occurred at Apria Healthcare. The fact that three Blackstone-owned companies have settled False Claims Act suits—two of which related to conduct that occurred while Blackstone owned the firm—suggests a significant failure of due diligence or monitoring by Blackstone.
Blackstone is one of the largest health care investors in the US, with 55 health care investments totaling $26.2 billion since 2007.[ix]
See our report: "Money for Nothing: How Private Equity has Defrauded Medicare, Medicaid, and Other Government Health Programs, and How that Might Change."
---
[i]https://www.blackstone.com/people/neil-simpkins/
[ii]https://pestakeholder.org/blackstone-collects-debt-funded-dividends-from-apria-healthcare-within-weeks-of-billing-fraud-settlement/
[iii]https://www.washingtonpost.com/business/2021/03/01/blackstone-healthcare-private-equity-dividend-apria/
[iv]https://www.washingtonpost.com/business/2021/03/01/blackstone-healthcare-private-equity-dividend-apria/
[v]https://www.blackstone.com/people/neil-simpkins/
[vi]https://www.wsj.com/articles/top-blackstone-exec-breaks-record-for-downtown-new-york-townhouse-1536851766
[vii] United States of America ex rel. Shanna Woyak vs Vanguard Health Systems Inc.' Abrazo Healthcare. CV 12-1356-PHX-ROS.
[viii]https://www.financierworldwide.com/tenet-healthcare-acquires-vanguard-health-systems#.YEEvYXdKhZo
[ix] Pitchbook, "The Healthcare PE Investment Landscape" Q3 2020 report.