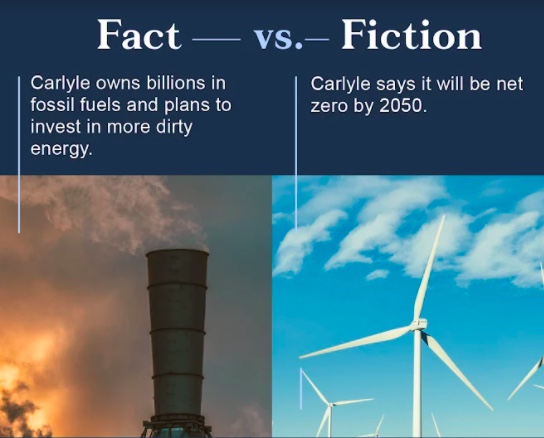 Cashing in on Climate Chaos: CleanupCarlyle.org
The private equity industry has pumped hundreds of billions of dollars into fossil fuel companies with minimal public scrutiny.
The Carlyle Group has one of the largest portfolios of dirty energy companies among the diversified private equity firms, as reported by LittleSis and Private Equity Stakeholder Project in, Private Equity's Dirty Dozen: 12 firms dripping in oil and the wealthy executives who run them,
Carlyle disclosed in a February annual filing with the SEC that it has roughly $24 billion invested in fossil fuels – even while the United Nations has published a bleak assessment of the growing climate crisis.
Private equity executives, like the Carlyle Group's David Rubenstein, are investing billions in fossil fuels, then greenwashing their reputations by donating millions to the world's most prestigious cultural institutions and universities and sitting on their boards.
Building on findings of the Private Equity's Dirty Dozen report, LittleSis and the Private Equity Stakeholder Project, in partnership with Climate Nexus, are working to expose private equity's role in driving the climate crisis, hiding behind philanthropy as their investments ravage the earth and harm people.
Carlyle's Rubenstein holds powerful leadership positions at multiple cultural institutions. We are calling on The Kennedy Center, the National Gallery of Art, and the Harvard Corporation to drop David Rubenstein. Visit CleanupCarlyle.org for more information.