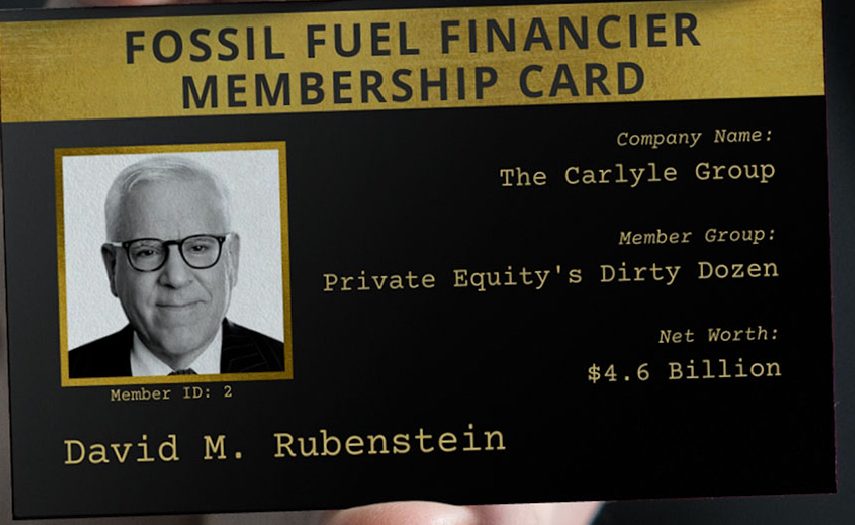 Cleanup Carlyle campaign shines light on Rubenstein's powerful positions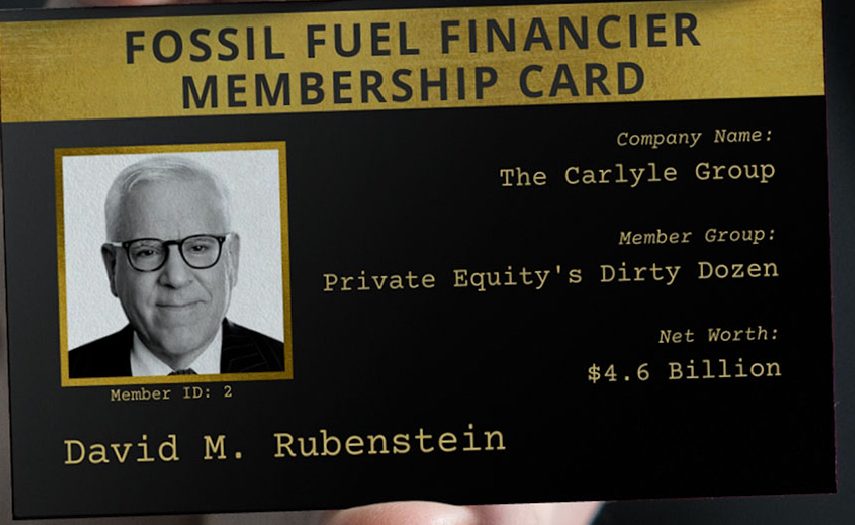 The Carlyle Group's ties to prominent cultural and academic institutions have been under fire due to the firm's extensive investments in fossil fuels.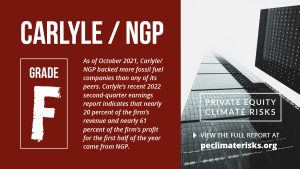 The firm ranked last among other large PE firms, receiving an F grade on the Private Equity Climate Risks Scorecard. As shown in the "Private Equity's Dirty Dozen" report, the Carlyle Group topped this list with its extensive fossil fuel investments, including its ownership stake in NGP. The report, by PESP and Little Sis, highlighted billionaire David Rubenstein, the Co-Founder and Co-Chairman of The Carlyle Group, mapping out his network of philanthropic ties.
Rubenstein and other PE executives lead firms that invest billions in fossil fuels, then they greenwash their reputations by donating millions to the world's most prestigious cultural institutions and universities and sitting on their boards.  
As reporter Nina Lakhani featured in The Guardian's dirty dozen story, Rubenstein, has attained positions of power at respected institutions, including the Kennedy Center, the Harvard Corporation, and the National Gallery of Art.
CleanUp Carlyle shows these institutions the importance of dropping David Rubenstein from leadership positions. Events occurred at the Kennedy Center and the National Gallery of Art in Washington, D.C. You can view more on these eventshere. Our coalition calls on these arts institutions, in addition to Harvard University, to make tangible their institutional committee to act on climate by dropping David Rubenstein from their boards. Here is more coverage of the campaign's action events.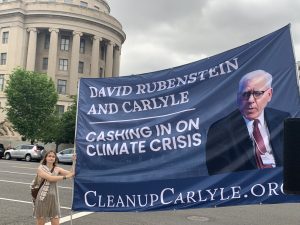 Carlyle has been in the news over the past few months defending its energy policy after the firm's February Net Zero announcement. This announcement was then followed by Carlyle committing to ongoing fossil fuel investment, the merging of its energy infrastructure and relying on NGP for ongoing US carbon energy investment. The company has even been quoted supporting their commitment to dirty energy assets, saying "Our philosophy is you can't divest." And now Carlyle is under fire for not disclosing its largest oil and gas investment in its report on financial risk from emissions.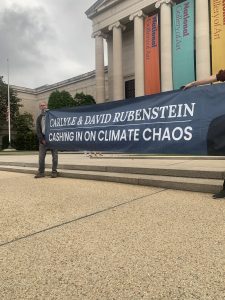 In response to Carlyle's bold moves to continue investing in fossil fuel assets, the Private Equity Stakeholder Project and Little Sis, as well as Divest Harvard students, supported action events at multiple institutions at which Rubenstein enjoys leadership and governance roles. These events illuminated the growing national resistance against private equity's investment in the fossil fuel industry. 
Clean Up Carlyle expanded with Twitter campaigns and webinars that further helped highlight the facts around Carlyle's connections to fossil fuel. Additionally, campaign partner Little Sis recently highlighted Rubenstein's latest prestige post at the University of Chicago and the hypocrisy of such a position.
Highlighting how Carlyle's dirty investments harm communities and pose financial and reputational risk for the firm's investors and affiliated institutions is vital. Using the retirement funds of millions of workers, including teachers, nurses, and firefighters in public service jobs, private equity exposes the retirement savings of ordinary people to the climate and financial risks associated with fossil fuels.
The people who face the most significant costs of continued investment in fossil fuels and the accompanying climate crisis are the front-line communities and stakeholders who must contend with the environmental harm associated with private equity's ownership of fossil fuel companies. Structural racism and systemic inequalities are woven throughout our climate emergency, and those who bear the greatest toxic burdens end up being low-income communities and communities of color.