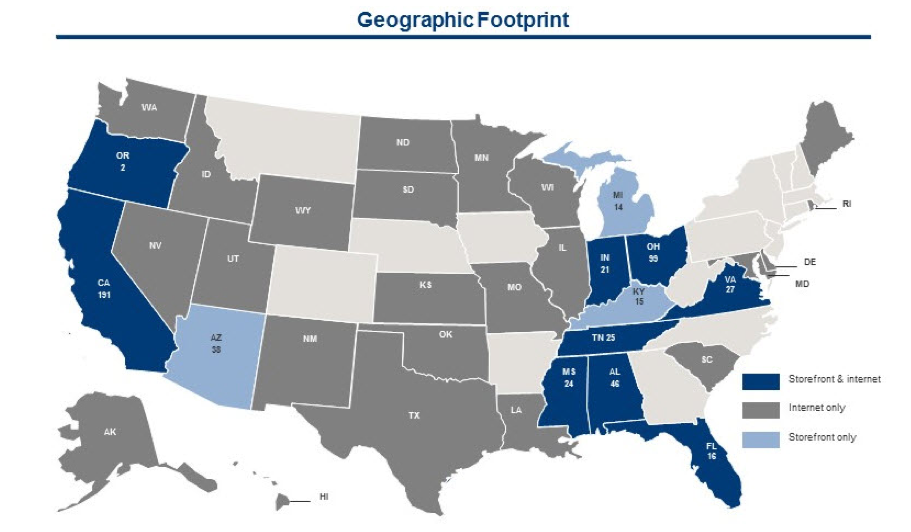 Diamond Castle Holdings, Golden Gate Capital – Community Choice Financial
From report "Private equity piles into payday lending and other subprime consumer lending"
(Written jointly by Private Equity Stakeholder Project and Americans for Financial Reform)
Community Choice Financial (CCFI) was formed in 2011 by CheckSmart, owned by private equity firm Diamond Castle Holdings, to acquire California Check Cashing Stores, owned by Golden Gate Capital, another private equity firm. Although Community Choice Financial held an IPO in 2012 and is publicly traded, as of March 2017 it was still majority (53%) owned by Diamond Castle Holdings and 13% owned by Golden Gate Capital.[i]
Diamond Castle Holdings co-founder Andrew Rush and Managing Director Michael Langer have served on the Community Choice Financial board since 2006. Mark Witowski, Vice President at Diamond Castle, has served on CCFI's board since 2012. Felix Lo, a Principal at Golden Gate Capital, has served on the Community Choice Financial board since 2011.[ii]
Community Choice Financial operates as CheckSmart, Buckeye CheckSmart, California Check Cashing Stores, Cash & Go, First Virginia, Buckeye Title Loans, Easy Money, and Check Cashing USA. Community Choice Financial also operates as California Budget Finance, Quick Cash, PLS Financial Services and Cash 1 pursuant to a license agreement.
Community Choice Financial offers short-term payday loans in 453 of its 518 stores. During 2016, Community Choice Financial generated more than $1 billion in loan volume (originations and refinancing).[iii]
In some states, such as in California, Community Choice Financial makes long-term payday loans for amounts exceeding $2,500 reaching rates over 150% APR.[iv]
In March 2017, Community Choice Financial reported that "the short-term consumer loans we make may involve APRs exceeding 390%."[v]
Community Choice Financial, like other payday lenders, has made extensive use of credit service fees to circumvent payday lending laws in Ohio and Texas, essentially posing as a broker to evade state usury laws.[vi] In those states, Community Choice Financial claims it does not provide loans directly to consumers, but instead loans are provided by a third party. Community Choice Financial collects a credit service fee on the loan. For example, in Texas, lender interest is capped at 10%. But Community Choice Financial poses as a broker and charges "broker fees" that push the cost of the loan to the high triple-digit APRs. It reports that a 14-day payday loan of $500 has an APR of 740% (the APR reflects the "finance charge," which includes both interest and broker fees). Cash Central, the Community Choice Financial affiliate that acts as the "Credit Access Business" in Texas, collects 98.6% of the finance charge ($140 of $141.91). The unaffiliated lender that makes the loan collects just 1.3% of the finance charge.[vii] Credit service fees account for a significant part of Community Choice Financial's business – 21.6% of the firm's revenue in 2016.[viii])
In 2012, the US Office of the Comptroller of the Currency (OCC), the government overseer of large banks, found "violations of law and regulations and unsafe and unsound banking practices" by Florida-based Urban Trust Bank (UTB), the issuer of the Insight prepaid cards used by the payday lender CheckSmart to evade state payday and usury laws..After Arizona and Ohio imposed 36% and 28% interest rate caps, respectively, CheckSmart, which is owned by Community Choice Financial, Inc., began disguising its payday loans as a line of credit or overdraft protection on prepaid cards managed by Insight Card Services (part owned by CCFI) and issued by Urban Trust Bank.[ix]
In August 2013, Community Choice Financial subsidiary CheckSmart received a Civil Investigative Demand from the Consumer Financial Protection Bureau (CFPB) to determine whether payday lenders, check cashers, their affiliates, or other unnamed persons have been or are engaging in unlawful acts or practices in connection with the origination of payday loans and the cashing of payday loan proceed checks.[x] It is unknown whether the CFPB has taken any further action based on the information gathered from the Civil Investigative Demand.
Community Choice Financial recently drew headlines for reportedly paying Corey Lewandoski, President Donald Trump's first campaign manager, a $20,000-a-month retainer in return for "strategic advice and counsel designed to further the goals of Community Choice Financial." Lewandoski on July 30 used an appearance on "Meet the Press" to call on President Trump to oust CFPB Director Richard Cordray. "It's my recommendation to the president of the United States to fire Richard Cordray," Mr. Lewandowski said. Mr. Lewandowski had previously helped recruit Community Choice Financial as a client for Avenue Strategies, his previous firm, which reported receiving $160,000 for lobbying from the lender.[xi]
[i]Community Choice Financial Form 10-K, Mar 29, 2017.
[ii]Community Choice Financial Form 10-K, Mar 29, 2017.
[iii]Community Choice Financial Form 10-K, Mar 29, 2017.
[iv]https://www.ccfi.com/california-retail-rates-and-terms/, accessed Sept 22, 2017.
[v]Community Choice Financial Form 10-K, Mar 29, 2017.
[vi]"Payday Lenders Pose as Brokers to
Evade Interest Rate Caps," Center for Responsible Lending, July 2010.
[vii]https://www.cashcentral.com/Terms/Texas, accessed Aug 3, 2017.
[viii]Community Choice Financial Form 10-K, Mar 29, 2017.
[ix]"NCLC: Banking Regulator Slams Urban Trust Bank, Issuer of Prepaid Card Payday Loans," Media release, Sept 24, 2012.OCC Letter, Aug 23, 2012.
[x]DECISION AND ORDER ON PETITION BY CHECKSMART FINANCIAL COMPANY FOR AN ORDER SETTING ASIDE A CIVIL INVESTIGATIVE DEMAND, CFPB, Jan 22, 2014.
[xi]"Trump Loyalist Mixes Businesses and Access at 'Advisory' Firm," New York Times, Aug 1, 2017.