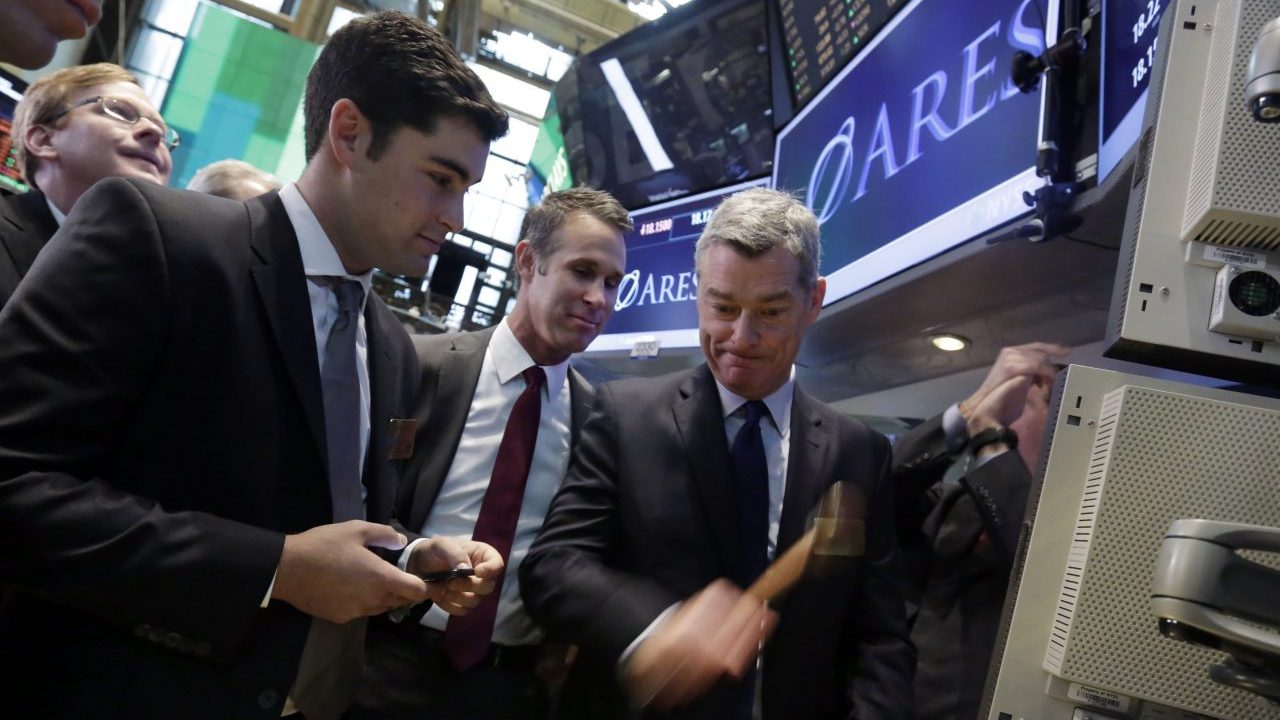 Evictions and tenant concerns spur robust discussion with Ares Management at the Alameda County Employees' Retirement Association (ACERA) Meeting
Alameda County Employees' Retirement Association (ACERA), a California pension fund, was considering a $70 million investment in Ares Senior Direct Lending Fund II as part of ACERA's Private Credit Portfolio at its September 8th Investment Committee meeting.[1] In January 2021, private equity firms Pretium Partners and Ares Management acquired Front Yard Residential (property owners) and Havenbrook Homes (a property management company) for an estimated $2.5 billion making this deal the Single-Family Rental industry's first public-to-private transaction.[2] Pretium Partners owns an estimated 70,000 homes and is the second largest rental home landlord in the United States.[3] On September 16th ACERA vote to invest in the Ares funds after a lengthy discussion about Front Yard Residential's eviction rates in majority-Black counties, its compliance with the CDC eviction moratorium, and tenant concerns in Minnesota.
ACERA Sept. 8th Investment Committee Meeting
Alyssa Giachino, with Private Equity Stakeholder Project (PESP), provided public comment at the Sept. 8th ACERA Investment Committee meeting outlining the eviction practices of Ares' company Front Yard Residential explaining Ares' Front Yard Residential has filed more than 2,100 evictions between September 4, 2020, to August 26, 2021, during a time when the CDC eviction moratorium was in effect.[4]  Ms. Giachino explained that that Ares' Front Yard Residential has filed evictions at higher rates in majority-Black counties than in majority-white counties, and since January 1, 2021, the firm has filed to evict 20% of its residents in Clayton County, Georgia and 22% of its residents in DeKalb County, Georgia. By comparison, during the same time-period, Front Yard Residential filed to evict around 4% of its residents in majority-white Polk County in Florida, Ms. Giachino asserted.
Ms. Giachino suggested ACERA hold off on an Ares investment until the firm fully addressed its eviction filings and its disproportionate eviction filings in majority-Black counties.
Trustees requested that staff and ACERA's private equity consulting firm Verus conduct more research on Ares' and its evictions and report the findings at the September 16th Board meeting.
Staff and Verus submitted remarks in writing prior to the Sept. 16th Board meeting reinforcing their support for the recommended Ares investment because the fund in question is not connected to Front Yard Residential."[5]
Ares Management also submitted  a statement, claiming  it is committed to provide residents with "high quality, safe and affordable homes," and  that it communicates with Pretium regularly regarding Front Yard Residential in an effort to improve eviction policies and procedures.[6] The company also  told ACERA  that Front Yard "has acted in compliance with the CDC Moratorium and Fair Housing laws and that any allegations stating otherwise are false", but provided no specific data points.[7] In response to the claim that Front Yard Residential has higher eviction rates in majority-Black counties, Ares stated "Pretium and Front Yard do not collect racial data and therefore claims of racial targeting of tenants are completely false."[8]
Ares also  addressed public comments provided by  Minneapolis tenants at the Minnesota State Board of Investment (MSBI).[9] Ares stated, "In response to tenant testimonials at the MSBI meeting senior partners of Ares Landmark met multiple times with senior managers at Pretium to discuss the local Minnesota housing quality issues in properties managed by its HavenBrook Homes subsidiary, as well as Pretium's treatment of tenants during the COVID pandemic."[10] According to Ares' written statement, the company is actively addressing issues with Front Yard Residential homes in Minnesota.
Finally, Ares explained its values to ACERA investors, "our goal is to make good investments for our investors while also helping our communities and treating our stakeholders fairly and respectfully."[11]
ACERA Sept. 16th Board Meeting
At the September 16th ACERA Board meeting public comment specifically concerning the Ares investment was moved from the beginning of the meeting to the end of the meeting to coincide with the Ares investment discussion agenda item.
Chole Jackson, Organizer at United Renters for Justice in Minnesota, highlighted the issues the tenants she is working with are confronting on the northside of Minneapolis as renters of Ares' owned HavenBrook Homes.  She explained, "They are exploiting and extracting from housing in North Minneapolis, and we need this cycle to stop."   She also shared that MN Attorney General, Keith Ellison, had voiced his concern for tenants at the August MSBI meeting and urged all tenants to submit complaints to his office (see IX/MSBI blog). Ms. Jackson closed with a plea to investors, "Ares, as part owner of HavenBrook, is at the core of the issues we are dealing with, and we urge you not to invest with them until they invest in the properties they purchased." PESP also commented regarding Front Yard's eviction practices.
After public comment, Trustees took the next hour discussing the proposed $70 million investment after considering the public comments concerning the company. Chief Investment Officer Betty Tse thanked Chole Jackson and Alyssa Giachino for their perspective and explained that Verus and Ares' representatives would be on the call to answer questions from the board.
Board Trustees engaged in a robust discussion with three main focuses; (1) Is ACERA's due diligence research into companies they invest with thorough enough? (2) Is investing in Ares a headline risk? (3) Is Ares a "good actor"?
Board Trustee Darryl Walker started the conversation asking about ACERA's due diligence research into the potential headline risk of investing in the Ares company prior to the Board's vote on that investment stating, "What should we do as a board to give our staff and our consultant the resources they need to obtain this information so that we don't have to get it from members of the public?"
Trustee Walker then addressed the situation in Minnesota and the remarks made by Ms. Jackson of United Renters as a potential cause of concern, asking why they should not be concerned about the Minnesota Attorney General's office looking into the conduct of HavenBrook. Later in the conversation Ares Partner Frank Borgess would point out that he was not aware of any regulatory authority engaging Ares around its activities. However, Minnesota AG Keith Ellison did relay to tenants at the MSBI meeting in August 2021 that he was aware that complaints had been filed regarding HavenBrook of which the Attorney General's office is obligated to examine.[12]
County Treasurer and Board Trustee Henry Levy voiced concern about investing in an asset class that has little regulation. Levy was not satisfied with Ares' written response, explaining "I read carefully the Ares response and it, to me, was not adequate. They talked about their practices were consistent with the industry practices which on the whole are not so great. Private equity is buying a lot of homes and maybe it shouldn't be consistent with industry practices." He then suggested a deferment of this topic upon further investigation. In response, Mr. Kuboyama cited a 2016 Princeton study that indicated a societal problem with higher eviction rates amongst Black Americans compared to white Americans as an example of how pervasive this issue is.[13] "The question here is," Mr. Kuboyama said "is Ares a bad actor? Have they been a bad actor since January 1, 2021, when they started to be a minority owner of Front Yard? And our research shows they have been good."
Four representatives from Ares came on the call about 40 minutes into the discussion to field questions from the Board.[14]
Ares Partner Frank Borgess told the Board that Ares values its residents and looks at residents as its partner, "We believe that it is really important that people have safe housing, secure housing, and that folks are treated with respect. We look at our residents as – really not as residents – they are our partners who deserve to have quality housing. They deserve to have secure housing that they can be proud of." He then went on to address some of the concerns voiced by the Trustees during this meeting. According to Mr. Borgess, Pretium and Front Yard Residential have fully complied with CDC guidelines and will continue to comply with the guidelines even after the moratorium has expired but provided no specific details.
Borges said that Ares had requested an independent study about Pretium and Front Yard Residential's single family home rental practices, and that it would be completed soon but gave no date. With regards to residents in Minnesota, Frank admitted HavenBrook had a backlog of work orders.
When asked what made Front Yard a good investment for Ares, Mr. Borges said there were a couple reasons. More people are looking to rent and that was attractive, and Ares saw the acquisition of Front Yard as an opportunity to do good, and it was clearly a good investment. Mr. Borgess explained, "And to do good really means – working with good partners. To ensure that renters, our residents, could have access to high quality residence. That to us was very important."
Trustee Henry Levy voiced concern about investing in any real estate products, "My own opinion is that investing in some industries – the efficiencies, and the capital investment, research and development – I feel comfortable with that. I don't feel quite as conformable investing in home ownership or in home rentals because, in my own opinion, the only way to make a profit is to increase rents."
Ares' written response to ACERA indicated that it was illegal for the company to ask for racial data and they did not keep track of such information. The Board probed into this a bit more asking how Ares would be able to track racial inequities outside of having that data. Ares representative Indira Arrington explained that Ares' due diligence includes requesting the independent study from Pretium, as Frank Borgess explained earlier, and they were also receiving eviction data on a weekly basis. Additionally, Ms. Arrington added "We did work with Pretium and Front Yard – they conducted their own analysis that they shared with us using Census block data that showed that there was no correlation between race and evictions in the Front Yard portfolio." This analysis and its data were not shared in Ares written response to ACERA. 
After a robust 90-minute discussion including public comment, ACERA, voted to invest $70 million in Ares.[15]
---
[1]Sept. 8, 2021 ACERA – Investment Committee Minutes
[2] Kalinoski, Gail. "Pretium, Ares Close $2.5B Acquisition of Front Yard Residential," January 13, 2021. https://www.multihousingnews.com/post/pretium-ares-close-2-5b-acquisition-of-front-yard-residential/.
[3] Campbell, Kyle. "Deep Dive: A Market That Brings Bad Press." Content. PERE (blog), September 1, 2021. https://www.perenews.com/single-family-rentals-a-market-that-brings-bad-press/. And https://pretium.com/wp-content/uploads/2021/07/Pretium-Sets-the-Standard-for-Professional-Single-Family-Rental-Ownership.pdf
[4] https://www.cdc.gov/media/releases/2021/s0803-cdc-eviction-order.html
[5]Sept 8 ACERA – ICM Agenda Action Item 1 – Staff's Response
[6]Sept 8 ACERA – ICM Agenda Action Item 1 – Ares written response
[7]Sept 8 ACERA – ICM Agenda Action Item 1 – Ares written response
[8]Sept 8 ACERA – ICM Agenda Action Item 1 – Ares written response
[9] https://pestakeholder.org/minnesota-state-board-of-investment-pulls-100-million-commitment-to-landmark-partners-as-residents-raise-concerns-about-the-firms-investment-in-rental-homes/
[10]Sept 8 ACERA – ICM Agenda Action Item 1 – Ares written response
[11]Sept 8 ACERA – ICM Agenda Action Item 1 – Ares written response
[12]https://pestakeholder.org/minnesota-state-board-of-investment-pulls-100-million-commitment-to-landmark-partners-as-residents-raise-concerns-about-the-firms-investment-in-rental-homes/ The Attorney General's Office in Minnesota offers a Minnesota Tenant Report form to report complaints about unsafe living conditions and will use that information to identify potential violations of Minnesota law and monitor emerging problems in the marketplace (https://www.ag.state.mn.us/office/complaint.asp)
[13]https://www.un.org/development/desa/dspd/wp-content/uploads/sites/22/2019/05/GROMIS_Ashley_Paper.pdf Mr. Kuboyama did not state the name of the Princeton study he was referencing however this study closely relates to his comments.
[14] Ares representatives included; Juliette Schainuck, Relationship Manager; Frank Borgess, Ares Partner and Co-head of Secondary Solutions; Dave Schwartz, Ares Partner and Co-head of U.S. Direct Lending Business; Indira Arrington, Managing Director and Global Chief of Diversity, Equity, and Inclusion.
[15]Sept. 8, 2021 ACERA – Investment Committee Minutes
Photo: AP