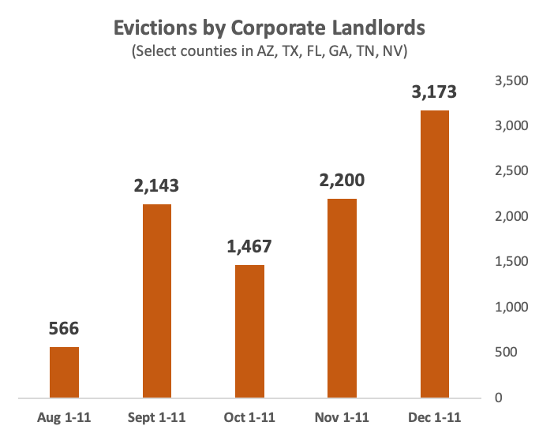 Ignoring COVID-19 Surge and CDC Moratorium, Corporate Landlords Press Evictions
While the recent surge in COVID-19 cases around the US has overwhelmed hospitals and led governments to reimpose restrictions, many private equity firms and other corporate landlords that own apartment buildings, rental homes, and mobile home parks do not seem to have noticed.
In recent months, corporate landlords have filed growing numbers of eviction actions seeking to remove residents from their homes in the geographies the Private Equity Stakeholder Project has been tracking (in AZ, TX, FL, GA, NV and TN).
This is despite the US Centers for Disease Control and Prevention's (CDC's) moratorium on residential evictions, which remains in effect through the end of the year to help limit the spread of COVID-19.
Just since the beginning of December, large landlords have filed more than 3,100 cases in these geographies (through Dec 11), up 44% versus the same period in November. We have identified more than 24,000 eviction actions filed by private equity firms and other corporate landlords since the CDC Eviction Moratorium was announced on September 1.
For example, just since the start of December:
Single family rental giant Invitation Homes has filed at least 65 eviction actions.
Publicly-traded apartment company Mid-America Apartment Communities has filed to evict at least 66 residents.
Rental home companies Progress Residential and Frontyard Residential, which are in the process of merging, have both filed dozens of eviction actions.
Private equity giant the Carlyle Group, with more than $230 billion in assets, has sought to evict more than 20 residents at properties it owns.
A list of corporate landlords that have sought to remove residents since the beginning of December (through 12/11) is below.
Many of these cases are evictions for nonpayment of rent, which are specifically covered by the CDC eviction moratorium.
Recent media coverage:
Corporate landlords that have filed to evict residents in December:
| | |
| --- | --- |
| Landlord | Filings since 12/1 |
| Abbey Residential | 82 |
| Western Wealth Capital | 73 |
| Mid-America Apartment Communities | 66 |
| Invitation Homes | 65 |
| Rhodium Capital Advisors | 64 |
| GPI Investment | 63 |
| Trinity Management | 60 |
| Front Yard Residential | 51 |
| Crown Bay Group | 48 |
| Progress Residential | 47 |
| Tides Equities | 47 |
| Northland Investment Corporation | 46 |
| Onni Group | 44 |
| Madera Residential | 43 |
| Blue Magma Residential | 40 |
| Camden Property Trust | 38 |
| Pro Residential | 36 |
| Lakeshore Management | 34 |
| Ventron Management, LLC | 29 |
| American Landmark Apartments | 27 |
| Carroll Organization | 27 |
| S2 Capital | 24 |
| Bell Partners, Inc. | 24 |
| Greystar Real Estate Partners | 23 |
| Chandler Residential | 23 |
| Blue Roc Premier | 22 |
| Turnstone Capital Management | 22 |
| Priderock Capital Management | 22 |
| Carlyle Group | 21 |
| Audubon Communities | 20 |
| Villa Serena Communities | 19 |
| McKinley, Inc. | 19 |
| Dominium Apartments | 18 |
| MIG Real Estate | 18 |
| The Finger Companies | 18 |
| Jevan Capital | 17 |
| Nighthawk Equity | 17 |
| River Valley Communities | 17 |
| Optimum Properties LLC | 17 |
| Capital Real Estate | 16 |
| Robbins Property Associates | 16 |
| Mosaic Residential | 16 |
| Western Management | 16 |
| Bridge Investment Group | 15 |
| FPA Multifamily | 15 |
| Federal Capital Partners | 15 |
| MG Properties Group | 15 |
| MLA Properties | 15 |
| MVAH Partners | 15 |
| Main Street Renewal | 14 |
| 29th Street Capital | 14 |
| Omninet Capital | 14 |
| Asia Capital Real Estate Management (ACRE) | 14 |
| Bluerock Residential | 13 |
| Good Life Housing Partners | 13 |
| Asden US | 13 |
| Gables Residential | 13 |
| Dalcor Companies | 12 |
| HQ Capital | 12 |
| CityR Group | 12 |
| Beachwold Residential | 12 |
| Two Water Capital | 12 |
| Newport Real Estate Partners | 12 |
| Sylvan Road Capital | 12 |
| Eaton Vance | 12 |
| Waterton Residential | 11 |
| Crest Asset Management | 11 |
| RealSource Residential | 11 |
| Pacific Transwest Real Estate | 11 |
| Advenir | 11 |
| Alco Management | 11 |
| Smart Living/ RAH Contractors | 11 |
| Nitya Capital | 11 |
| ECI Group | 11 |
| Covenant Capital Group | 10 |
| Southport Financial Services | 10 |
| UDR | 10 |
| FifeCo Properties | 10 |
| TruAmerica Multifamily | 10 |
| AMBO Properties | 10 |
| GoldCor Capital Partners | 10 |
| Bellrock Management | 10 |
| Klein Financial | 10 |
| Code Real Estate Partners | 10 |
| Stoneweg US | 10 |
| TriPro Management | 10 |
| Investors Property Services | 10 |
| Michaelson Real Estate Group | 9 |
| Read Property Group | 9 |
| Pennybacker Capital | 9 |
| Bean Investment Real Estate | 9 |
| Blazer Building | 9 |
| Campus Apartments, LLC | 9 |
| InterCapital Group | 9 |
| Forum Investment Group | 9 |
| Starwood Capital Group | 9 |
| Ilan Investments | 9 |
| Graoch Associates | 8 |
| Collegiate Housing Services Inc | 8 |
| DJ Acquisitions | 8 |
| White Oak Partners | 8 |
| Westdale Asset Management | 8 |
| Prosperity Capital Partners | 8 |
| Global Horizons Group | 8 |
| Cortland Partners | 8 |
| Goldelm Capital LLC | 8 |
| GWR Equities LLC | 8 |
| Weidner Apartment Homes | 8 |
| B Net Management | 8 |
| Dunross Capital | 8 |
| Odin Properties | 8 |
| Emerald Equity | 8 |
| WRH Realty | 8 |
| The Collier Companies | 7 |
| Rivendell Global Real Estate | 7 |
| Clarion Partners | 7 |
| Amzak Capital Management | 7 |
| Inwood Holdings | 7 |
| Bedrock Communities | 7 |
| Horizon Realty Advisors | 7 |
| Davis Development | 7 |
| Republic Funds | 7 |
| Grand Peaks Properties | 7 |
| Star Pacific Capital Management | 7 |
| Bigelow Companies | 7 |
| Sun Communities | 7 |
| Harbor Group International | 7 |
| Keener Investments | 7 |
| Home Partners Of America | 7 |
| Maxx Properties | 7 |
| Tradewind Properties | 6 |
| Siegel Group | 6 |
| Lloyd Jones Capital | 6 |
| Nuveen/ TIAA-CREF | 6 |
| J. Milton | 6 |
| Anthology Investments | 6 |
| ValCap Group | 6 |
| PB Bell Asset Management | 6 |
| Sandalwood Living | 6 |
| Peak Capital Partners | 6 |
| Equity Lifestyle Properties | 6 |
| Highland Capital/ Nexpoint Advisors, L.P. | 6 |
| Apex Equity Group | 6 |
| HM Equity Management | 6 |
| NorthEnd Equities | 6 |
| MLG Capital | 6 |
| Zevulon Capital LLC | 6 |
| Richdale Apartments | 6 |
| Westmount Realty Capital | 6 |
| White Eagle Property Group | 6 |
| Enzo Multifamily | 6 |
| JRK Property Holdings | 5 |
| Marketplace Properties | 5 |
| First Communities Management | 5 |
| AV Properties | 5 |
| The Richman Group | 5 |
| General Services Corporation | 5 |
| Olen Living | 5 |
| RK Properties | 5 |
| Olen Properties | 5 |
| Invesco | 5 |
| The PAULS Corporation | 5 |
| Investcorp | 5 |
| The Shoptaw Group | 5 |
| Shephard Investment Group | 5 |
| Pelican Realty Management | 5 |
| Southstar Capital Group | 5 |
| Avanath Capital Management | 5 |
| SPL Real Estate & Management Company | 5 |
| Urban Communities Fund | 5 |
| NALS Apartment Homes | 5 |
| Cornerstone Income Properties | 5 |
| Starlight Investments | 5 |
| Oaktree Capital | 5 |
| Northwood Management | 5 |
| PrivatePortfolio Group | 4 |
| Tusk Equity Partners | 4 |
| Kairoi Residential | 4 |
| Greystone | 4 |
| Southern Affordable Services | 4 |
| CFH Group | 4 |
| Marlin Spring | 4 |
| Gorman & Company | 4 |
| True North Management Group | 4 |
| Steadfast Companies | 4 |
| Tzadik Management | 4 |
| Aukum Group | 4 |
| Blue Sky Communities | 4 |
| Atlas Capital | 4 |
| Archway Corp | 4 |
| Sundance Bay Multifamily | 4 |
| IMT Residential | 4 |
| JB Partners | 4 |
| Kairos Investment Management | 4 |
| The Coastline Group | 4 |
| GoldOller Real Estate Investments | 4 |
| Grand Estates MHP Management | 4 |
| Pacifica Companies | 4 |
| CLK Properties | 4 |
| Geringer Capital | 4 |
| Iliad Realty Group | 4 |
| Pensam Capital | 4 |
| Redwood Capital Group | 4 |
| Patrinely Group | 4 |
| Related Companies | 4 |
| Resource Real Estate | 4 |
| The ValCap Group | 4 |
| SPI Advisory | 4 |
| Medve Group | 4 |
| Milbrook Properties | 4 |
| Sheiner Group | 4 |
| Juniper Investment Group | 4 |
| Emma Capital | 4 |
| Lantower Residential | 4 |
| Security Properties | 3 |
| Eagle Property Capital | 3 |
| Merion Realty Partners | 3 |
| Commerce Capital Partners | 3 |
| Waypoint Real Estate Investments | 3 |
| Continental Properties | 3 |
| TLR Group | 3 |
| Falcon Affiliates, LLC | 3 |
| Turner Impact Capital | 3 |
| BH Management | 3 |
| Varden Capital Properties, LLC | 3 |
| Keller Investment Properties | 3 |
| Next Round Asset Management | 3 |
| Blue Stone Premier Properties | 3 |
| Broadtree Residential | 3 |
| Lafayette Communities | 3 |
| Transwestern | 3 |
| Olympus Property | 3 |
| RAAMCO International | 3 |
| Haven Realty Capital | 3 |
| InterUrban Companies | 3 |
| Bascom Group | 3 |
| Mill Creek Residential Trust | 3 |
| Wynkoop Financial | 3 |
| Goodman Real Estate | 3 |
| CED Capital Holdings | 3 |
| West Shore LLC | 3 |
| Centra Partners | 3 |
| JLB Partners | 3 |
| Strategic Managment Partners | 3 |
| Price Realty Corporation | 3 |
| Structure Capital, LLC | 3 |
| Timberland Partners | 3 |
| M Shapiro Real Estate Group | 3 |
| Cal-Am Properties | 3 |
| CX Holdings LP | 3 |
| Independence Realty Trust | 3 |
| Sunstone Properties Trust | 3 |
| GMF Capital | 3 |
| SWBC Insurance | 3 |
| Turnberry | 3 |
| Housing Trust Group | 3 |
| Rayburn Capital Partners LLC | 3 |
| Brandywine Homes | 3 |
| Claye Properties | 3 |
| 37th Parallel Properties | 3 |
| Investors Capital Group | 3 |
| The Connor Group | 3 |
| Barvin Group Investments | 3 |
| Maxus Properties | 3 |
| Berkshire Residential Investments | 3 |
| The Lighthouse Group | 3 |
| Electra America | 3 |
| The Metrontario Group | 3 |
| Jamco Properties, Inc | 3 |
| PGIM | 3 |
| Elon Property Management | 3 |
| The Praedium Group | 3 |
| Capital Management | 3 |
| The Preiss Company | 3 |
| Sares Regis Group | 3 |
| PMC Property Group Apartments | 3 |
| ColRich | 3 |
| Preferred Apartment Communities | 3 |
| LaSalle Investment Management | 3 |
| Liquid Capital | 3 |
| Whitaker Capital | 2 |
| DeBartolo Holdings | 2 |
| Belkorp Real Estate | 2 |
| BET Investments | 2 |
| Olive Tree Holdings | 2 |
| Storm Properties | 2 |
| RESICAP | 2 |
| MBP Capital | 2 |
| Northpoint Asset Management | 2 |
| Stratford Partners Real Estate | 2 |
| Seneca Investments | 2 |
| B.F. Management | 2 |
| Benedict Canyon Equities | 2 |
| Sun Asset Management | 2 |
| Clear Capital Group | 2 |
| Atlantic | Pacific Companies | 2 |
| Nicholas Residential | 2 |
| Atlantic Development & Investments | 2 |
| Alliance Residential | 2 |
| Abington Properties | 2 |
| Robson Resort Communities | 2 |
| Sureste Property Services | 2 |
| LC Squared Capital | 2 |
| Green Courte Partners | 2 |
| Lexerd Capital Management | 2 |
| ESG Kullen | 2 |
| Imperion Investments | 2 |
| TESCO Properties, Inc | 2 |
| Aspen Square Management | 2 |
| American Residential Investment Management | 2 |
| Pacific Reach Properties | 2 |
| JK Properties | 2 |
| Besyata Investment Group | 2 |
| Milestone Group | 2 |
| Arel capital | 2 |
| GVA | 2 |
| RHP Properties | 2 |
| The Hallmark Companies, Inc. | 2 |
| KnightVest Capital | 2 |
| Millburn and Company | 2 |
| Boston Financial Investment Management | 2 |
| Promise Homes | 2 |
| UBS Realty Investors | 2 |
| Cottonwood Residential | 2 |
| University Communities LLC | 2 |
| Castle Lanterra Properties | 2 |
| Chetrit Group | 2 |
| Rath/Harper and Associates | 2 |
| LEM Capital, L.P. | 2 |
| The Premiere Residential | 2 |
| Waterford Residential | 2 |
| CBRE | 2 |
| Abacus Capital Group | 2 |
| MRT Realty Group | 2 |
| Weinstein Properties | 2 |
| Heitman | 2 |
| DRA Advisors | 2 |
| Think Multifamily | 2 |
| Optima | 2 |
| RedBridge Capital | 2 |
| Wexler Partners | 2 |
| Redhill Realty Investors | 2 |
| Oxford Properties | 2 |
| KC Venture Group | 2 |
| Windmill Investment Partners | 2 |
| National Equity Fund, Inc. | 2 |
| Budget Suites of America | 2 |
| ReNue Properties | 2 |
| Florida Land Fund, LLC | 2 |
| 1802 Capital | 2 |
| LS Global Advisors | 1 |
| Melo Group | 1 |
| Mark-Taylor Companies | 1 |
| Rockwood Capital | 1 |
| Millennial Capital Company LLC | 1 |
| Ginsberg Property Group | 1 |
| HILLS Properties | 1 |
| SAFCO Capital | 1 |
| McCann Realty Partners | 1 |
| Aragon Holdings | 1 |
| 3rd Avenue Investments | 1 |
| Momentum Real Estate Partners | 1 |
| Liv Communities/ IPA | 1 |
| Monument Real Estate Services | 1 |
| BH Equities | 1 |
| Morguard Apartments | 1 |
| Magellan Development Group | 1 |
| Sentinel Peak Capital Partners | 1 |
| Quad Property Group | 1 |
| Bear Capital Partners | 1 |
| McDowell Properties | 1 |
| Deancurt Realty | 1 |
| Access Ventures | 1 |
| Bear Holdings | 1 |
| Willner Realty & Development | 1 |
| Simpson Housing | 1 |
| Ytech | 1 |
| CF Real Estate Services | 1 |
| The Scion Group | 1 |
| ARC Investments | 1 |
| Thompson Thrift | 1 |
| New City Group | 1 |
| Pillar Communities | 1 |
| Good Living Ventures | 1 |
| Preston Giuliano Capital Partners | 1 |
| Boardwalk Properties | 1 |
| PrivCap Companies | 1 |
| NextGen Apartments | 1 |
| Conam Management | 1 |
| Gorelick Brothers Capital | 1 |
| Capital Growth Corp | 1 |
| KA Capital, LLC | 1 |
| Real Estate Inverlad | 1 |
| American Homes 4 Rent | 1 |
| Watermark Residential | 1 |
| CIM Group | 1 |
| MetLife | 1 |
| Sterling Group | 1 |
| Caspian Properties | 1 |
| GPK Real Estate | 1 |
| GID | 1 |
| City Gate Property Group | 1 |
| Wood Partners | 1 |
| Northport Realty | 1 |
| Yes! Communities | 1 |
| AEW Capital Management | 1 |
| Rockwell Management | 1 |
| Streetlights Residential | 1 |
| Fairfield Residential | 1 |
| Novel Property Ventures | 1 |
| LMS Investment Management | 1 |
| Kettler | 1 |
| Lurin Real Estate | 1 |
| Kingsley Management Corp | 1 |
| Luxe Residential | 1 |
| AGPM | 1 |
| Picerne Real Estate Group | 1 |
| Axonic Capital | 1 |
| ZRS Apartments | 1 |
| Brookfield Asset Management | 1 |
| Trinsic Residential | 1 |
| Ashcroft Capital | 1 |
| MAG Real Estate | 1 |
| lan Investments | 1 |
| HLC Equity | 1 |
| TA Realty | 1 |
| Marble Partners | 1 |
| TAAS investments | 1 |
| Falkin Platnick Realty Group | 1 |
| Lancaster Apartment Ventures | 1 |
| Pure Multi-Family REIT | 1 |
| The Altman Companies | 1 |
| Canyon Partners, LLC | 1 |
| The Bascom Group | 1 |
| FLM Enterprises | 1 |
| The Brookview Companies | 1 |
| Venterra Realty | 1 |
| One Real Estate Investment | 1 |
| Veritas Equity Management | 1 |
| Cache Private Capital | 1 |
| Banta Properties | 1 |
| The Community Development Trust | 1 |
| Angelo Gordon & Co | 1 |
| The Connell Company | 1 |
| Blackstone Group | 1 |
| 3 Points Realty Partners | 1 |
| Frankforter Group | 1 |
| The Cornerstone Group | 1 |
| FSC Realty | 1 |
| Hamilton Zanze | 1 |
| Gamla Cedron Group | 1 |
| The Giddings Group | 1 |
| Cypress Point Equity Partners | 1 |
| B&M Management | 1 |
| Millennia Companies | 1 |
| Harrison Street Real Estate Capital | 1 |
| RKW Residential | 1 |
| The Lynd Company | 1 |
| Woshi Investments | 1 |
| The Mahaffey Company | 1 |
| Mitch Cox Companies | 1 |
| Lincoln Property Company | 1 |
| YMP Real Estate Management | 1 |
| Extended Stay America | 1 |
| Rockstar Capital | 1 |
| Paramount Homes | 1 |
| Parkland Ventures | 1 |
| Mack Real Estate Group | 1 |
| Grand Total | 3173 |