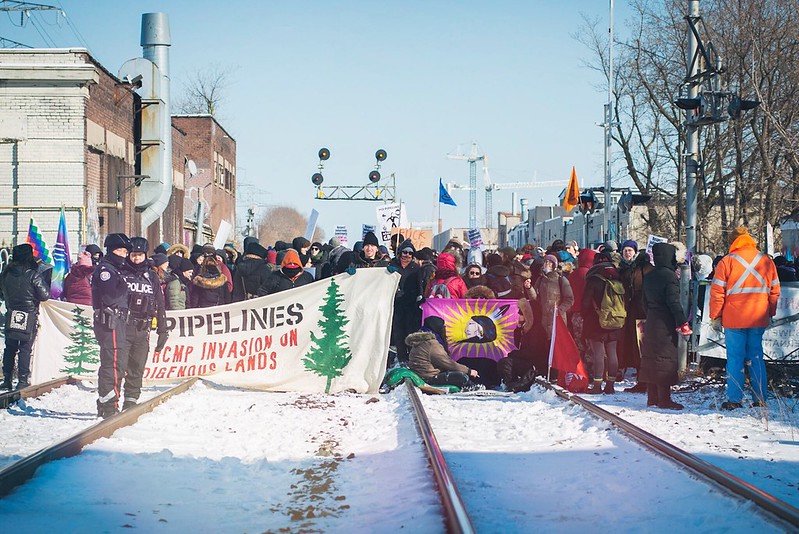 KKR-backed Coastal GasLink Pipeline project draws opposition from First Nations people, protests throughout Canada
In December, private equity firm KKR announced it was acquiring a significant equity interest in the Coastal GasLink Pipeline project in Canada. According to media reports, KKR's investment in the project has not yet closed – it is due to close in the first half of 2020.
The project has drawn significant opposition from the Wet'suwet'en First Nations people, whose territory the pipeline would cross.
In January, the Wet'suwet'en Hereditary Chiefs issued an eviction notice to the Coastal Gaslink Pipeline company. The notice alleges that the Coastal Gaslink Pipeline company has operated on Wet'suwet'en land despite the opposition of the Hereditary Chiefs and demands that Coastal Gaslink Pipeline staff and contractors leave the territory.
Since, dozens of Wet'suwet'en people and their supporters have been arrested and solidarity protests throughout Canada have brought Canadian rail transportation to a near halt.
Protests surrounding the GasLink Pipeline project have drawn substantial media attention (see below).
The Coastal GasLink Pipeline project is the most recent of dozens of investments that KKR has made in fossil fuel production and infrastructure in recent years, including oil and gas pipeline companies, oil and gas exploration and production companies, and a coal-fired power plant. A list of recent KKR investments in fossil fuels is below.
Media coverage:
Recent KKR Investments in Fossil Fuels:
| | | | | |
| --- | --- | --- | --- | --- |
| Company | Type | Description | Acquired | Location(s) |
| Coastal Gaslink Pipeline | Midstream | 670 kilometers pipeline project delivering natural gas across Northern British Columbia. | Dec-19 | Canada |
| Abu Dhabi National Oil Company pipelines | Midstream | 18 pipelines transporting crude oil and condensates | Jun-19 | Abu Dhabi |
| Spur Energy Partners | Upstream | Operator of an oil and gas assets company. | May-19 | New Mexico |
| Williston Basin Oil and Gas Assets | Upstream | Producing and undeveloped oil and gas assets in the Williston Basin | May-19 | Montana |
| SemCAMS Midstream | Midstream | Operator of natural gas processing plants in Canada. | Jan-19 | Canada |
| Discovery Midstream Partners | Midstream | Operator of a full-service midstream oil and gas company. | Jul-18 | Texas |
| Joulon | Services | The company provides individual products and integrated end to end asset management services to the oil and gas industry in United Arab Emirates and worldwide. | Dec-17 | United Arab Emirates |
| NextEra Energy Partners | Midstream, renewable | NextEra Energy Partners LP is a limited partnership formed to acquire, manage and own contracted clean energy projects. It owns interests in wind and solar projects in North America, as well as natural gas infrastructure assets in Texas. | Sep-17 | North America |
| Covey Park Energy | Upstream | Operator and explorer of oil and gas reserves. | Feb-17 | ArkLaTex, Permian and MidContinent regions |
| Venado Oil & Gas | Upstream | Operator of oil and gas exploration company in the United States. | Oct-16 | Texas |
| Trans European Oil & Gas | Upstream | Developer and operator of oil and gas properties. | Nov-15 | Europe |
| Monterra Energy | Midstream | Developer and builder of midstream infrastructure. | May-15 | Texas |
| Mandala Energy | Upstream | Operator of an oil and gas exploration and production company in Singapore. | Mar-15 | Southeast Asia |
| Montage Resources | Upstream | Exploration and production company | Feb-15 | Ohio, Pennsylvania, West Virginia |
| Veresen Midstream | Midstream | The company offers transportation, processing and logistic services for natural gas resources. | Dec-14 | British Columbia |
| OEG Offshore | Services | Provider of offshore cargo carrying units and equipment for the oil and gas industry. | Jul-14 |   |
| Longview Power | Power generation | Operator of a coal-powered energy generation unit. | Mar-14 | Pennsylvania |
| Fleur de Lis Energy | Upstream | Fleur de Lis Energy is a private energy firm that engages in the acquisition, exploitation and production of conventional and unconventional oil and gas assets in North America. | Mar-14 | North America |
| Torq Energy Logistics | Midstream | Operator of transloading terminals in Canada. | Dec-13 | Canada |
| FlowStream Commodities | Upstream | Developer of oil and gas streams. | Oct-13 |   |
| EXCO Resources | Upstream | EXCO Resources Inc is an oil and gas exploration and production company. | Jul-13 | Texas, Louisiana, and the Appalachian region |
| Haymaker Minerals & Royalties | Upstream | Operator of oil and gas wells. The company primarily focuses on purchasing minerals and royalties from all types of mineral owners. | May-13 |   |
| Westbrick Energy | Upstream | Provider energy exploration services. | Nov-12 | Canada |
| Acteon Group | Services | Provider of subsea services to the offshore oil and gas industry. | Oct-12 |   |
| Comstock Resources | Upstream | Comstock Resources Inc is engaged in the acquisition, development, production, and exploration of oil and natural gas. | Jul-12 | Texas |
| Portfolio of oil and gas properties in Texas, Miississippi and Louisiana | Upstream |   | Feb-12 | Texas, Miississippi and Louisiana |
| Samson Resources | Upstream | Provider of oil and natural gas services intended to explore, develop and produce oil and natural gas from properties located onshore in the United States. | Dec-11 | Williston, Powder River, Greater Green River, San Juan, Anadarko and East Texas basins |
| Premier Natural Resources | Upstream |   | Nov-10 | Texas |