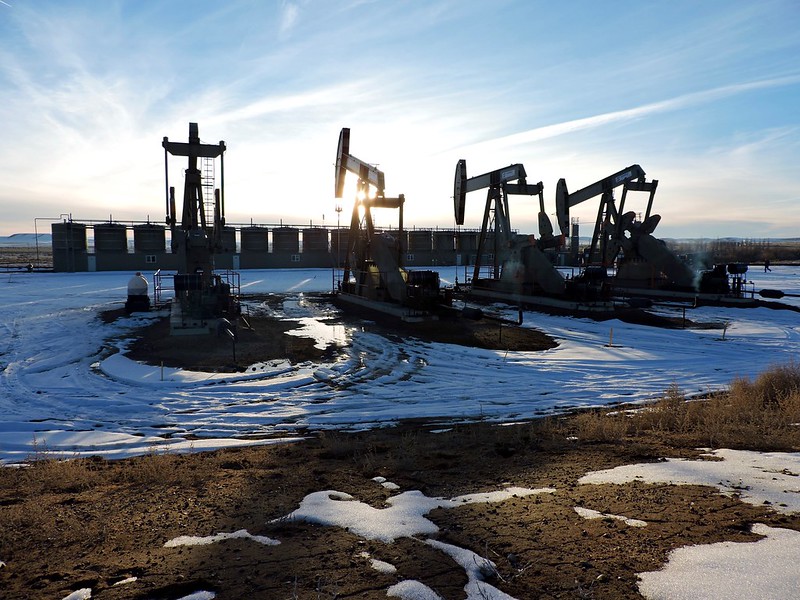 KKR Expands Fracking and Natural Gas Assets Further with New Deals
KKR added to its expanding portfolio of fossil fuel assets with two deals in recent weeks, adding on a set of drilling assets and entering a new joint venture on gas pipelines even as the United Nations released a bleak warning on climate change.
Crescent Energy Acquisition
KKR-backed Crescent Energy in February committed to purchase around 145,000 net acres of oil and gas assets in the Uinta Basin in Utah for $815 million, Reuters reported.

The company stated it plans to operate two rigs in the basin, an area that has seen a recent uptick in drilling operations due to the rise of oil prices– even though the area yields small wells by industry standards.
Crescent Energy was formed mid-2021 via a portfolio company merger between KKR's Independence and Contango, with a focus on acquiring and producing onshore oil and gas assets in key basins as well as midstream infrastructure. Crescent is managed by KKR's Energy Real Assets team.
Shortly after Crescent was formed, the company picked up all of ConocoPhillips' drilling assets in Wyoming, consisting of 446 billion cubic feet of reserves in the Wind River Basin, in a $67 million deal. The move by ConocoPhillips coincides with the greater trend of oil majors looking to unload some of their oil and gas assets due to pressure from shareholder concerns; and KKR is one of the private equity firms stepping in to take them over.
Pembina Natural Gas Joint Venture
KKR's new pipeline deal through a new joint venture was announced March 1 by Pembina Pipeline Corporation.
The venture will combine KKR's and Pembina's western Canadian natural gas assets. In the deal, the new company will also acquire Energy Transfer Partners' stake in Energy Transfer Canada; for a transaction total of around $9 billion. KKR will own 40 percent of the new company, which expects to achieve around 16 percent of Western Canada's total natural gas processing capacity, Reuters reported.
Private Equity continues in fossil fuels despite IPCC warnings
As KKR continues to acquire more oil and gas assets, the Intergovernmental Panel on Climate Change (IPCC) released its "bleakest warning yet," stating that if current trends on greenhouse gas emissions continue, global temperatures are sure to increase by more than 1.5 degrees Celsius above pre-industrial levels which would result in irreversible impacts. Co-chair of the IPCC working group stated "Any further delay in concerted global action will miss a brief and rapidly closing window to secure a liveable future."
However, KKR is one of the largest alternative asset managers and owns dozens of energy companies, with over 80 percent of its energy holdings in extraction, transportation, or burning of fossil fuels. From the Coastal Gaslink Pipeline on unceded Wet'suwet'en land in Canada to toxic oilfield developments, KKR is behind some of the most controversial and dirty oil and gas projects.
The Sierra Club, Greenpeace and around two dozen environmental justice organizations joined the Private Equity Stakeholder Project to send a letter in April 2021 to KKR and thirteen other major private equity firms calling for public disclosure of direct and indirect emissions resulting from investments in oil and gas assets, and calling for a transition plan away from fossil fuel investments.

Among KKR's peers in the private equity industry, firms are staking out different approaches to respond to 'intense pressure' to address environmental issues.
Apollo Global Management will not be investing in fossil fuels through the firm's 2022 buyout fund, Bloomberg reported in January; shortly following this, PESP sent letters to KKR and several other large buyout and infrastructure managers asking whether they would follow Apollo's lead and commit to not invest their flagship funds in fossil fuel-linked assets.
And although Carlyle pronounced it will be net zero by 2050, the announcement lacks specifics and the firm separately confirmed it will continue fossil fuel investments through Carlyle International Energy Partners and its subsidiary NGP.
In reaction to the IPCC report, U.N. Secretary-General, António Guterres called fossil fuels "a dead end."

"Coal and other fossil fuels are choking humanity," Guterres said. He argued that banks and investors are also complicit. "Those in the private sector still financing coal must be held to account. Oil and gas giants – and their underwriters – are also on notice."