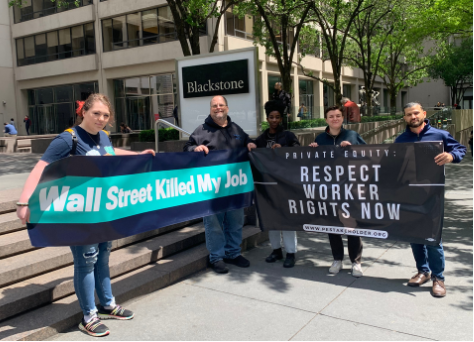 Labor issues at Blackstone company generate negative attention
Private equity giant Blackstone continues to face bad press due to a Department of Labor investigation that revealed widespread child labor at Packers Sanitation Services (PSSI), which the firm acquired in 2018. While Blackstone and PSSI frame child labor as an anomaly inconsistent with their values, child labor violations are symptomatic of broader labor issues at other companies in Blackstone's portfolio. From meatpacking plants to disaster recovery sites to Hollywood writers' rooms, workers at Blackstone-owned companies face poor working conditions while the private equity firm makes millions.
Packers Sanitation (PSSI)
In February, Blackstone-owned slaughterhouse cleaning company Packers Sanitation Services Inc (PSSI) paid a $1.5 million US Department of Labor (DOL) fine for "oppressive child labor." DOL investigators found more than 100 children working in hazardous jobs, under illegal conditions, with multiple children suffering injuries.
Despite PSSI's claims that it has "industry-leading, best-in-class procedures," DOL investigator Shannon Rebolledo argued in an interview with 60 Minutes that the company normalized child labor: "There is no way this was just a mistake, a clerical error, a handful of rogue individuals getting through. This was the standard operating procedure." The investigation found that children had been working at PSSI since at least 2019, after Blackstone acquired the company in May 2018. Rebolledo believes there are more children working at PSSI.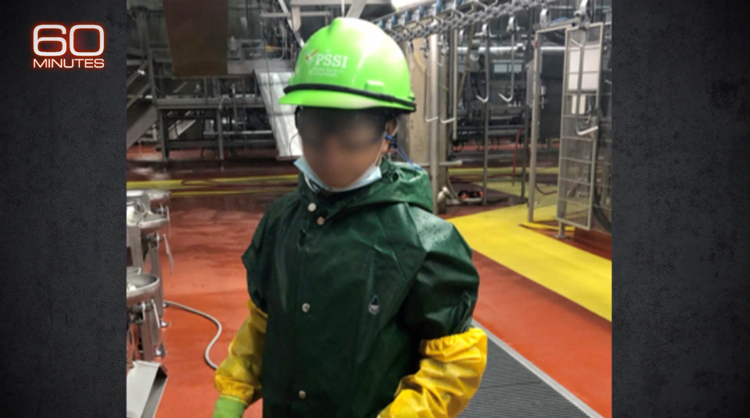 When Blackstone acquired PSSI, the company was already one of the most dangerous companies to work for relative to its size: an analysis of the January 2015 through September 2016 Occupational Safety and Health Administration (OSHA) severe injury report found that PSSI's amputation rate was five times the rate for all manufacturing workers, and that PSSI had the 14th highest number of reported severe injuries across all industries. The issues have continued at PSSI under Blackstone's ownership – since May 2018, OSHA has conducted investigations of at least four amputations and three fatalities of PSSI employees, including one decapitation.
Meatpacking companies have been cutting contracts with the Blackstone-owned company — Cargill cut ties with PSSI in all its plants, while Tyson ended a smaller number of contracts. JBS terminated some contracts with PSSI, but also opened its own cleaning company to fill positions where a third party contractor is inadequate. The United Food and Commercial Workers (UFCW) represents some JBS employees, and is working with the company to make the sanitation positions union jobs. Marc Perrone, UFCW international president, welcomed replacing PSSI with the new cleaning unit: "We firmly believe that a strong union contract is the solution to the exploitation of any workers in the industry and are pleased to be partnering with JBS USA on in-house sanitation at a number of facilities across the country, which means sanitation workers will now receive the strong wages, benefits, and protections as other union members in those facilities."
Blackstone launched fundraising a year ago for Blackstone Capital Partners IX, its next flagship buyout fund, seeking to raise as much as $30 billion. Yet Blackstone's most recent quarterly earnings revealed the fund raised just $360.6 million during the first quarter of 2023 and $1.14 billion over the six months through March 2023, a 92% decline from the fund's first six months of fundraising. The dramatic drop in Blackstone Capital Partners IX fundraising during the same period as scrutiny over child labor at PSSI became public.
Moody's downgraded PSSI this month due to "the loss of contracts and lawsuits related to labor issues," leading to concerns about "management credibility and track record risk". The report highlighted that PSSI has already seen a decline in plant count over the past few years, and noted the possibility of future ratings downgrades as PSSI may lose more customers.
SERVPRO
As the start of hurricane season approaches on June 1, environmentalists, coastal residents, and disaster recovery businesses are preparing for a busy year. In addition to rising ocean temperatures that possibly indicate an El Nino pattern, researchers predict that this summer will see more hurricane activity than in Summer 2022. Hurricanes are just one threat in a range of frequent and severe climate disasters – 2022 saw the third largest number of billion-dollar disasters in history, including major damage caused by wildfire, hail, tornadoes, and more.
In March 2019, the private equity firm Blackstone acquired SERVPRO, a disaster restoration company with headquarters in Tennessee, for $1 billion. With locations across the United States and Canada, SERVPRO celebrated the opening of its 2,000th franchise in June 2022. While SERVPRO does not publish an employee count, the company ultimately profits from the labor of workers connected to SERVPRO through franchisees, which may use subcontractors to hire additional workers or services. This franchising and subcontracting method can implicate SERVPRO if its franchisees engage in wage theft and other unlawful actions with subcontracted workers.
SERVPRO's business is in the difficult work of rebuilding communities after disasters, which is largely done by immigrants, and US-born people of color, groups that have a long, documented history of employer abuses such as wage theft, discrimination and sub-standard workplace standards.
Workers at SERVPRO and its franchisees have reported issues of wage theft, resulting in franchisees paying back wages; workers have also alleged race discrimination and sexual harassment, reaching settlements with their employers. The Occupational Safety and Health Administration (OSHA) has issued violations to SERVPRO for failure to correctly report fatalities or injuries, blocked passageways leading to broken bones, and insufficient respiratory protection for employees, which OSHA deemed a willful violation due to purposeful disregard or plain indifference. In a statement to investors about his experience with wage theft, former SERVPRO franchise worker Joél Salazar pointed to SERVPRO's reliance on a vulnerable workforce: "SERVPRO franchises and their subcontractors are taking advantage of some workers because we are immigrants. They think they can treat us this way."
Resilience Force is a disaster relief worker advocacy organization founded in New Orleans, Louisiana in the wake of Hurricane Katrina that has supported workers like Joél. The organization's founder and director Saket Soni says that Blackstone and other private equity firms should be responsible for making sure worker needs are met: "We must ensure that these companies and their private equity backers who profit from disaster, pay and protect the resilience workers who are essential to helping communities adapt and recover."
In many of these examples, SERVPRO Industries has attempted to avoid any accountability for the actions of its franchises, claiming that the company does not have direct control over franchise activities. Similarly, Blackstone has yet to accept responsibility for any issues at SERVPRO.
Blackstone acquired SERVPRO in 2019 through its Core Equity Partners Fund, which is designed for longer-term investments of up to 15 years. With potentially more than a decade left owning SERVPRO, Blackstone investors must exercise their duties to their beneficiaries to be fully aware of the facts and conduct due diligence with Blackstone regarding how they are managing this investment.
Faraway Road, Moonbug Stories
In the final hours of May Day, the Writers Guild of America (WGA) called for a strike due to failed negotiations with the Alliance of Motion Picture and Television Producers (AMPTP). The WGA represents more than 11,000 writers of scripted television and movies across the country. The AMPTP has more than 350 signatories, with Disney, Netflix, CBS, Sony, and Apple as some of the largest players. Blackstone owns two AMPTP signatories: Faraway Road and Moonbug Stories.
With the advent of streaming in the 21st century, studios restructured how they monetize shows and pay writers. Studios now produce fewer episodes of shows with fewer seasons on an inconsistent schedule, making it difficult for writers to have a steady stream of income. Weekly writer pay is now 23% lower than it was a decade ago, while some media company CEOs make more than $100 million per year. Writers from Emmy-nominated shows need a second job to cover expenses because residual pay is so low. In a statement, WGA explained the core issue: "From their refusal to guarantee any level of weekly employment in episodic television, to the creation of a 'day rate' in comedy variety, to their stonewalling on free work for screenwriters and on AI for all writers, they have closed the door on their labor force and opened the door to writing as an entirely freelance profession."
In 2022, Blackstone acquired Faraway Road and Moonbug Stories, both signatories to AMPTP. Blackstone turned toward expanding its media investments in streaming content in 2021 with its acquisition of Hello Sunshine, founded by actress Reese Witherspoon. With former Disney executives Tom Staggs and Kevin Meyer, Blackstone created Candle Media through an aggressive acquisition strategy. Reports suggest that Blackstone backed the media company with $2 billion in equity. Through Candle Media, the firm then acquired Moonbug Stories, creator of popular children's content like CoComelon and Blippi, for $3 billion in November 2021. Two months later, Candle Media acquired Faraway Road, which produces shows and films for major platforms like Netflix and Showtime. Depending on the length of the strike, production on Moonbug Stories and Faraway Road shows could end up on a growing list of halted shows.
News of the strike turned media stocks red in the following days – Disney's stock fell 3% and Warner Bros. fell 4.5%. A Moody's report predicts that a long strike would negatively affect company credit ratings as studios rack up production losses, translating to $2 billion in losses for the local economy during the 2008 writers' strike.
Though Blackstone has little control over contract negotiations, Faraway Road and Moonbug Stories could support writers by committing to pay staff for the duration of the strike or releasing a statement of solidarity with WGA.
Blackstone should move to improve working conditions and resolve labor issues across its portfolio, for the sake of workers and the value they bring to companies. The firm should adopt the standards in the Private Equity Labor Rights Platform to ensure the protection of workers' rights.