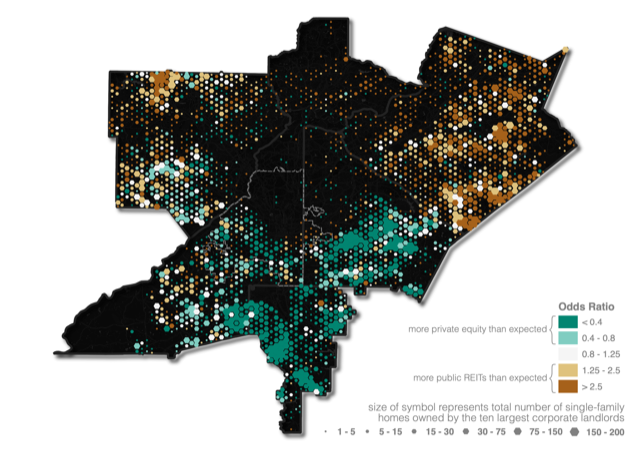 Mapping Atlanta Research Expands the Narrative on Corporate Investors' Geographic (and Demographic) Strategies
A new post from the Mapping Atlanta blog project investigates Atlanta's corporate rental landscape, adding important nuance to an already active discussion around renters' rights, race, extraction, and power.
Authored by Taylor Shelton, Assistant Professor of Geosciences at Georgia State University, and drawing on the work with Shelton's research partner Eric Seymour at Rutgers, the blog post expands upon a recent Atlanta Journal-Constitution (AJC) article which found that more than 65,000 homes across the Atlanta metropolitan area are owned by mega-investors.
In response to the AJC piece, Shelton writes, "This latest investigation does an excellent job at telling the stories of the tenants who have been so negatively affected by the predatory and exploitative practices of these corporate landlords. But in our eyes, the story also makes one subtle mistake when it comes to characterizing the geographic logic behind these companies' property acquisitions."
The AJC asserts that "…disproportionately, investors buy in places with entry-level homes and in communities of color". But Shelton and Seymour's research shows that while this isn't incorrect per se, the story is a little more complicated.
In reality, each of Atlanta's major corporate landlords follows its own geographic strategy. While some invest in predominantly Black neighborhoods, others seek out predominantly white ones. "Essentially, these companies have learned to target different kinds of neighborhoods with different demographic characteristics in order to avoid competing with one another, which in turn allows each company to maximize their market power and their profits."
Shelton and Seymour use a statistical technique called an odds ratio to map each individual company's geographic concentration across greater Atlanta. This allows the researchers to show where each corporate landlord's investments are geographically specialized relative to the overall number of single family rental properties across the metro area.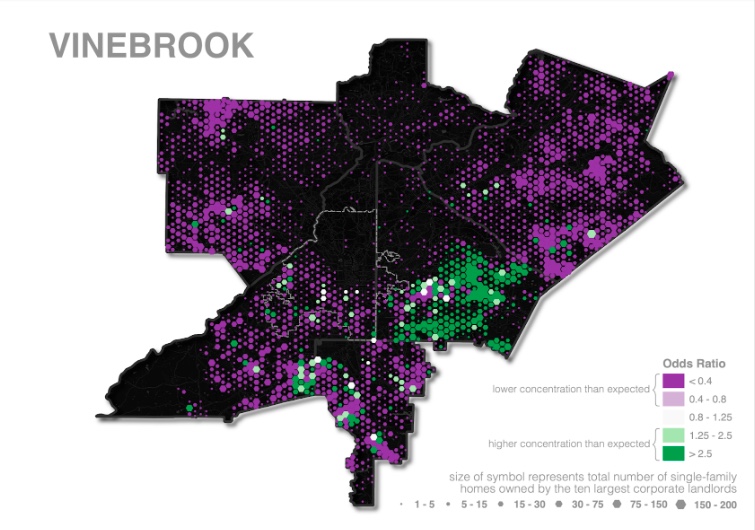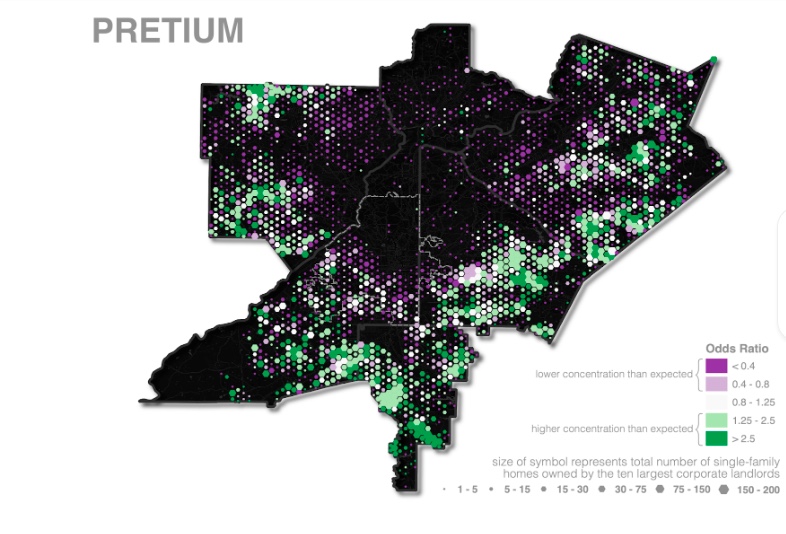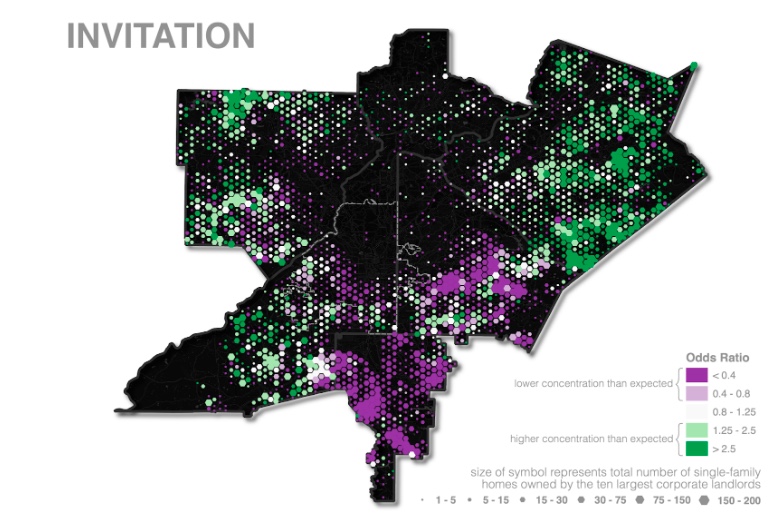 Vinebrook Homes, Pretium Partners, and Invitation Homes vary widely in their investment geographies.
Despite the variations among companies, there was one major geographic trend: private equity-controlled landlords tend to invest in predominantly Black and working-class suburbs in the southern parts of the metro, while publicly-traded REITs tend to invest in whiter (but still fairly diverse) and more middle-class suburbs in the more northern parts of the metro. The following map compares PE to REITS using the same odds ratio measure: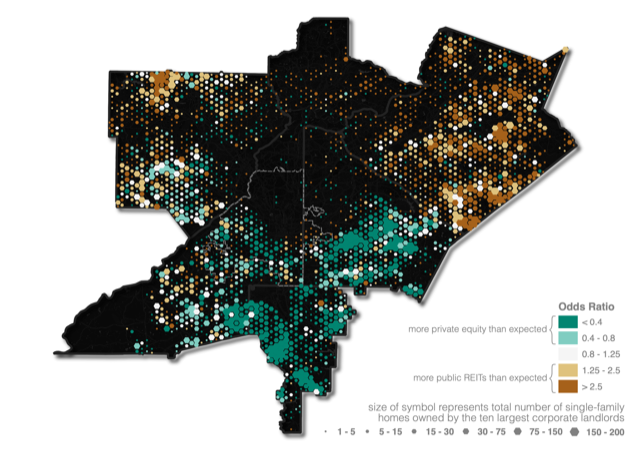 Of course, the geographies of corporate landlords respond to – and reinforce – the racial divisions that have been inscribed into Atlanta's landscape for roughly a century and a half. Shelton reminds readers in closing that all major investors featured in this study profit from racialized exploitation, regardless of their spatial niche.
Shelton and Seymour's research helps PESP and allied researchers to understand the private equity investment strategy better than ever before, allowing us to tighten our campaign strategy and public messaging. While we will always turn primarily to tenants' lived experiences to guide our work, granular investigations of this sort are invaluable for the housing rights movement.