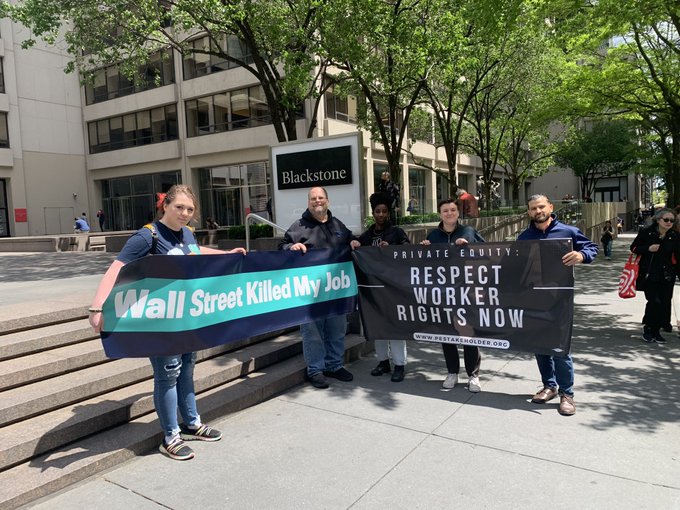 May Day 2023: Private Equity Labor Rights Platform Launches, PESP and United for Respect visit PE firms' headquarters in NYC
Private Equity Stakeholder Project and United for Respect launched its labor rights platform this week on International Workers' Day. Knowing that the private equity industry must correct its course and improve its treatment of workers, PESP and members of United for Respect visited the NYC headquarters of some of the world's most largest private equity firms, dropping off a letter that explained why standards need to be set to improve working conditions at the portfolio companies owned by these firms.
Focused on growing cash flows at the companies they buy, private equity firms have often taken a low road approach and sought to reduce wages, benefits, and staffing at firms they acquire – with devastating consequences to millions of workers, their families and entire communities.
PESP's Justin Flores described how "The private equity industry likes to talk about its contributions to the US economy by employing millions of workers. However, since private equity firms buy out companies with existing workers, rather than starting new companies, they are most often not creating new jobs. On top of that, as economists have documented, when private equity firms take over a company, the total number of workers usually goes down."
UFR member and BC Partners-owned PetSmart associate Isabela Burrows bravely stood in front of BC Partners' NYC headquarters building and told onlookers about her working conditions at PetSmart.
"My co-workers and I are dealing with the consequences of those cost cuts everyday in our stores. I am standing up against the understaffing, poverty wages, and other working conditions that have become too common at PetSmart because I know it doesn't have to be this way."
There has been huge growth in the last few years in the number of workers employed at companies owned by private equity firms. But the largest number of workers employed by private equity-owned companies are concentrated in low-wage industries such as food service, retail, healthcare, and security.
"Private equity firms typically have a controlling stake in the portfolio companies they own, which means they have broad power to impact jobs and working conditions at these companies. We visited some of the world's largest private equity firms, asking them to respect their workers' rights. These firms total 2,523,221 workers and a combined total of $1.78 trillion in assets under management," said PESP's Azani Creeks.
The delegation visited Blackstone, Clayton, Dubilier, and Rice (CD&R), Roark Capital, BC Partners, Apollo, Sycamore Partners and KKR.
PESP's Valentina Dabos said, "Private equity takeovers often result in significant job losses and decreases in average worker wages at the companies they buy. Private equity-owned retail companies have laid off hundreds of thousands of workers due to store closures and bankruptcies. The industry can and should adopt some basic protections for the millions of workers it employs around the world.
PESP and UFR believe that "with the incredible wealth at its disposal, the private equity industry can and should invest in the workforce at all of their companies by signing on to the Labor Platform and meeting with workers and stakeholders immediately to implement them:
1) A Sustainable Living Wage
2) Protections in the Event of Layoffs
3) Paid Sick Leave and Affordable Healthcare
4) A Commitment to End Occupational Segregation
5) A Workplace Free of Discrimination and Harassment
6) Safe Working Conditions
7) Equitable Scheduling and Hours of Work
8) The Right to Organize Free of Intimidation and Harassment
9) A Voice for Workers
10) Protection from Technology that Unnecessarily Undermines Working Conditions."
For more information on the Private Equity Labor Rights Platform, contact PESP at workers@pestakeholder.org.
You can also sign on to the Private Equity Labor Rights Platform to support key worker protections.