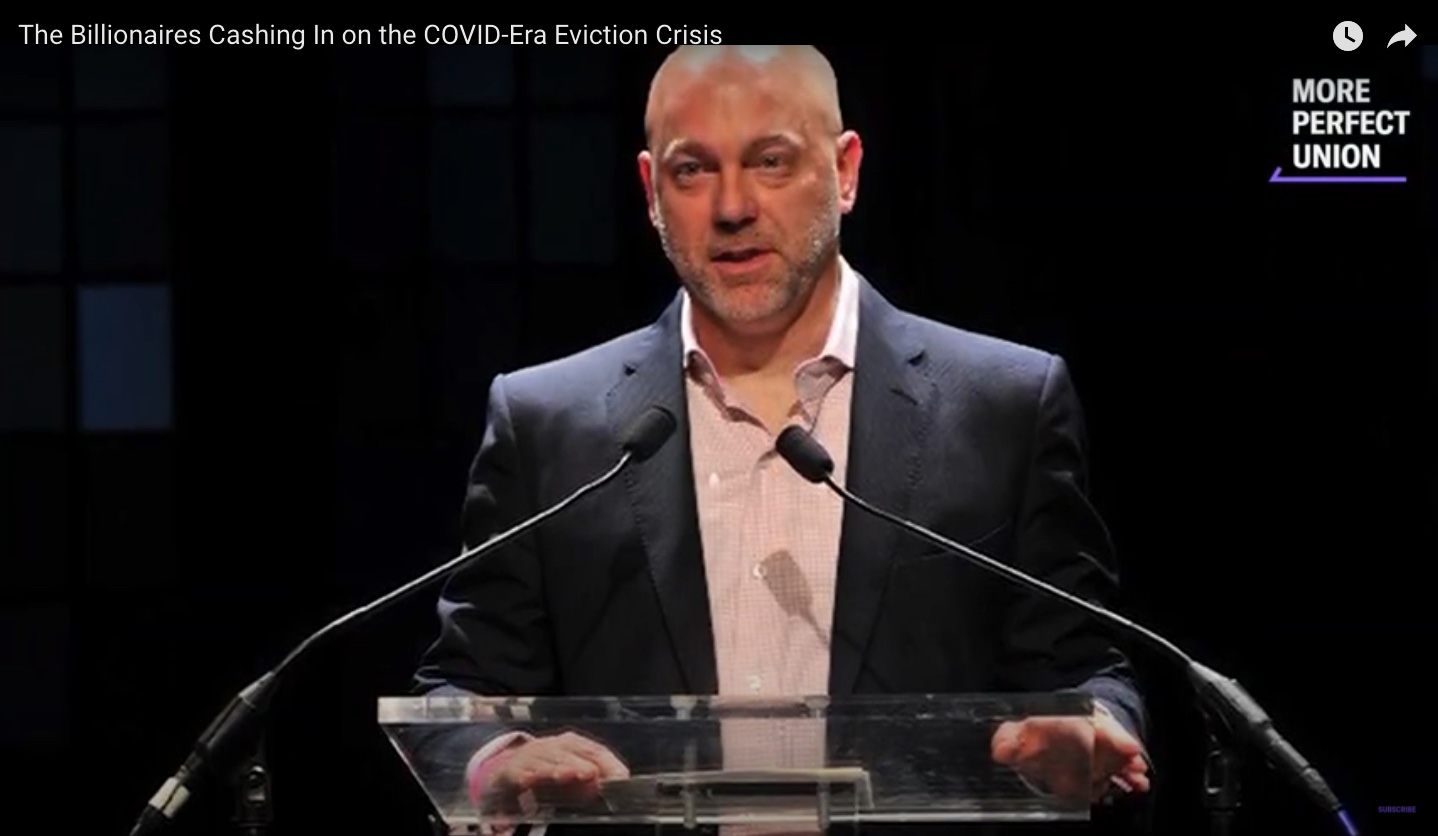 More Perfect Union: The Billionaires Cashing In on the COVID-Era Eviction Crisis
Last Spring, More Perfect Union released a video that described how "the former head of mortgage and credit investments at Goldman Sachs, Don Mullen Jr. — the man who famously made millions off predicting and exacerbating the national housing crisis in 2007 – cashed in on the eviction crisis created by the COVID 19 pandemic."
More Perfect Union, May 2021: The Billionaires Cashing In on the COVID-Era Eviction Crisis
The video explained how "Mullen and the owners of other large private equity firms are betting that there are billions of dollars to be made buying up single family homes, often in foreclosure, as Americans struggle to get by during the pandemic, and then renting these homes back to the growing population that is now permanently locked out of homeownership. They are raising billions from pension funds and insurance companies across the globe to put down cash for homes and outbid anyone who still has the resources to cobble together a downpayment." 
As of January 2021, 11 million Americans were behind on rent. Black households reported facing nearly twice the risk of eviction of white families. While tenants need rent relief and stable housing, private equity landlords are scooping up federal funding meant to support affordable housing while they neglect their tenants.
There has been a trend since the 2007 crisis of private equity firms snatching up homes that fall into foreclosure, turning them around, and making as quick a profit as they can, often leaving repairs, maintenance and the health of the renters to the wayside. 
The video featured tenants at HavenBrook homes in Minnesota who are organizing with Inquilinxs Unidxs por Justicia — United Renters for Justice — to fight back against the giant private equity firm making billions off of their rental housing. 
Check out More Perfect Union's video on how private equity firm Pretium Partners and Ares are buying up homes.