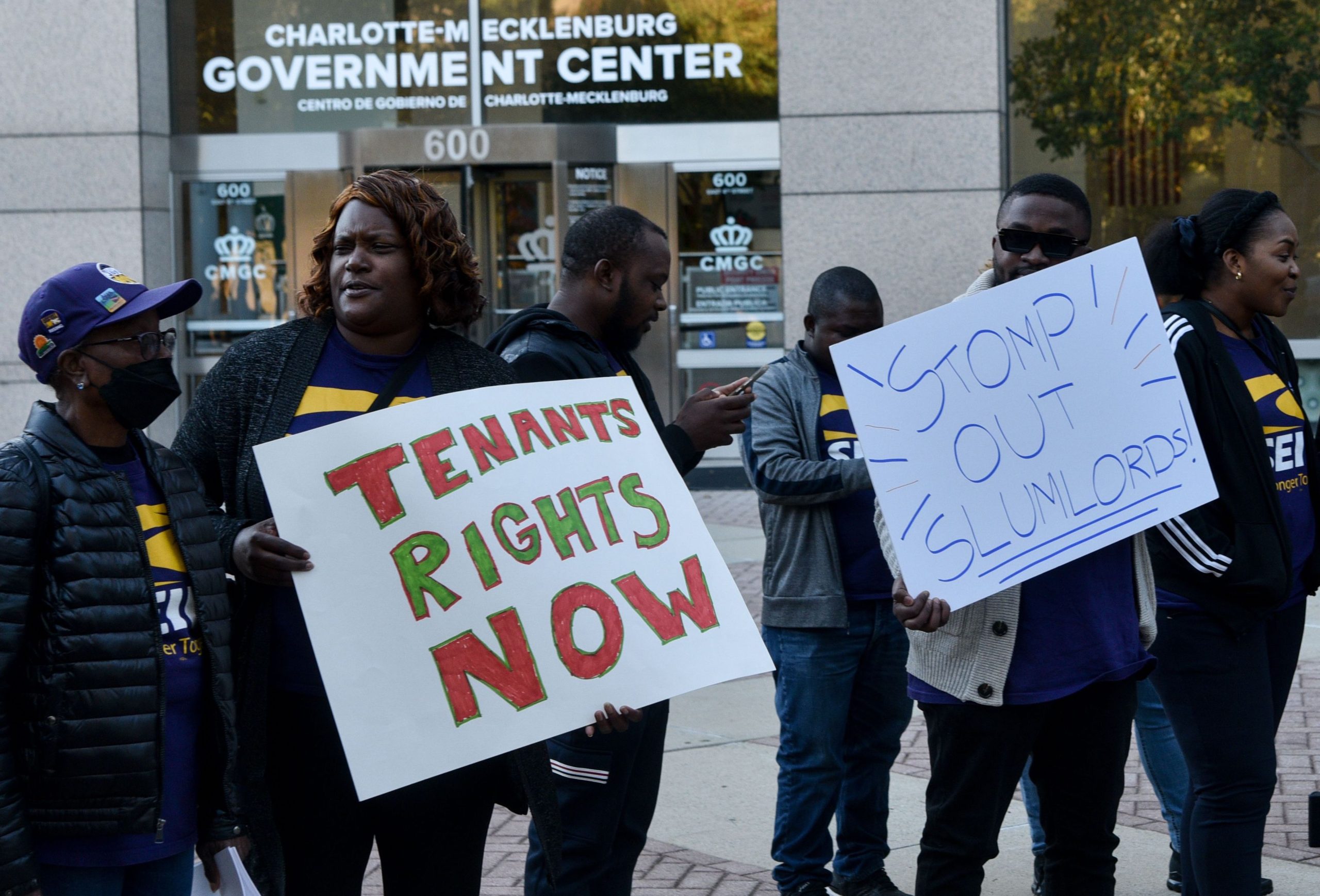 New Report Reveals How North Carolina Retirement Systems' Private Equity Investments Support Controversial Corporate Landlord Progress Residential
New Report Reveals How North Carolina Retirement Systems' Private Equity Investments Support Controversial Corporate Landlord Progress Residential

Charlotte, NC – Private Equity Stakeholder Project (PESP), Action NC, and Renters Rising released a new report, titled "Investing in the Housing Crisis."  It details the North Carolina Retirement System's (NCRS)  history of investing over $3.2 billion in the private equity firm Landmark Partners over the past decade. Landmark Partners is a major investor in Progress Residential, the largest single family landlord in the United States with over 85,000 homes under management, and over 7,700 homes in North Carolina.
"I speak with Progress tenants across North Carolina, and every year their rent is going up, it's hard to reach the management company, and the routine maintenance and minor repairs are the tenants' responsibility," said Jessica Maria Moreno, a community organizer with Action North Carolina. "We ask that the NCRS stop investing money into Landmark Partners, and instead  investigate the negative impact that the company is having on the people of North Carolina and hold them accountable to treating renters like humans." 
NCRS made 12 investments in Landmark totaling $2.6 billion since Dale Folwell became State Treasurer and took over responsibility for the pension fund in 2017. No other U.S. pension fund has invested more than $500 million in Landmark during this time.
According to the report, North Carolina's public employee pension funds are being invested in a manner that could harm the state's residents, including retirees and their families who rent from Progress Residential. The report's authors call on NCRS  to halt any new investments with Landmark Partners in the future and to use its substantial leverage to ensure that Progress Residential takes concrete steps to make its housing safe, affordable, and accessible.
"In our neighborhoods, we are experiencing a mass corporate takeover where corporate landlords like Progress Residential are raising rents, reducing services, and increasing evictions. The NCRS has allowed corporations like Landmark Partners to inflict undue housing insecurity on working families with impunity," said Katie Goldstein of the Renters Rising National Tenants Association. "Corporations have earned record profits at the same time the working class is finding it harder and harder to pay for things like housing and food. NCRS must hold Landmark Partners accountable!"
---
Read the full report here.
Key points
Since 2014, North Carolina has invested $3.2 billion in Landmark Partners, making it the firm's largest public pension fund investor by far. Landmark Partners is a major investor in Progress Residential.
This comes as North Carolina's tenants are in a deep crisis. Large investors now own over 40,000 single family homes in North Carolina, squeezing out would-be homebuyers and burdening renters with rising rental costs and prolonged maintenance issues. Progress Residential alone owns 7,700 homes in the state.
In recent years, Progress Residential has faced repeated allegations of deceptive business practices, hasty evictions, and property neglect. In the past year, the company has been sued by the Minnesota Attorney general, investigated at length by North Carolina-based press, and scrutinized by a US House subcommittee. 
In addition to worsening conditions and raising prices for renters, corporate landlords' rapid expansion makes homeownership difficult to attain for working class and racialized people who historically have used home equity as a wealth-building mechanism. 

Today, three out of four white households in North Carolina own their homes, compared to less than half of Black households in North Carolina.