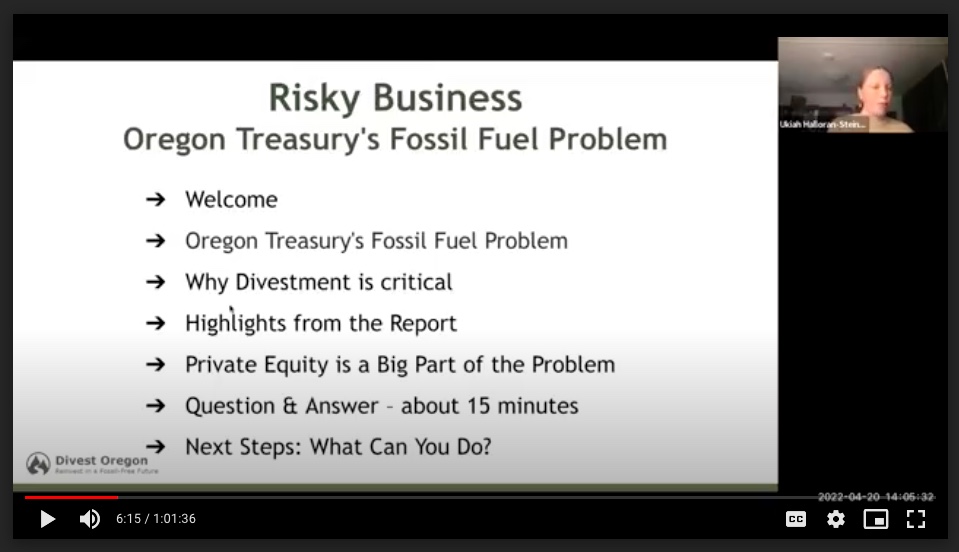 Oregon Treasury's Private Equity Investments in Fossil Fuels Draw Criticism
Oregon continues to commit new capital to private equity funds that are likely to pursue fossil fuel investments, even as civic groups criticize the pension's exposure to dirty energy.

Divest Oregon partnered with Environment Oregon, Oregon Physicians for Social Responsibility, Ecumenical Ministries of Oregon, and the Private Equity Stakeholder Project to publish a report on Oregon's fossil fuel investments: Risky Business: The Oregon Treasury's Fossil Fuel Problem.
The report found that the Oregon State Treasury has at least $5.3 billion invested in fossil fuel companies. Citing the report, the AP wrote, "The state exposes Oregonians to climate and health risks, economic costs, and financial losses" through these investments.
AP, April 20, 2022: Report: Oregon has $5.3b invested in fossil fuel companies
According to the report, the amount that Oregon has invested in oil, gas, and coal companies is probably far higher than $5.3 billion shown in documents obtained from the state treasury through a public records request. The figure does not include private equity investments, which are not subject to public disclosure, where Oregon has additional exposure to fossil fuels.
Divest Oregon hosted a web launch of the findings last month with report authors and other stakeholders. Amanda Mendoza from Private Equity Stakeholder Project detailed the role of private equity investors in the fossil fuel industry, "In the last decade, private equity invested over $1 trillion in energy companies, and 80% of energy investments held by 10 of the largest private equity buyout firms are in oil, gas, and coal. Oregon's Treasury invests in six of these private equity firms KKR Blackstone, Warburg Pincus Apollo TPG, and CVC Capital. Due to a culture of secrecy, private equity disclosure to the Oregon Investment Council is limited to the overall performance of the fund, making it difficult to understand the extent of their fossil fuels holdings."
Private equity firms are actually in a better position to honor climate goals than publicly-traded companies, Mendoza revealed, since private equity firms tend to hold controlling ownership stakes. "This allows for the Treasury to put pressure on these firms to divest from fossil fuels."
Two days after the report's launch event, Divest Oregon demands were taken up in the Democratic Gubernatorial Debate in which former Oregon House of Representatives Speaker Tina Kotek asked Treasurer Tobias Read to respond to the report, specifically asking why information about the Oregon State Treasury's overall investments in private equity is not publicly available. The Treasurer said that the Treasury is "dramatically decreasing" its investments in fossil fuels.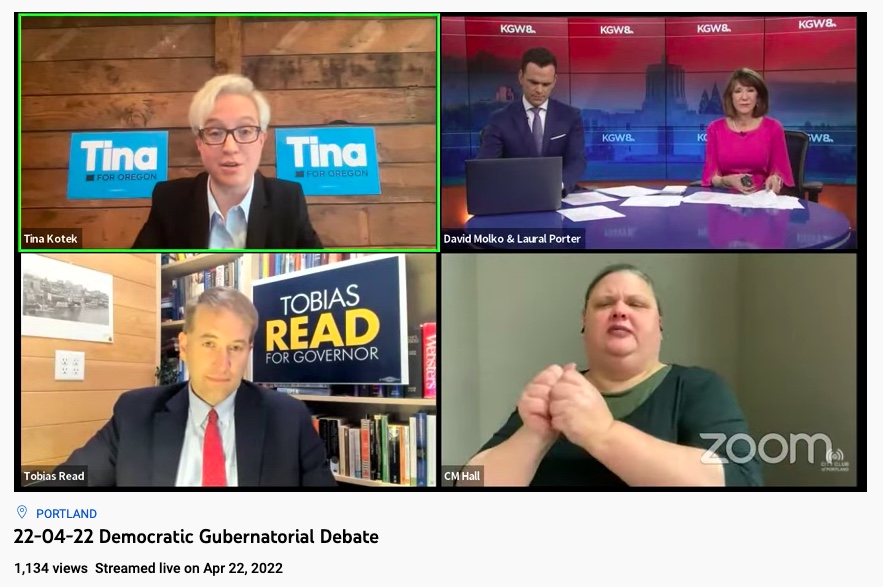 Divest Oregon criticized Read's response, saying, "That kind of vagueness makes our call for transparency all the more urgent, as we do not know where he is headed, or even the basis for his comparison, as the information is hidden from public view. Perhaps the actions of the Oregon Investment Council two days prior, when they chose to invest at least $650 million more in private equity firms that are highly invested in the fossil fuel industry, is the true indication of where they are heading."
Committed investments include, per Pensions & Investments:
$200 million to Quantum Energy Partners VIII and $50 million to a sidecar
$150 million to NGP Royalty Partners II and $50 million to a sidecar fund, both to NGP Energy Capital
$50 million to Stonepeak Trailblazer Investment Partners, managed by Stonepeak Infrastructure Partners
$50 million to an investment sidecar to EQT Infrastructure V