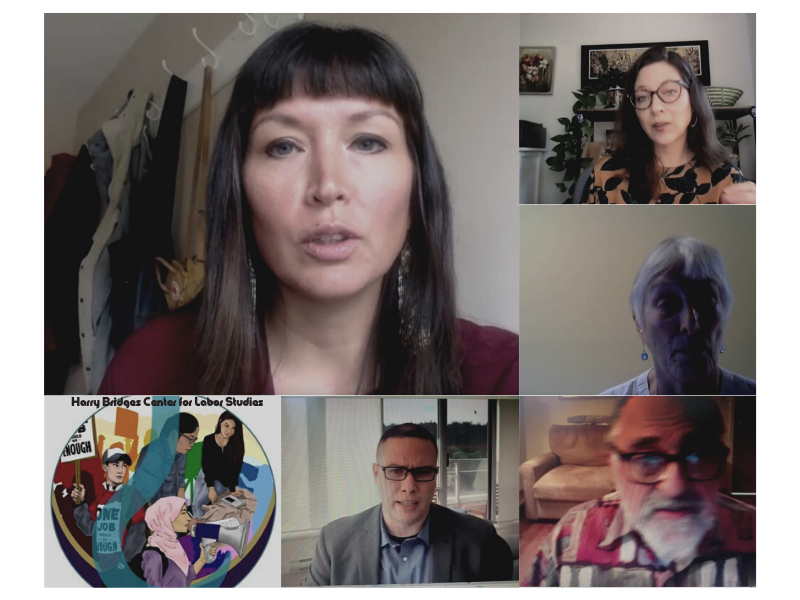 Pension Forum Investigates the Role Private Equity Plays in Exacerbating the Climate Crisis
The University of Washington's Harry Bridges Center for Labor Studies hosted a forum that explored the relationship between pension funds and other institutional investors, the climate crisis, and the impacts on communities and the environment. Trustees and representatives of dozens of investors with more than $10 trillion in assets combined participated in the forum.  
Panelists spoke of the growing urgency to understand and address the role private equity plays in exacerbating the climate crisis, often using pension fund capital. Watch the forum here.
Globally, private equity firms manage $7.5 trillion and that is expected to grow substantially in the next few years. Private equity firms have invested billions across the fossil fuel industry, including pipelines, LNG export terminals, coal plants, fracking and drilling. 
Due to private equity firms' lack of regulatory oversight and public disclosure, the climate impacts of these substantial fossil fuel holdings have not faced adequate scrutiny.
Treasurer of the British Columbia Government and Service Employees' Union Paul Finch said at the forum, "What doesn't get measured doesn't get managed. And we need to better understand what the risk is and we need better measurements of investment risk. We need less blind trust of investment agents. We need to appoint more critical thinkers to these pension boards who are equipped and educated with the tools to be able to understand the risks that exist." 
Among the risks of fossil fuel investments are harm to communities of color and threats to indigenous sovereignty. One example is KKR's Coastal Gaslink Pipeline, which is one of dozens of fossil fuel investments in KKR's portfolio.
KKR's Coastal Gaslink Pipeline construction traverses unceded Wet'suwet'en Territory in British Columbia, Panelist Sleydo' (Molly Wickham) – Gidimt'en Checkpoint Wet'suwet'en spokesperson said, "Our resistance creates huge instability and risk to investors. We know that [KKR's] Coastal Gas Link project has been delayed for at least one year and many seasons due to direct action and the requirement of added infrastructure throughout the pipeline route. We will never stand down and will continue to resist this project and others like it that do not gain consent from our people. It is a bad investment that will never see the returns that pensioners deserve."
Even as the US has rejoined the Paris Agreement, and the Biden Administration is advocating for greater investment in clean energy infrastructure, and as publicly traded companies begin to commit to net-zero emissions, private equity firms – such as the Blackstone Group, KKR & Co., and the Carlyle Group – continue to acquire fossil fuel assets, contributing to the climate disaster we are experiencing. 
Private Equity Stakeholder Project Climate Director Alyssa Giachino told forum attendees, "There is a universe of economic actors outside of the public markets – like private equity — that are finding buying opportunities in assets shed by publicly traded companies. Absent pressure and real accountability, private funds managers will continue to invest institutional investors' capital in oil and gas despite the risks. The public needs real information to hold private equity accountable to the impacts they have already had on the environment and marginalized communities."