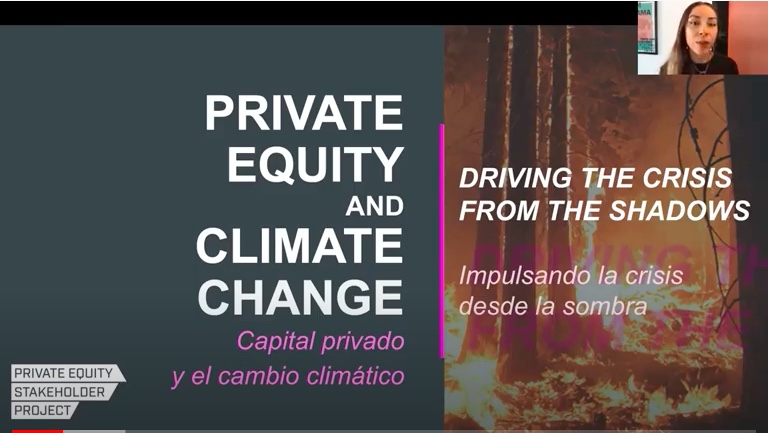 PESP Participates in STMP's Webinar: Wall Street's Evil Twin – How Private Equity Propels the Climate Crisis
Private Equity Stakeholder Project joined with Stop the Money Pipeline coalition, Earthworks, the Action Center on Race & the Economy, Public Citizen and Americans for Financial Reform in a webinar to discuss how private equity is fueling climate chaos and what we can do about it on April 14th.
Kendra Pinto, the Four Corners Indigenous Community Field Advocate from Earthworks joined from the Navajo Nation in New Mexico to describe the impacts of toxic emissions from oil and gas extraction activities. Earthworks documents emissions from fossil fuel extraction operations across the United States.
As a certified thermographer, Pinto captures emissions from drilling equipment, including some owned by Hilcorp, a major gas producer that Carlyle has partnered with in New Mexico.
PESP Research Director Alyssa Giachino said, "Private equity is basically a 'billionaire factory' – it has created obscene wealth for its executives using aggressive tactics that often leave a wake of wreckage for workers and communities to deal with after the firm walks away."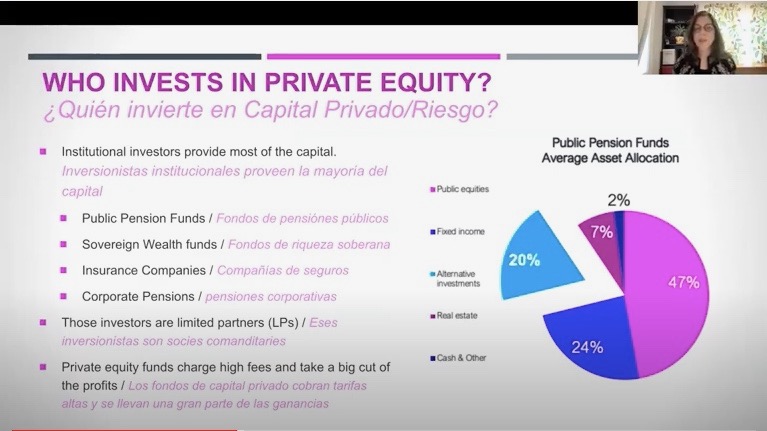 In a recent report with Little Sis, PESP found that private equity firms have invested billions in fossil fuels while their  executives greenwash their reputations through philanthropy.
Private equity is fueling the climate crisis and environmental injustice with investments in fracked gas, offshore drilling, LNG terminals, pipelines, coal and gas plants.
That massive ownership of dirty energy by private equity is bad enough, but it gets even worse:
While public companies like Exxon Mobil, Occidental Petroleum and ConocoPhillips are selling off oil fields – private equity is actually buying them and continuing to drill. While utility companies sell off gas or coal plants, private equity buys them and keeps on polluting.
Private equity firms and their billionaire CEOs have pumped hundreds of billions of dollars into fossil fuels with little scrutiny. Because these firms are exempt from many financial regulations, they largely operate under the radar. 
Research and Campaign Coordinator Amanda Mendoza focused on one of the largest private equity firms with $300 billion dollars in assets under management, The Carlyle Group. She shared that "Carlyle has roughly $24 billion dollars in fossil fuels, owning dozens of oil and gas companies and through a major stake in another firm called NGP Energy Capital." Carlyle and NGP's investments include gas-fired power plants in the Northeast, as well as drilling operations in Texas, Oklahoma and even in South America, Africa, and Southeast Asia.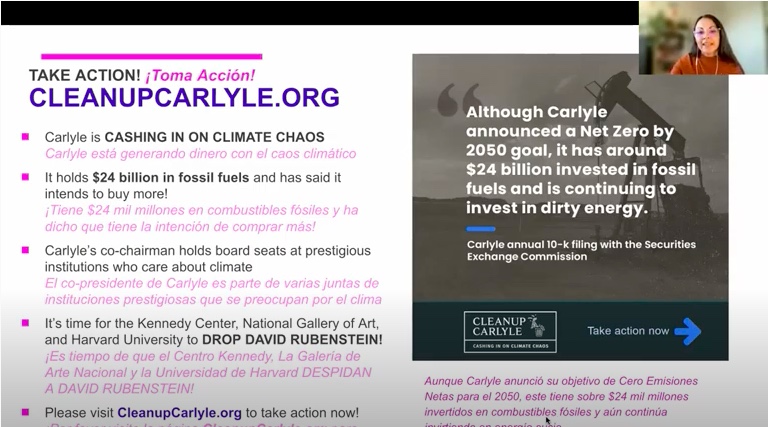 The Co-founder and Co-chairman of Carlyle is billionaire David Rubenstein, who donates millions to prestigious cultural institutions and universities. Rubenstein serves as Chairman of the Kennedy Center for the Performing Arts, the Council on Foreign Relations, the Economic Club of Washington DC, and the National Gallery of Art. He is also a Trustee of Harvard and the University of Chicago.
Although the private equity industry operates in the shadows, activists are calling on cultural and academic institutions to cut ties with Carlyle and Rubenstein until they clean up their act. Webinar participants took action at CleanUpCarlyle.org to email the institutions affiliated with Rubenstein, asking them to dump him from their boards.
This was the third of Stop the Money Pipeline's 5-part Toxic Money Training Series to not only expose the financial institutions fueling the climate crisis, but most importantly to organize collective action to rein them in.