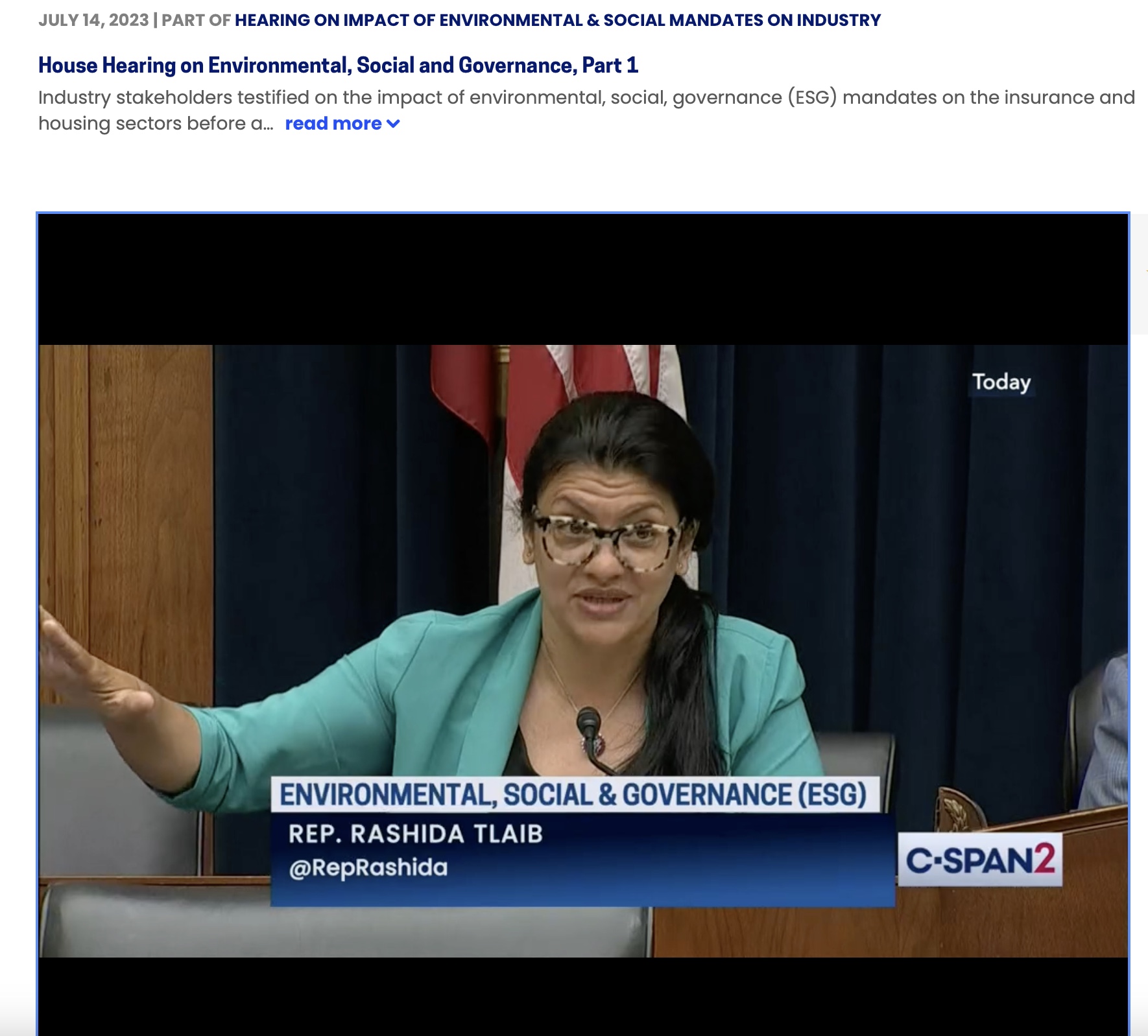 PESP submits statement about private equity and rising housing costs
"We all know it's because of private equity firms, because of investors…" Rep. Rashida Tlaib (D-MI)
PESP Submits Statement about Private Equity and Rising Housing Costs
On July 14, a House Financial Services Subcommittee held a hearing seeking to pin the blame for rising housing and insurance costs on ESG (Environmental, Social, and Governance) standards. PESP submitted a statement (link to statement) that pointed out the role of private equity firms and corporate landlords in driving up housing prices and called for additional standards to protect tenants.
"The rise of corporate landlords and private equity housing acquisitions has raised a number of concerns, such as the steady upsurge in housing prices, making it increasingly challenging for individuals and families to find affordable homes. Moreover, the influence of corporate landlords has extended beyond pricing, often resulting in diminished tenants rights and housing quality," wrote Jordan Ash, PESP's Director of Housing Research and Campaigns.
PESP's statement cited several companies as examples of the negative impacts of private equity's growing ownership of rental housing: Blackstone, Progress Residential, Vinebrook Homes, and the CIM Group.
CIM purchased Southern Towers, a five-building apartment complex of over 2,000 units in Northern Virginia. For decades, Southern Towers has been home to thousands of hardworking blue-collar families, many of whom are African immigrants. CIM purchased Southern Towers with the help of a $346 million loan with a 2.2% interest rate from Freddie Mac.[1]
Tenants hoped that CIM would bring positive changes to the complex, but mold, pests and other maintenance issues continued to go unresolved and CIM filed hundreds of eviction notices during a nationwide ban on evictions. In the first six months of owning Southern Towers, CIM filed over 500 eviction notices against 255 households during the federal eviction moratorium.[2]
Southern Towers tenants report that they feel that CIM wants to push them out in favor of the
thousands of Amazon employees who will work at Amazon's second headquarters a few miles away, which just opened last month. CIM has denied that it intends to convert the Towers into luxury residences for Amazon workers.[3]
CIM's actions run contrary to Freddie Mac's purpose of providing and preserving affordable workforce housing. Freddie Mac has taken no action against CIM, and CIM remains eligible to receive financing for future acquisitions.
During the hearing, while questioning a representative of the Manufactured Housing Institute about the increased cost of manufactured homes, Rep. Rashida Tlaib (D-MI) stated, "You're all acting like all the little policies we have about looking at the fact we have a climate crisis is increasing the cost of manufactured homes, which we all know is because of private equity firms, because of investors, you know I'm right."
A representative of the Manufactured Housing Institute, who was a witness at the hearing, responded, "Private equity firms aren't generally involved in manufactured housing." However, numerous news stories have documented the mobile home park buying spree of private equity firms, such as Blackstone, Carlyle, and Apollo.[4]
Mobile Home University, which provides information on the industry and conducts training on how to buy and operate mobile home parks, wrote, "Blackstone is only the latest large private equity group to embrace the mobile home park business model. They are joining the ranks of the Carlyle Group (America's largest private equity group) and Apollo, and many more in the future."[5]
[1] https://www.businessinsider.com/southern-towers-apartment-tenants-battle-investor-landlord-2022-11
[2] https://www.businessinsider.com/southern-towers-apartment-tenants-battle-investor-landlord-2022-11
[3]https://www.nbcwashington.com/news/local/virginia-tenants-fear-theyll-be-displaced-by-amazon-workers/2650731/
[4] https://www.newyorker.com/magazine/2021/03/15/what-happens-when-investment-firms-acquire-trailer-parks; https://www.nytimes.com/2022/03/27/us/mobile-home-park-ownership-costs.html
[5] https://www.mobilehomeuniversity.com/articles/blackstone-affirms-the-brilliance-of-the-mobile-home-park-business-model
—