PESP Testifies at House Subcommittee Hearing on the Evictions Crisis
Clyburn deeply troubled that many large corporate landlords have been aggressively attempting to remove thousands from their homes 
On July 27, the Private Equity Stakeholder Project (PESP) testified at a Hearing of the House Select Subcommittee on the Coronavirus Crisis, informing members of the Committee how private equity firms and other corporate landlords have filed to evict at least 75,000 residents since the CDC eviction moratorium took effect last September in the dozens of counties where the Private Equity Stakeholder Project has been tracking eviction filings.
Private Equity Stakeholder Project's written testimony for the July 27, 2021 hearing of the House Select Subcommittee on the Coronavirus Crisis on "Oversight of Pandemic Evictions: Assessing Abuses by Corporate Landlords and Federal Efforts to Keep Americans in Their Homes"
Subcommittee Chair Jim Clyburn explained, "We are here today to discuss an issue of utmost importance: ensuring that the coronavirus pandemic, which has already resulted in a loss of life of more than 600,000 Americans, does not result in the loss of stable homes for millions more. As the Coronavirus pandemic ravaged the nation, millions of Americans lost their jobs and faced significant challenges making ends meet. For these Americans, one of the most pressing challenges has been ensuring that the loss of a job did not also mean the loss of a roof over their families' heads."
PESP Executive Director Jim Baker joined affected renters, the National Low Income Housing Coalition and others as hearing witnesses. Baker explained how these filings have disproportionately impacted residents of color, particularly Black renters, and how in some cases, corporate landlords have refused to accept rental assistance even after their residents have been approved for it.
The hearing garnered considerable media coverage, including:
Toronto Star, August 7, 2021: Pretium Partners is under investigation. Critics ask (again) why a major Canadian pension fund formed an $870M partnership with the company
Reuters, July 27, 2021: U.S. House panel holds hearing on pandemic evictions by corporate landlords
Bloomberg Government, July 27, 2021:Eviction Ban Lapse, Delta Surge Fuel Calls for Congress to Act
The New York Times, Daily Business Briefing, July 27, 2021: The chairman of a House coronavirus subcommittee vows to investigate eviction practices by corporate landlords.
WSOC TV, July 27, 2021: Some landlords accused of ignoring eviction moratorium, rental assistance money
Truthout, July 27, 2021:Report: Real Estate Groups Paid GOP Lawmakers Huge Sums to Reinstate Evictions
The Washington Post, July 20, 2021: House panel targets corporate landlords tied to thousands of evictions
Clyburn opened the hearing observing how, "Even as the American economy continues to recover, millions of American families still live in fear of falling behind on their rent and being forced from their homes. Added to this fear are the aggressive and unjustified eviction practices by some landlords.
"I am deeply troubled by reports that many large corporate landlords have been aggressively and unfairly attempting to remove thousands of Americans from their homes during this pandemic. Court records show that multiple large corporate landlords, some of whom control tens of thousands of rental units have moved to evict large numbers of their tenants over the course of the pandemic despite the CDC eviction moratorium and the availability of rental assistance funds.
"One large landlord for example has been found to have evict over 2000 tenants during the pandemic, totalling over a quarter of their company's tenants. Evictions by corporate landlords have been particularly widespread in minority communities."
Havenbrook Homes renter Katrina Chisholm shared how she had lost her customer service job due to the pandemic. Havenbrook, owned by private equity firm Pretium Partners, was uncooperative and she lost the rental assistance. And even though she presented a payment agreement when the moratorium was extended, "Havenbrook made it clear they wanted me out, instead of accepting the rental assistance. The fear of homelessness became a reality for me. I was very concerned that my son and I would have nowhere else to go but to a shelter. I was concerned about our health and I was concerned about my son's school."
Due to the evidence of widespread unnecessary evictions, Clyburn discussed the launch of the Select Subcommittee's investigation into four corporate landlords, Pretium Partners, Invitation Homes, Ventron Management, and Siegel Group, concerning their cooperation with rental assistance programs and compliance with the eviction moratorium by the Centers for Disease Control and Prevention (CDC).
"In view of this information, the select subcommittee has initiated an investigation into some of the large corporate landlords alleged to be engaged in these practices. This investigation will seek to find out whether these large landlords are refusing to cooperate with rental assistance programs and attempting to force families out of their homes unfairly and needlessly.
"Let me be clear, the aggressive actions of these large corporate landlords are unacceptable. They must stop immediately. These evictions are especially unacceptable because they are unnecessary."
Baker noted that an organization violating the CDC eviction moratorium may be subject to a fine of up to $200,000 per event or $500,000 per event if the action results in death.  He recommended that the subcommittee should recommend action by the US Department of Justice to seek penalties from landlords that have violated the moratorium.
Specifically, Baker recommended that the subcommittee should assess whether any landlords violated residents' civil rights by disproportionately filing to evict Black renters or other renters of color. An April report by the Private Equity Stakeholder Project found that Progress Residential and Front Yard Residential have filed to evict residents in majority-Black counties in Georgia at much higher rates than they have renters in majority-white counties in Florida.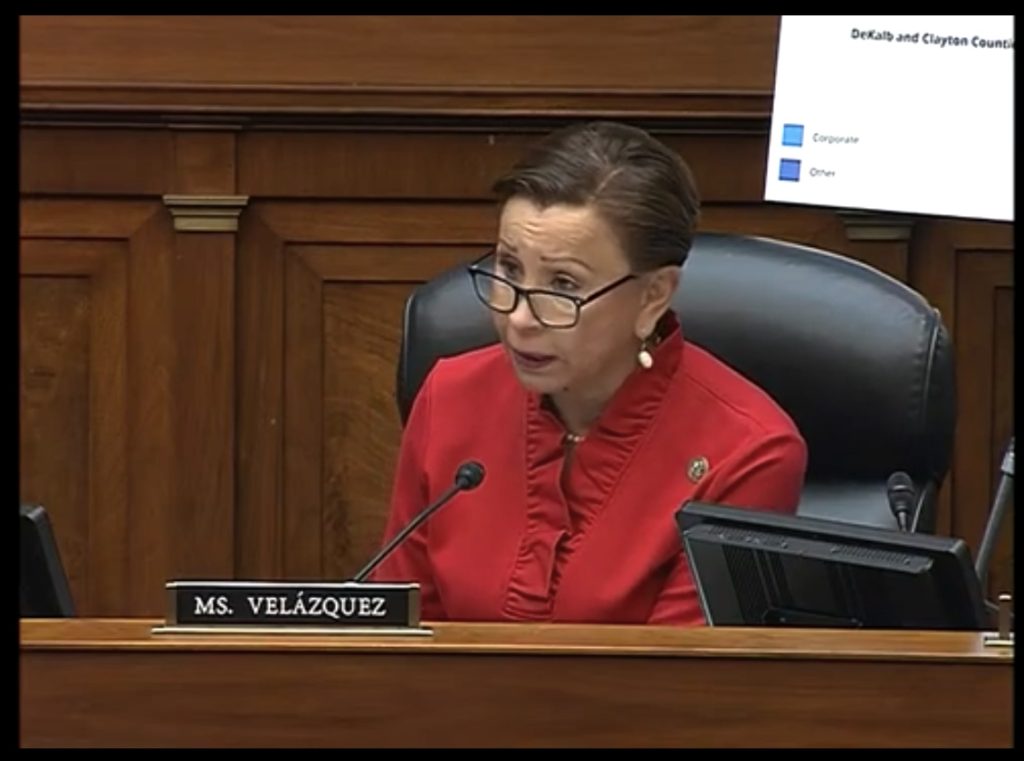 NY Representative Nydia Velázquez shared, "New York City landlords are filing evictions 3.6 times faster in zip codes hardest hit by COVID and roughly 68 percent of these residents are people of color."
Baker also recommended to the subcommittee that corporate landlords should be required to work with residents to access the billions of dollars in rental assistance that remain available. The fact that some landlords have refused to accept rental assistance to ensure residents can stay in their homes is extremely troubling. 
In this critical new phase of the crisis facing renters, it is important that we remain vigilant to corporate landlords' evictions of residents.