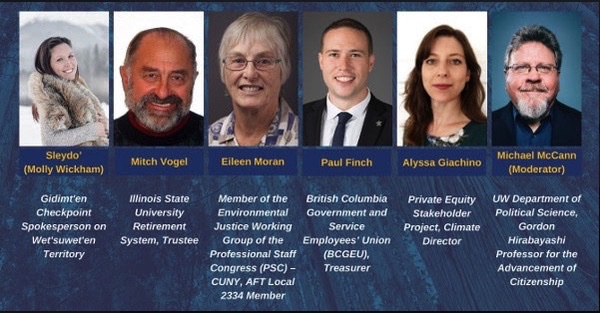 Power in a Pension Forum: Labor, Private Equity, and Climate Justice
In the race to mitigate the effects of climate change, there is growing urgency to interrogate the role private equity plays in exacerbating the climate crisis, using labor-affiliated pension fund capital. Even as publicly traded companies begin to commit to net-zero emissions, private equity firms – such as the Blackstone Group, KKR & Co., or the Carlyle Group – continue to acquire fossil fuel assets. This exposes public pension funds, which manage the retirement of millions of public sector workers, to fossil fuel investments that are subject to less scrutiny, greater bankruptcy risk, and poor returns.
At the same time, the United States has rejoined the Paris Agreement, regulatory agencies are seeking to strengthen climate risk disclosure and forecasts are predicting decreasing fossil fuel demand. Renewable energy sources are now cheaper than fossil fuels, and there is an increasing awareness of the harms of greenwashing and the devastating costs of global warming on marginalized communities and the environment. Pension fund exposure to fossil fuel assets while the industry itself faces growing regulatory pressure and structural decreases in demand are concerning for labor's retirement capital and remain detrimental to front-line communities and the environment.
Join us to explore the relationship between labor's retirement capital, the climate crisis, and the impacts on communities and the environment. The forum will bring stakeholders together to discuss how labor unions, pension fund trustees, and Indigenous rights and grassroots organizations are working to effect change and explore avenues for further collaboration. Panelists include:
Sleydo' (Molly Wickham) – Gidimt'en Checkpoint Spokesperson on Wet'suwet'en Territory, British Columbia
Mitch Vogel – Illinois State Universities Retirement System Trustee
Eileen Moran – Member of the Environmental Justice Working Group of the Professional Staff Congress (PSC) – CUNY, AFT Local 2334
Paul Finch – British Columbia Government and Service Employees' Union (BCGEU), Treasurer
Alyssa Giachino – Private Equity Stakeholder Project, Climate Director
The discussion will be moderated by Michael McCann, University of Washington Gordon Hirabayashi Professor for the Advancement of Citizenship.
For additional information please contact Riddhi Mehta-Neugebauer, Research Director, Harry Bridges Center for Labor Studies, at riddhimn@uw.edu.