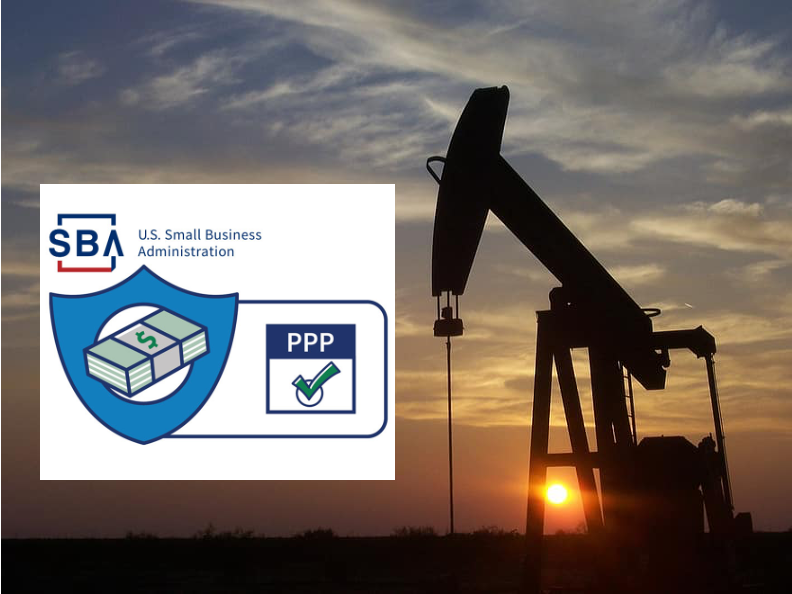 PPP Loans Flow to Energy Companies Backed by Deep-Pocketed Private Equity
Congress designed the Paycheck Protection Program (PPP) to help small businesses remain afloat and ensure they continued to pay their employees, rent, mortgage interest and utilities, during the coronavirus pandemic. The program came under fire early on when some small businesses, particularly minority-owned businesses, were unable to get loans while larger companies with access to alternate funding sources received PPP loans.
In establishing the $669 billion government program, Treasury Secretary Steven Mnuchin said the program isn't meant to help companies that have access to other sources of capital. Nonetheless, companies backed by private equity firms, home to some of the world's wealthiest financiers, received taxpayer-backed PPP loans.
Small Business Administration (SBA) officials have urged the private equity industry – which has approximately $1.5 trillion in available cash – to assist their portfolio companies weather the pandemic.
Even though the government broadly excluded private equity firms from the PPP program, many private equity-backed companies found ways to navigate around those restrictions. Thousands of private equity-backed companies got PPP loans equal to around $13 billion, according to an analysis by Pitchbook.
Of those, the data show that at least 72 fossil fuel-connected companies backed by private equity firms received loans in amounts ranging from $350,000 to $10 million, from producers to oil field services to equipment companies. Combined, these private equity-backed fossil fuel companies were granted between $110 million and $240 million in taxpayer loans through PPP.
More recently, private equity firms KKR, Blackstone, Apollo, Carlyle, TPG, and Ares told Bloomberg that the portfolio companies they back have not used SBA funds.
Spur Energy
KKR executives claim to have urged their portfolio companies who apply for and received PPP loans to return them to the government.
But one of KKR's newest energy partnerships has yet to do so. Formed last year with KKR's financial backing, Spur Energy is focused on acquiring and developing oil and gas assets across the United States. In April 2020, Spur Energy was granted a PPP loan of $2 million to $5 million. This government loan came after Spur Energy and KKR acquired new assets in the Permian Northwest Shelf and the New Mexico Shelf in 2019.

Spur Energy's financial sponsor is a leading global investment firm. KKR has $222 billion in assets under management and according to Pitchbook, $42.2 billion available to invest. In the second quarter of 2020, it raised $16 billion, a record quarter figure for the firm and made over $698 million in profit in the first 6 months of the year – seemingly plenty of money to help its portfolio companies weather the pandemic's market uncertainty.
Laramie Energy
Another example involves a natural gas fracking company, Laramie Energy, which received $1 to $2 million loan to retain 27 jobs. It is also backed by private equity, having raised capital exceeding $500 million from five funds: Avista Capital, aPriori Capital, Par Pacific Holdings, Energy Spectrum, and Wells Fargo Energy Capital. Wells Fargo's Energy Group is one of the largest capital providers in the energy space, with approximately $42 billion committed to public and private companies. In April 2020, Energy Spectrum closed its eighth venture capital fund, amounting to $969 million, which the firm is currently investing. Despite second quarter EBITDA losses, Par Pacific Holdings, which owns 46 percent of Laramie Energy, increased its liquidity by 49 percent or nearly $70 million during the quarter.
Laramie is the third largest producer of gas in Colorado's Piceance Basin, but faced financial losses before the pandemic. After suspending local drilling, Laramie lost nearly $90 million in 2019, compared to equity earnings of about $10 million in 2018. Laramie's total Adjusted EBITDAX decreased by 27 percent from 2018 to 2019. Oil and gas analysts attribute the nosedive to falling natural gas prices as early as 2016 and the passage of the 2019 Colorado Senate Bill 181, which prioritizes the protection of public health and safety, the environment, and wildlife over the development of extractive natural resources.
Casillas Petroleum
Another oil and gas production company, Casillas Petroleum received a PPP loan between $350,000 and $1 million in April 2020. Casillas' private equity sponsor, Kayne Anderson Capital, manages over $27 billion of assets. According to Pitchbook, Kayne Anderson has over $7 billion available to invest. The last Kayne Anderson Energy Fund raised $2 billion in 2016. Kayne Anderson has raised at least $1 billion for its eighth energy fund, according to federal filings, and continues to seek commitments.

The list below shows private equity-backed oil and gas companies that were awarded PPP loans, based on data from the SBA and Pitchbook.
| | | | |
| --- | --- | --- | --- |
| PPP Loan Size | Company Name | HQ Location | Active Investors |
| $5-10 million | Axis Energy Services | Longview, TX | B-29 Investments, Lime Rock Partners |
|   | Brigade Energy Services | Denver, CO | Turnbridge Capital |
|   | Charps | Clearbrook, MN | Hines Global Income Trust, Main Street Capital |
|   | Cimarron Energy | Houston, TX | FS Energy and Power Fund, Turnbridge Capital |
|   | Cox Operating | Dallas, TX | EIG Global Energy Partners |
|   | Drilling Tools International | Houston, TX | Hicks Equity Partners |
|   | Flowco Production Solutions | Houston, TX | GEC |
|   | Gordon Technologies | Scott, LA | Pelican Energy Partners |
|   | kV Power | Andrews, TX | Rock Hill Capital |
|   | MorningStar Partners | Fort Worth, TX | Bluescape Group |
| $2-5 million | Advanced Oilfield Services | Platteville, CO | MVC Capital |
|   | Apex Clean Energy | Charlottesville, VA | J.P. Morgan, NYSERDA, Prudential Private Capital, Tyr Energy, U.S. Bancorp |
|   | ARB Midstream | Denver, CO | BV Natural Resources, EIG Global Energy Partners |
|   | ASAP Industries | Houma, LA | Boyne Capital Partners |
|   | Bronco Utah Operations | Emery, UT | PPMT Capital Advisors |
|   | Estis Compression | Kilgore, TX | Cohesive Capital Partners, GEC, Genesis Park |
|   | KW International | Houston, TX | OFS Energy Fund |
|   | Mach Resources | Oklahoma City, OK | Ara Partners Group |
|   | Paragon Industries | Sapulpa, OK | Lee Equity Partners |
|   | Pipe Pros | Corpus Christi, TX | Swift River Investments, Turnbridge Capital |
|   | Red Cedar Gathering | Durango, CO | KN Gas Gathering Co., Southern Ute Indian Tribe Growth Fund |
|   | SCS Technologies (Texas) | Big Spring, TX | Black Bay Energy Capital |
|   | Sierra Hamilton | Houston, TX | Capitala Group, Corinthian Capital Group, Orix Private Equity Solutions |
|   | Silvertip Completion Services | Midland, TX | Lime Rock Partners |
|   | Spur Energy Partners | Houston, TX | Kohlberg Kravis Roberts, The Energy & Minerals Group |
| $1-2 million | Arena Energy | The Woodlands, TX | Lime Rock Partners |
|   | Baseline Energy Services | Fort Worth, TX | Alturus Strategic Capital Partners, Donovan Ventures |
|   | Bullseye Testing | Midland, TX | Hastings Equity Partners |
|   | C&G Energy Services | Englewood, CO | 3P Equity Partners, Silver Sail Capital |
|   | ComRent International | Broomfield, CO | AlpInvest Partners, Global Environment Fund |
|   | CP Energy Services | Weatherford, OK | Prospect Capital |
|   | CPL Systems | Lafayette, LA |   |
|   | Energy Fishing and Rental Services | Houston, TX | Harren Equity Partners |
|   | Evolution Markets | White Plains, NY | CCP Equity Partners |
|   | Integrity Wireline | Abilene, TX | Sowell & Company |
|   | Laramie Energy II | Denver, CO | aPriori Capital Partners, Avista Capital Partners, EnCap Investments, Energy Spectrum Capital, Energy Trust Partners, Par Pacific Holdings, Wells Fargo Energy Capital |
|   | Lario Oil & Gas Company | Wichita, KS | Concentric Equity Partners |
|   | MicroSeismic | Houston, TX | Chevron Technology Ventures, Madrone Capital Partners, RockPort Capital Partners, TA Associates Management |
|   | Moser Energy Systems | Evansville, WY | Hilltop Opportunity Partners, WestFront Capital Group |
|   | Nadel and Gussman | Tulsa, OK | Post Oak Energy Capital |
|   | NewKota Services and Rentals | Minot, ND | Banyan Investment Partners, Diamond State Ventures, Jefferson Capital Partners, Woodlawn Partners |
|   | Park Energy Services | Oklahoma City, OK | Rock Hill Capital |
|   | Professional Rental Tools | Houston, TX | Ironwood Capital, LongueVue Capital |
|   | Terra Oilfield Services | Spring, TX | OFS Energy Fund |
|   | Wapiti Energy | Houston, TX | Equity Group Investments |
| $350,000-1 million | Adaptive Energy | Ann Arbor, MI | Sleeping Bear Capital |
|   | Agilyx | Tigard, OR | Chrysalix Venture Capital, Crossroads Liquidating Trust, Drew Bernard, Foam Recycling Coalition, Kleiner Perkins, Pivotal Investments, Point Financial, Reference Capital Management, Saffron Hill Ventures, Starveups, Total Carbon Neutrality Ventures, TriplePoint Venture Growth, Virgin (London), Waste Management |
|   | AMP Americas | Chicago, IL | EIV Capital, GreatPoint Foundry, New Frontier Holdings |
|   | Black Mountain Oil & Gas II | Fort Worth, TX | NGP |
|   | BlueCrest Energy | Fort Worth, TX | Hallwood Group, One Stone Energy Partners |
|   | Bluewing Midstream | Houston, TX | Energy Spectrum Capital |
|   | Bold Production Services | Houston, TX | OFS Energy Fund |
|   | Casillas Petroleum | Tulsa, OK | Kayne Anderson Capital Advisors, Ridgemont Equity Partners |
|   | Eagle Battery | Muncie, IN | Cardinal Equity Partners |
|   | Fairfield Chemical Carriers | Wilton, CT | Fairfield-Maxwell |
|   | Frac Tank Rentals | Odessa, TX | Lone Star Investment Advisors, Venquest Capital Partners |
|   | Frostwood Energy | Houston, TX | SFC Energy Partners |
|   | Horizon Mud Company | Midland, TX | Patriot Capital |
|   | House Of Batteries | Fountain Valley, CA | CVF Capital Partners, Elan Growth Partners |
|   | Hybrid Tool Solutions | Fort Worth, TX | Hastings Equity Partners |
|   | Inline Services | Tomball, TX | The Catalyst Group (Houston) |
|   | Krewe Energy | Covington, LA | Coral Reef Capital, HPS Investment Partners, Sage Road Capital |
|   | Mustang Gas Compression | Kilgore, TX | Caterpillar Financial Services, CIC Partners |
|   | OneCor Services | Williston, ND | Hillstar Capital, Ranch Creek Partners, True West Capital Partners |
|   | RAM Energy | Tulsa, OK | MLV & Co, PennantPark Investment |
|   | Redfish Rentals | Houma, LA | H.I.G. Capital |
|   | Rush-Overland Manufacturing | Odessa, TX | Tenex Capital Management |
|   | Santa Fe Midstream | Plano, TX | Energy Spectrum Capital |
|   | Schramm | West Chester, PA | GenNx360 Capital Partners |
|   | Silver Creek Oil & Gas | Irving, TX | B-29 Investments, Crestview Partners, Old Ironsides Energy |
|   | Staghorn Petroleum | Tulsa, OK | EnCap Investments |