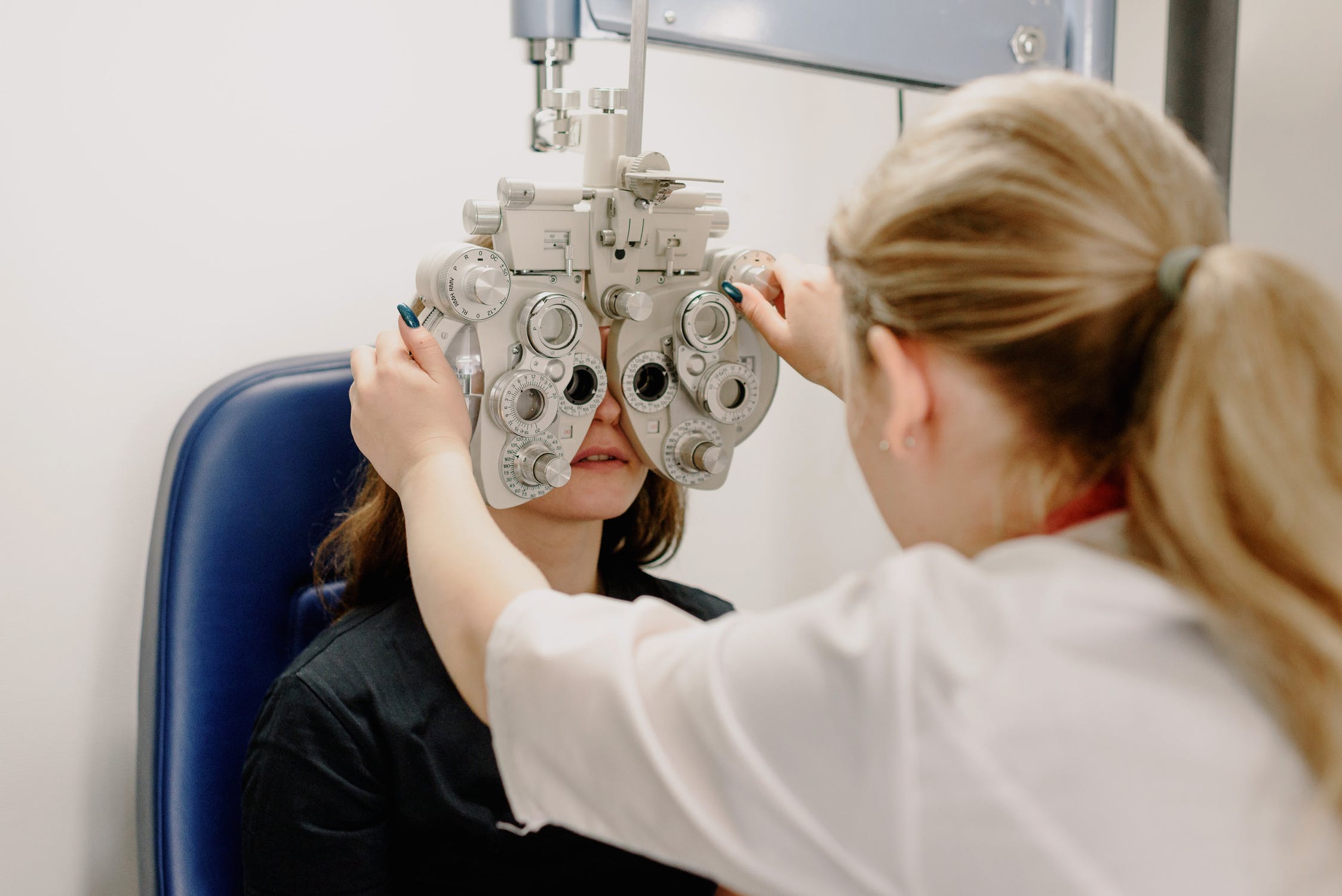 Private Equity Health Care Acquisitions – January 2022
In light of the growing investor interest in health care and the risks associated with private equity ownership of health care companies, the Private Equity Stakeholder Project will be tracking private equity-backed health care acquisitions. Below is a list of private equity health care buyouts and add-on acquisitions completed or announced during January 2022. We will continue to track acquisitions on a monthly basis.
See December 2021 acquisitions here.
Private equity firms spent the first month of 2022 doubling down on healthcare services that have seen particular investment interest over the last several years, namely eye care, dental services, and medical staffing.   
For example, private equity firms acquired at least six eye care companies in January. This is part of a growing trend of increased private equity investment in eye care, which has been ramping over the last few years as new investments in other specialty practices, such as dermatology, have declined.[i]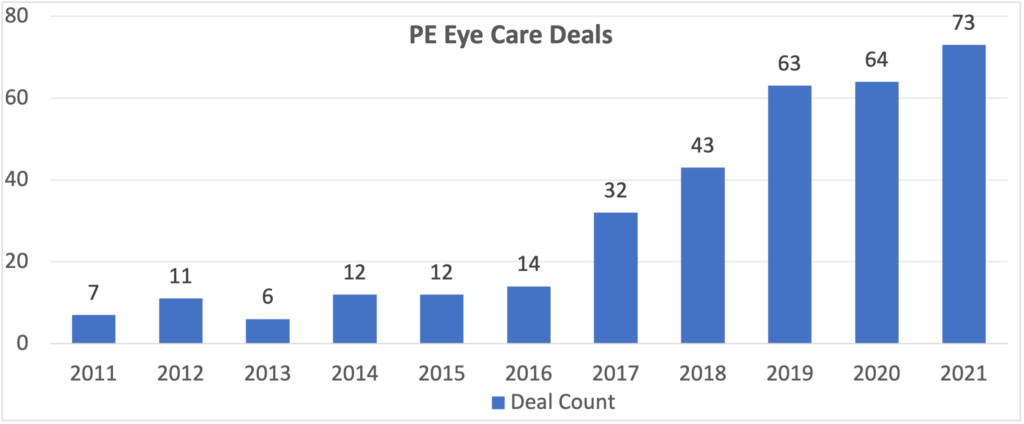 All nine eye care deals were add-on acquisitions, indicating that private equity firms are using platform companies to buy up smaller providers and consolidate the industry.
| | | |
| --- | --- | --- |
| Company | PE Firm(s) | Platform Company |
| Drs. DeVito & Martin Optometry | Sheridan Capital Partners | Atlantic Vision Partners |
| Vista Eye | Sheridan Capital Partners | Atlantic Vision Partners |
| Memorial Eye Institute | Centre Partners | Vision Innovation Partners |
| Sabates Eye Centers | Enowe, Partners Group | Eyecare Partners |
| Clayton Eye Center | Shore Capital Partners | EyeSouth Partners |
| Retina Consultants of Charleston | Webster Equity Partners | Retina Consultants of America |
A similar trend can be seen in dental services; private equity firms acquired at least nine dental companies in January.
| | | |
| --- | --- | --- |
| Company | PE Firm(s) | Platform Company |
| Smile One Services | Five Points Capital, Thurston Group | Gen4 Dental Partners |
| Harris Dental | Five Points Capital, Thurston Group | Gen4 Dental Partners |
| Downtown Dental Associates (USA) | ICV Partners | Cherry Tree Dental |
| Children's Dental Health | Rock Mountain Capital | Spark Dental Management |
| P&R Dental Strategies | The Beekman Group | n/a |
| Biotech Dental Prosthetics | Cerberus Capital Management | National Dentex |
| Burleson Orthodontics and Pediatric Dentistry | Vistria Group | Rock Dental Brands |
| Advanced Dental Arts (Wesley Chapel) | Chicago Pacific Founders | Marquee Dental Partners |
| Amazing Dental Group | Ares Capital Corporation BDC, Roark Capital Group | Great Expressions Dental Centers |
Private equity firms have increasingly been investing in the US dental industry through Dental Services Organizations (DSOs). DSOs are companies that handle the business side of dental practices, such as administrative, marketing, bookkeeping, and financial services. Private equity firms dominate the DSO market; nine of the top ten DSOs in the US are owned by private equity firms. 27 of the top 30 DSOs by number of affiliated locations are owned by private equity firms, accounting for 84% of practice locations affiliated with the top 30 firms.[ii]
Private-equity-owned dental companies have been found to employ cost cutting tactics that can hurt patient care, including pushing medically unnecessary or expensive procedures and understaffing while attempting to maximize patient volume.[iii]
See our report: "Deceptive Marketing, Medicaid Fraud, and Unnecessary Root Canals on Babies: Private Equity Drills into the Dental Care Industry"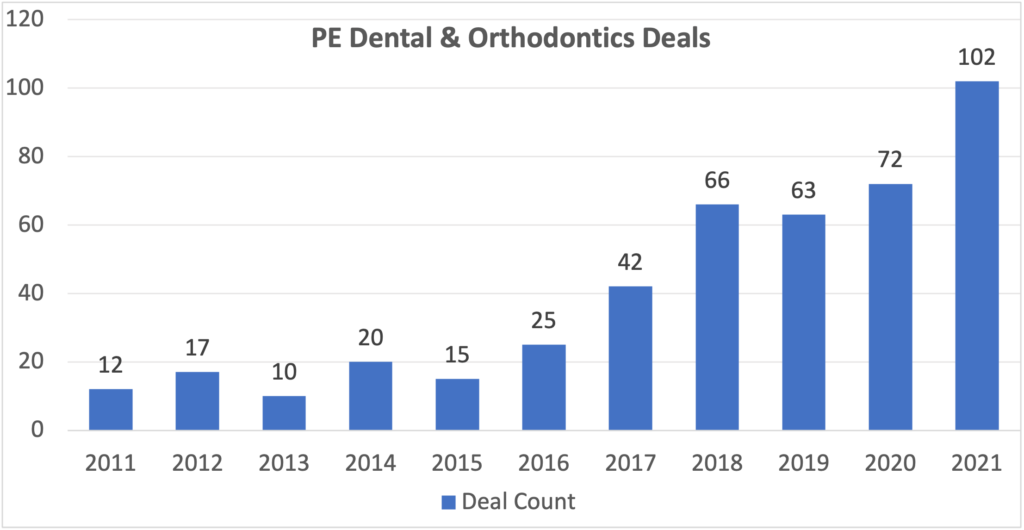 In addition, private equity firms also acquired three healthcare staffing companies in January:
Dynamic Infusion Therapy, which is owned by private equity firm RiverGlade Capital, acquired AccessRN, a nursing staffing company specializing in vascular services. The combined company will operate in 21 states and partner with 1,500 healthcare facilities.[iv]
Littlejohn Capital acquired Alto Healthcare Staffing, which provides nursing staffing to nursing homes, travel nurses to hospitals, and medical assistance to doctors' offices.[v]
Healthcare staffing companies have been a popular target for private equity firms. Limited regulation has allowed private-equity-owned staffing companies to charge higher rates for services than hospitals, sometimes leaving patients with surprisingly high medical bills.[viii]
Now, nursing staffing firms are facing scrutiny for allegedly charging exorbitant rates to hospitals during the pandemic. In January 2022, a bipartisan group of nearly 200 members of Congress wrote to the White House asking it to direct federal agencies to scrutinize staffing agencies for potential "anticompetitive activity" and violations of consumer protection laws.[ix]
January 2022 Private Equity Buyouts
| | | |
| --- | --- | --- |
| Company | Type | PE Firm(s) |
| Compliancy Group | Health tech | Aldrich Capital Partners |
| PRIA Healthcare | Medical reimbursement services | Aldrich Capital Partners |
| MJH Life Sciences | Healthcare consulting | BDT Capital Partners |
| Thomas Scientific | Medical supplies | Broad Sky Partners |
| Cranial Technologies | Medical devices | Eurazeo Capital |
| Texas Endovascular Associates | Vascular treatments, physicians' practice | Fulcrum Equity Partners |
| Midwest Medical | EMS | Harbour Point Capital |
| Symplr | Health tech | Icon Partners |
| Christus Surgical Hospital | Hospital | IRA Capital |
| Pace Analytical Services | Environmental testing | Leonard Green & Partners |
| Alto Healthcare Staffing | Staffing | Littlejohn Capital |
| Covaris | Medical supplies | New Mountain Capital |
| The Ritedose | Medical devices | Novo Holdings |
| mPulse Mobile | Health tech, telehealth | Providence Strategic Growth |
| P&R Dental Strategies | Dental | The Beekman Group |
| Confluent Medical Technologies | Medical devices | TPG |
| Spine One | Physical therapy | Trinity Hunt Partners |
January 2022 Private Equity Add-On Acquisitions
| | | | |
| --- | --- | --- | --- |
| Company | Type | PE Firm(s) | Add-on Platform |
| Gastrointestinal Specialists | Gastroenterology | Amulet Capital Partners, Ashlar Capital | U.S. Digestive Health |
| AstraZeneca (US Commercial Rights) | Pharmaceuticals | Apollo Global Management | Covis Pharma |
| Kaleida Systems | Health tech | Aquiline Capital Partners, Sixth Street Partners | Fullsteam |
| Lone Peak Anesthesia | Anesthesiology, physicians' practices | Archimedes Health Investors, Assured Investment Management | National Partners in Healthcare |
| Castlight Health | Employee benefits | Archimedes Health Investors, Transformation Capital, Clayton, Dubilier & Rice and Ponderosa Global Ventures | Vera Whole Health |
| Amazing Dental Group | Dental | Ares Capital Corporation BDC, Roark Capital Group | Great Expressions Dental Centers |
| Conduent (Midas Health Analytics Solutions) | Health tech | Ares Capital Corporation BDC, SkyKnight Capital, Icon Partners, Charlesbank Capital Partners | Symplr |
| Zipher Medical Affairs | Healthcare consulting | Arsenal Capital Partners | Pharma Value Demonstration |
| Human Resource Training | Behavioral health, foster care | Atar Capital | Pathways Healthcare |
| Phlexglobal | Health tech | Auctus Capital Partners | PharmaLex |
| Georgialina Physical Therapy Associates | Physical therapy | BDT Capital Partners | Athletico Physical Therapy |
| Kaden Health | Behavioral health, telehealth | BPEA Private Equity, Webster Equity Partners | BayMark Health Services |
| Jmi Laboratories | Pharmaceuticals | Bridgepoint Advisers, Temasek Holdings | Element Materials Technology |
| Redlink (Utah) | Disability evaluation services | Centre Partners | The IMA Group |
| Memorial Eye Institute | Eye care | Centre Partners | Vision Innovation Partners |
| Biotech Dental Prosthetics | Dental | Cerberus Capital Management | National Dentex |
| Advanced Dental Arts (Wesley Chapel) | Dental | Chicago Pacific Founders | Marquee Dental Partners |
| Omni IPA Medical Group | Physicians' practices | Chicago Pacific Founders, Leavitt Equity Partners | P3 Health Partners |
| Kindful Hospice | Hospice | Coltala Holdings, Trive Capital | Choice Health at Home |
| Self Care Catalysts | Health tech | Creadev |   |
| Fort Mill Dermatology | Dermatology | Dermatologists of Central States, Sheridan Capital Partners | Advanced Dermatology and Cosmetic Surgery |
| MedCom Care Management | Healthcare benefits admin | Eir Partners, New Mountain Capital | HealthComp |
| Sabates Eye Centers | Eye care | Enowe, Partners Group | Eyecare Partners |
| Smile One Services | Dental | Five Points Capital, Thurston Group | Gen4 Dental Partners |
| Harris Dental | Dental | Five Points Capital, Thurston Group | Gen4 Dental Partners |
| Human Care Systems | Health tech | General Atlantic | CareMetx |
| Lanier Hospice | Hospice | H.I.G. Capital, Ridgemont Equity Partners | Agape Care Group |
| Essex Industries (Medical Gas Regulator Product Line) | Medical devices | HBM Holdings | Control Devices |
| Blessings Hospice | Hospice | Health Enterprise Partners, SV Health Investors | Jet Health |
| Downtown Dental Associates (USA) | Dental | ICV Partners | Cherry Tree Dental |
| Omiq | Health tech | Insight Partners | GraphPad Software |
| Nevada Fertility Center | Fertility services | InTandem Capital Partners | San Diego Fertility Center |
| Modern Catheter Technologies | Medical devices | Inverness Graham | VitalPath |
| Pharm-Olam | CRO | JLL Partners, Water Street Healthcare Partners | CATO SMS |
| AL-TAR Services | Medical devices | JZ Capital Partners, The Edgewater Funds | Technical Safety Services |
| Total Therapy | Behavioral health, revenue cycle management | K1 Investment Management | Rethink First |
| Industrial Medical Group of Santa Maria Valley | Occupational medicine | Kain Capital | Akeso Medical Holdings |
| Advantage Healthcare Services (Garden Grove and Mission Viejo pharmacies) | Pharmacies | Kinderhook Industries | Avita Pharmacy |
| Theta Dermatology | Dermatology | LLR Partners, LNK Partners, SV Health Investors, Zenyth Partners | Schweiger Dermatology Group |
| Foot and Ankle Clinic of the Virginias | Podiatry | New MainStream Capital | Foot & Ankle Specialists of the Mid-Atlantic |
| Favorite Healthcare Staffing | Staffing | Onex | Acacium Group |
| Convex Pharmacy | Pharmaceuticals | Osceola Capital Management | Revelation Pharma |
| Innovation Compounding | Pharmaceuticals | Osceola Capital Management | Revelation Pharma |
| SilverCreek RCM | Revenue cycle management | Osceola Capital Management | PayrHealth |
| Strategic Behavioral Health (7 Psychiatric Hospitals) | Behavioral health | Patient Square Capital | Summit Behavioral Healthcare |
| Pathology Consultants | Pathology services | Pritzker Private Capital, Vesey Street Capital Partners | PathGroup |
| InfuseAble Care | Infusion centers | RC Capital | FlexCare Infusion Center |
| Crossroads Hospice (Texas) | Hospice | Revelstoke Capital Partners | The Care Team |
| JIS Orthopedics | Physical therapy, orthopedics | Revelstoke Capital Partners | Beacon Orthopaedics & Sports Medicine |
| AccessRN | Staffing | RiverGlade Capital | Dynamic Infusion Therapy |
| Children's Dental Health | Dental | Rock Mountain Capital | Spark Dental Management |
| Transplant Connect | Organ donation/transplant services | Saratoga Partners, The Riverside Company | InVita Healthcare Technologies |
| Infinity Behavioral Health Services | Behavioral health, revenue cycle management | Sheridan Capital Partners | Simione Healthcare Consultants |
| Drs. DeVito & Martin Optometry | Eye care | Sheridan Capital Partners | Atlantic Vision Partners |
| Vista Eye | Eye care | Sheridan Capital Partners | Atlantic Vision Partners |
| ProActive Physical Therapy and Sports Medicine | Physical therapy | Sheridan Capital Partners | Empower Physical Therapy |
| Imark Billing | Revenue cycle management | Sheridan Capital Partners | Simione Healthcare Consultants |
| Clayton Eye Center | Eye care | Shore Capital Partners | EyeSouth Partners |
| Sinclair Research | Biopharmaceuticals | Signet Healthcare Partners | Altasciences |
| Westwood Open MRI | MRI services | Sunny River Management | Rezolut Medical Imaging |
| Center For Behavioral Health Kentucky | Behavioral health | The Cambria Group, Vistria Group | Behavioral Health Group |
| Advera Health Analytics | Health tech | The Carlyle Group | TriNetX |
| HealthSmart International | Medical devices | TPG | Convey Health Solutions |
| Remetronix | Medical equipment installation | Varsity Healthcare Partners | Probo Medical |
| Burleson Orthodontics and Pediatric Dentistry | Dental | Vistria Group | Rock Dental Brands |
| Clinicient | Revenue cycle management | Warburg Pincus | WebPT |
| California Neuroscience Research | Clinical research | Webster Equity Partners | JBR Clinical Research |
| Retina Consultants of Charleston | Eye care | Webster Equity Partners | Retina Consultants of America |
---
[i]https://crstoday.com/articles/mar-2021/private-equity-in-2021/
[ii]https://pestakeholder.org/wp-content/uploads/2021/08/PESP_DSO_July2021.pdf
[iii]https://pestakeholder.org/wp-content/uploads/2021/08/PESP_DSO_July2021.pdf
[iv]https://www.prnewswire.com/news-releases/dit-acquires-accessrn-solidifies-market-leader-position-for-vascular-access-services-301462879.html
[v]https://www.prnewswire.com/news-releases/littlejohn-capital-announces-acquisition-of-alto-healthcare-staffing-buoyed-by-industry-tailwinds-alto-poised-for-geographic-expansion-301456724.html
[vi]https://acaciumgroup.com/acacium-group-acquires-us-based-healthcare-staffing-company-favorite-healthcare-staffing/
[vii]https://www2.staffingindustry.com/eng/Editorial/Daily-News/UK-Acacium-acquires-US-based-Favorite-Healthcare-Staffing-60221
[viii]https://pitchbook.com/news/articles/pe-digs-in-as-battle-to-end-surprise-medical-bills-wages-on
[ix]https://www.modernhealthcare.com/labor/members-congress-call-investigation-nurse-staffing-agencies-pricing?adobe_mc=MCMID%3D01446777898254623873915025263144680713%7CMCORGID%3D138FFF2554E6E7220A4C98C6%2540AdobeOrg%7CTS%3D1643211248&CSAuthResp=1%3A%3A964639%3A7461%3A24%3Asuccess%3A3094B5B1B0F69436D90F162EDD29AE3A