Private Equity Health Care Acquisitions – June 2021
In light of the growing investor interest in health care and the risks associated with private equity ownership of health care companies, the Private Equity Stakeholder Project will be tracking private equity-backed health care acquisitions. Below is a list of private equity health care buyouts and add-on acquisitions completed or announced during June 2021. We will continue to track acquisitions on a monthly basis.
See May 2021 acquisitions here.
Kindred Healthcare/ LifePoint Health – Apollo Global Management
Apollo Global Management-owned hospital system LifePoint Health has announced that it will acquire acute care company Kindred Healthcare.[1] The merger will bring LifePoint's total employees to 77,000, making it the largest private equity-owned health care company in the US by number of employees.
LifePoint currently owns and operates 87 hospitals, over 50 post-acute service providers and facilities and dozens of outpatient facilities. The merger will add Kindred's 62 long-term acute care facilities, 25 inpatient rehabilitation facilities, more than 100 acute rehabilitation facilities and two behavioral health facilities.[2] The resulting company will operate in 34 states.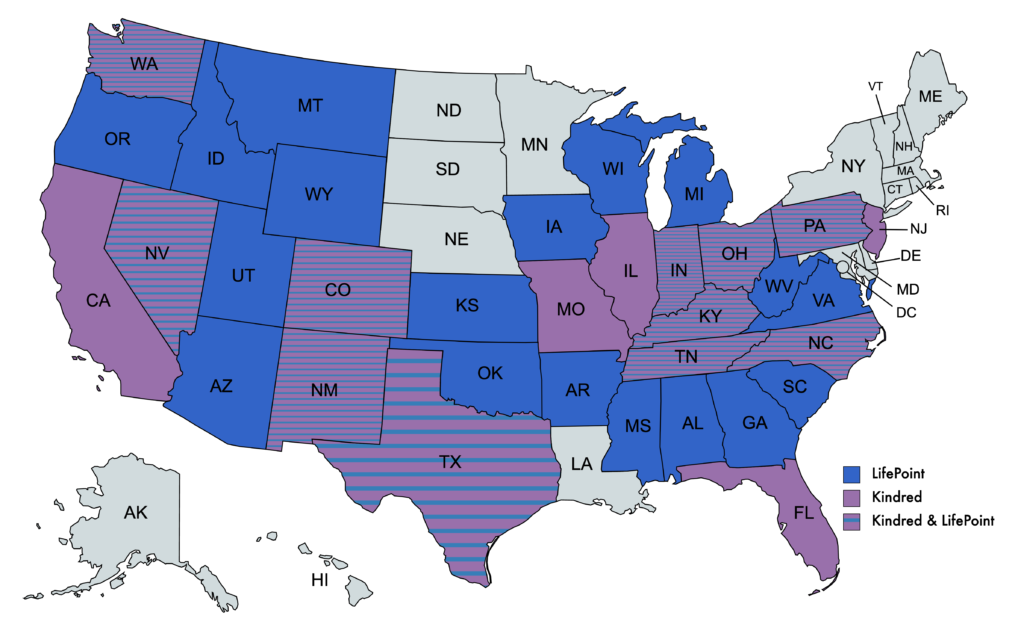 Apollo Global Management acquired LifePoint in in 2018 and merged it with RCCH HealthCare Partners. LifePoint primarily operates rural hospitals. [3] Kindred is owned by a consortium of insurer Humana and private equity firms TPG Capital and Welsh, Carson, Anderson & Stowe (WCAS), which took the company private in 2018. [4]
Financing for the Kindred deal has not yet been disclosed, though the scale of merger and high use of leverage raises questions. Credit rating agency Moody's Investors Service placed LifePoint on review for downgrade in June noting the company's high financial leverage, with debt to EBITDA of approximately 5.1 times. Moody's also cited the possibility of Apollo taking dividends from the company as an additional risk: "LifePoint's ownership by private equity firm Apollo Management will result in the deployment of aggressive financial policies. While LifePoint may pursue an IPO longer-term given its large scale, Apollo may take dividends along the way, particularly if the company achieves its cash flow and deleveraging goals."[5]
LifePoint has come under fire in recent years for aggressive policies that prioritize efficiency and profit over patient care. For example in Wyoming, LifePoint chipped away at staffing and services at its hospital in working-class Riverton until most services were transferred to another LifePoint hospital in Lander, 30 miles away. Riverton residents reported that the consolidation severely reduced access to medical services and the transfer led to increased utilization of air ambulances, from 155 in 2014 to 937 in 2019.[6] 
LifePoint has also attracted scrutiny for collecting over a billion dollars in federal COVID relief aid despite being in a healthy financial position going into the pandemic. According to Bloomberg, LifePoint had received $941 million in subsidized loans and $535 million in grants as of September 2020.[7]
LifePoint is also reportedly in talks to acquire Ardent Health Services, which would add another 30 hospitals across six states, primarily in Texas and Oklahoma. Ardent has been owned by private equity firm Equity Group Investments since 2015.[8]
June 2021 Private Equity Health Care Acquisitions
Buyouts
| | | |
| --- | --- | --- |
| Company | PE Firm | Type |
| Solesis | Altaris Capital Partners | Biopharmaceuticals |
| Xanitos | Angeles Equity Partners | Hospital housekeeping |
| DentalXChange | Bregal Sagemount | Dental |
| Vera Whole Health | Clayton, Dubilier & Rice | Corporate healthcare services |
| Choice Health at Home | Coltala Holdings | Home health |
| New Age Medical | Compass Group Equity Partners, Olympus Ventures, SunGate Capital | Medical devices |
| ExamWorks | CVC Capital Partners | Independent medical examinations |
| ChipRewards | CVC Capital Partners | Telehealth |
| Icario | CVC Capital Partners | Health tech |
| Parexel International | EQT, Goldman Sachs Merchant Banking Division | Biopharmaceuticals |
| QHR Health | Grant Avenue Capital, Nashville Capital Network and Brentwood Capital Partners | Practice management |
| Affordable Dentures | Harvest Partners | Dental |
| The Difference Card | Keensight Capital | CRO |
| Geode Health | KKR | Behavioral health |
| Summit Spine & Joint Centers | MSouth Equity Partners | Pain management |
| Gastro Health | OMERS Private Equity | Digestive health |
| Newport Academy | Onex | Behavioral health |
| MAS Medical Staffing | Periscope Equity | Staffing |
| Care Advantage | Searchlight Capital Partners | Home health |
| Aperture | Stone Point Capital | Practice management |
| Medline | The Blackstone Group, The Carlyle Group, Hellman & Friedman, Government of Singapore Investment Corporation (GIC) | Medical supplies |
Add-On Acquisitions
| | | | |
| --- | --- | --- | --- |
| Company | PE Firm | Acquiring Entity | Type |
| Spinlife |  AEA Investors, Ares Capital, LLR Partners | Numotion | Medical devices |
| Stork Labor and Delivery Products |  Audax Group | Aspen Surgical | Medical devices |
| Southeastern Home Health Services | Advent International | AccentCare | Home health |
| Colorado Center for Reproductive Medicine | Altas Partners, Ares Management | Unified Women's Healthcare | Fertility clinics |
| Protagen Protein Services | Ampersand Capital Partners | GeneWerk | Biopharmaceuticals |
| Fiore Healthcare Advisors | Amulet Capital Partners | SSI Strategy | Pharmaceuticals |
| Kindred Healthcare | Apollo Global Management | LifePoint Health | Health system |
| VEP Healthcare | Apollo Global Management | US Acute Care Solutions | Staffing |
| Valley Biomedical | Arsenal Capital Partners | BioIVT | Biotech |
| Eutech Scientific Services | Auctus Capital Partners | Tentamus | Pharmaceuticals |
| Clariti Health | Bain Capital, Nexxus Holdings | HST Pathways | Health tech |
| ChartWise | Bain Capital, Silversmith Capital Partners | Iodine Software | Health tech |
| Orchard Medical Consulting | Centre Partners | IMA Group | Staffing |
| Capstone Nutrition | Cornell Capital and Mubadala Investment Company | INW Innovations in Nutrition + Wellness | Nutrition |
| WEGO Health | Court Square | Health Union | Telehealth |
| Randseco | Enhanced Healthcare Partners | Priority Ambulance | Emergency services |
| SimpleLTC | GI Partners and TA Associates Management | Netsmart Technologies | Health tech |
| Odeza | Golden Gate Capital | Ensemble Health Partners | Health tech |
| Synergy Therapies | Gryphon Investors | Physical Rehabilitation Network | Physical therapy/rehabilitation |
| CNS Hospice | H.I.G. Capital | St. Croix Hospice | Hospice |
| Advanced Analytical Testing Laboratories | Imperial Capital Group | Infinity laboratories | Laboratory services |
| Voxx Analytics | Insight Partners | Within3 | Biopharmaceuticals |
| Behaviorsoft | Insight Partners | CentralReach | Practice management |
| IMARC Research | Kester Capital | Avania | CRO |
| Medical Card System | Kinderhook Industries | GlobalHealth | Managed care |
| American Dental Partners | KKR | Heartland Dental Care | Dental |
| PortaScience | Martis Capital | DCN Diagnostics | Mobile diagnostics |
| Lake Ridge & Stafford Foot & Ankle Centers | New MainStream Capital | Foot & Ankle Specialists of the Mid-Atlantic | Podiatry |
| Gastroenterology and Hepatology Associates | OMERS Private Equity | Gastro Health | Digestive health |
| FIGmd | Parthenon Capital Partners | MRO | Health tech |
| Truvista Surgery Center | Ridgemont Equity Partners | Sunvera Group | Eye care |
| Stronger U | Roark Capital Group and Partnership Capital Growth | Anytime Fitness | Fitness |
| On.Care | Serent Capital | Procurement Partners | Health tech |
| Aspire Treatment & Recovery Center | Shore Capital Partners | BrightView | Behavioral health |
| Greater Therapy Centers | Shore Capital Partners | Golden Bear Physical Therapy & Sports | Physical therapy/rehabilitation |
| CIOX Health | Sixth Street Partners | Datavant | Health tech |
| Verisys | Stone Point Capital | Aperture | Practice management |
| Boston Healthcare Associates | Summit Partners | Veranex | Healthcare consulting |
| Quartesian | Summit Partners | Veranex | Healthcare consulting |
| Ximedica | Summit Partners | Veranex | Healthcare consulting |
| Respiratory Therapy Home Care | Transition Capital Partners | Hospice Source | Medical devices |
| CARMAhealth | Triton Pacific Capital Partners | MAP Health Management | Behavioral health |
| Tenvision Ultrasound | Varsity Healthcare Partners | Probo Medical | Medical devices |
| Chemic Laboratories | Water Street Healthcare Partners, BroadOak Capital Partners, JLL Partners | Solvias | Pharmaceuticals |
| Retinal Consultants of San Antonio | Webster Equity Partners | Retina Consultants of America | Eye care |
| New Day Recovery | Webster Equity Partners and BPEA Private Equity | BayMark Health Services | Behavioral health |
---
[1]http://www.lifepointhealth.net/news/2021/06/21/lifepoint-health-announces-agreement-to-acquire-kindred-healthcare
[2]https://www.fiercehealthcare.com/hospitals/lifepoint-health-purchases-post-acute-services-company-kindred-healthcare-commits-to
[3]http://www.lifepointhealth.net/news/2018/11/16/lifepoint-health-and-rcch-healthcare-partners-announce-completion-of-merger
[4]https://www.wcas.com/firm/news/kindred-healthcare-to-be-acquired-by-tpg-capital-welsh-carson-anderson-stowe-and-humana-inc-for-900-per-share-in-cash
[5]https://www.moodys.com/research/Moodys-places-LifePoint-Healths-ratings-on-review-for-downgrade–PR_449229
[6]https://www.wsj.com/articles/a-citys-only-hospital-cut-services-how-locals-fought-back-11618133400
[7]https://www.bloomberg.com/news/articles/2020-09-14/a-wall-street-giant-tapped-1-5-billion-in-federal-aid-for-its-hospitals
[8]https://www.wsj.com/articles/apollo-s-lifepoint-in-talks-to-buy-ardent-health-services-11613061599