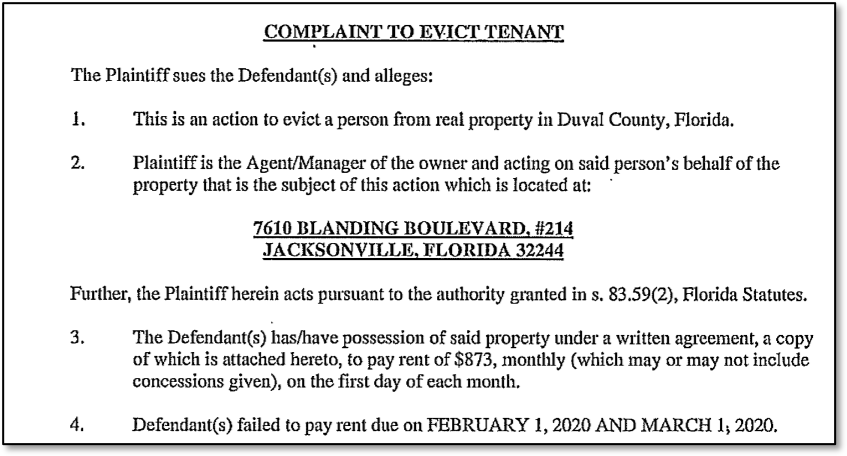 Private equity landlords advance evictions during COVID-19 pandemic
Over the last decade, private equity and similar investment firms have bought up growing portions of the US housing market, acquiring apartments, single family homes, and manufactured home communities. Wall Street landlords now own the homes of millions of people throughout the US.
Now, the COVID-19 pandemic, job losses, and closed businesses have devastated low-and moderate-income residents. While residents have been told to stay at home to prevent the spread of the coronavirus, a number of private equity landlords have filed or advanced eviction cases in the last month.
The Private Equity Stakeholder Project has begun tracking evictions by private equity landlords. Last month, we released a set of recommendations for private equity managers to protect tenants, workers, patients and others during the COVID-19 pandemic, including halting evictions and waiving late fees for tenants.
Related:
---
[i] Case # 2020-CC-004030-O, filed Mar 25, 2020, Orange County Clerk Court Records.
[ii] Case # 502020CC003825XXXXNB, filed Mar 27, 2020, Palm Beach County Clerk Court Records.
[iii] Case # 16-2020-CC-003989-XXXX-MA, filed Mar 30, 2020, Duval County Clerk Court Records.
[iv] Case # 2020 LTB 007234, filed Mar 24, 2020, DC Superior Court Records.
[v] Case # 2020CM07679 WD, filed Mar 18, 2020, Clayton County, GA Magistrate Court Case Inquiry.
[vi] Case # COSO20002772, Motion for Default Judgment Mar 23, 2020, Broward County Clerk Court Records.
[vii] Case # 20D08069, filed Mar 26, 2020, DeKalb County – Judicial Information System.
[viii] Case # 20LT03728, filed Mar 25, 2020, OREGON JUDICIAL DEPARTMENT – Online Records Search.