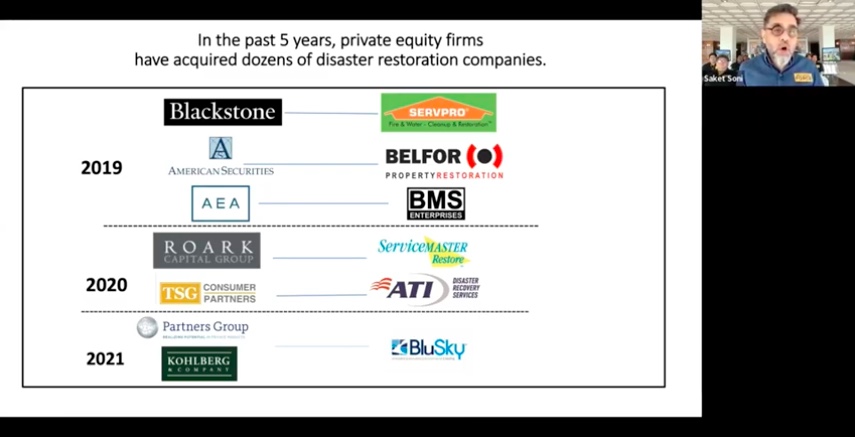 Private Equity Stakeholder Project Joins with Resilience Force, State Treasurers and Others at an Investor Briefing on Climate Resilience and Risk
Resilience Force's Saket Soni, and other allied investors and stakeholders helped lead a March 31 briefing and strategy session, "Climate Resilience and Risk" on workers' rights and climate disasters.
Resilience Force organizer LaTanja Sylvester shared with investors, "These extreme weather patterns are going to continue to happen around this country, but most importantly it's states like Louisiana and California who are prone to these disasters. What we have learned is the disaster restoration industry has made billions of dollars off of this workforce."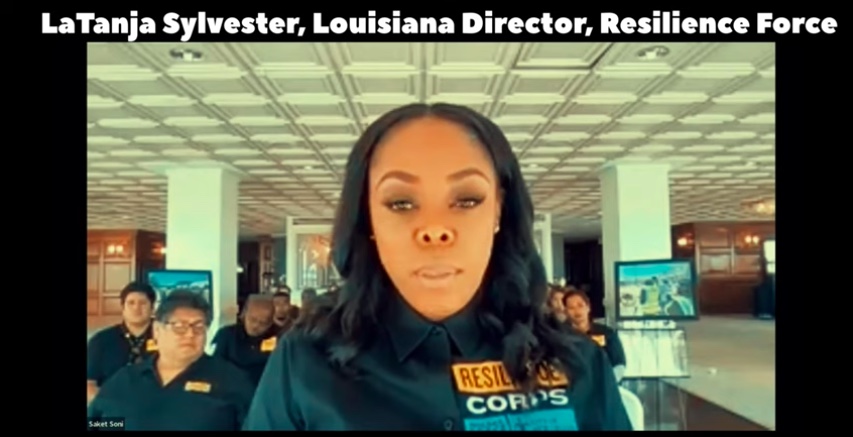 Resilience Force contractor Joel Salazar told the audience of wage theft and major safety concerns he experiences as a disaster recovery worker since 2016. Joel explained how he worked for Royal Services in early 2022 to help rebuild after the wildfires in Colorado. He was at the job development center in Florida and was traveling to Colorado the next day. The company said that they would reimburse him for the travel from Florida to Colorado.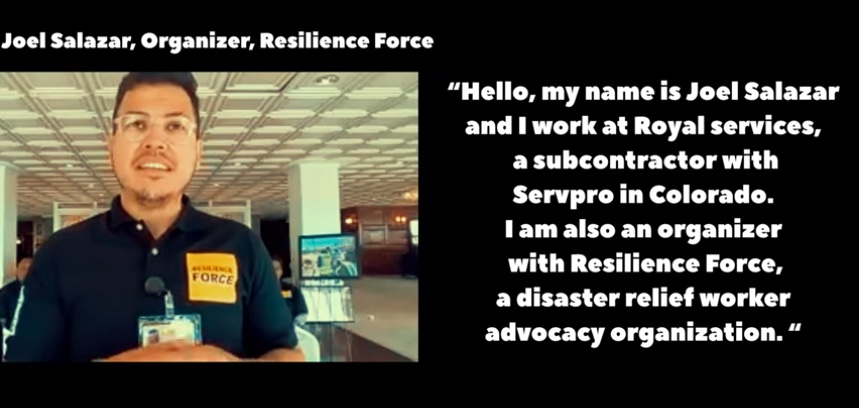 "When I went to collect my reimbursement I was told that I didn't have the right paperwork and I ended up paying for the trip myself.
"The company provides us with a Visa card they use for our wages. When Servpro stopped deploying the Florida workers, I told them I needed to look for another job. Immediately, they cut off my access to the Visa card, which still had a lot of my money. I am currently trying to get access to the card again, so I have access to money that I earned.
"The company is stealing from me. When I called a few days ago to get my money and nobody answered. I have still not received my final check. I feel that Servpro and its subcontractors take advantage of their workers because we're immigrants, and they think they can treat us this way. I came back from Colorado sick with no money. It's sad."
The Ford Foundation's Sarita Gupta moderated the event, which included New York City Comptroller Brad Lander, LIUNA President Terry O'Sullivan, California State Treasurer Fiona Ma, and other state treasurers.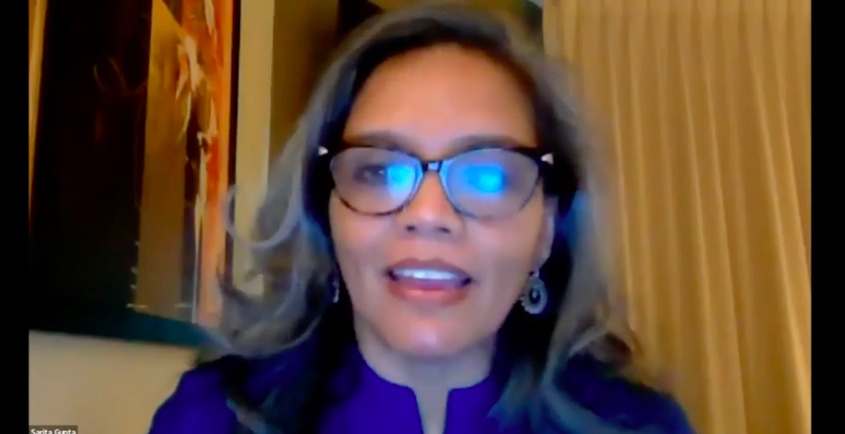 Lander told participants, "For the $270 billion that we invest which belongs to public sector workers, we have a responsible contractor policy that sets basic standards for workers on projects where that money is invested because those workers don't want their retirement being earned by abusing other workers… we invest with at least two of the private equity firms that own disaster restoration companies: Blackstone which owns SERVPRO and American Securities which owns Belfor, and we're going to be investigating whether those companies are going to be in compliance with our responsible contractor policy based on what you've been telling us and we'll be following up… but I want you to know that you're stories are powerful and they're going to move us to action."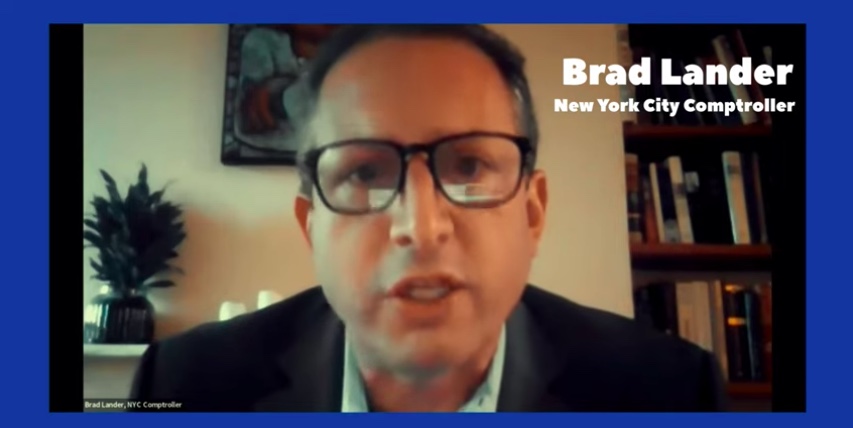 O'Sullivan remarked, "I want to thank Joel not only for sharing his story but for having the guts, the courage, and the fortitude to rise up and demand what was rightfully his. I am particularly impressed by his persistence in sifting through the layers of contractors and subcontractors to find the people ultimately responsible for what happened to him, the folks at Blackstone."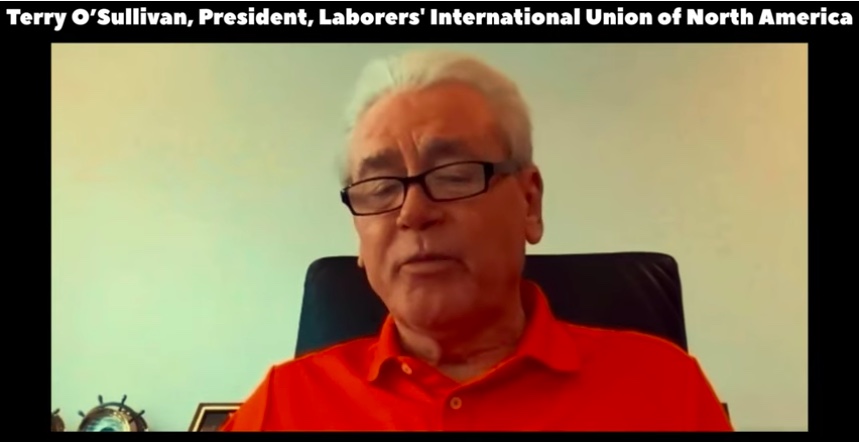 Participants discussed how investors and communities can best prepare for the upcoming fire, flood and hurricane seasons by raising standards with disaster restoration companies.
California State Treasurer Fiona Ma explained, " I am not only a member of the California earthquake authority. (It's a 3 person board where we are trying to prepare for the next big one in California and make sure that consumers and residents have the necessary earthquake insurance and mitigation efforts that they need) [but I am] also… a voting member on CALPERS and CALSTRS, the two largest pension systems with over 800 billion dollars in assets."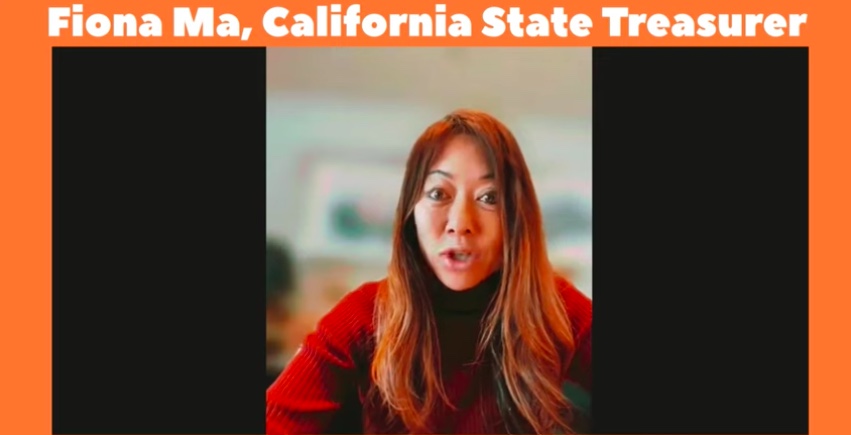 Ma said she and other treasurers and comptrollers are, "Making sure that we have our ears and eyes on what is happening in the investment community. We don't have great transparency for private equity companies: I guess that's why they call it "private." And that puts us at a disadvantage."
After hearing from disaster recovery workers, Colorado Treasurer Dave Young promised, "We are going to work closely with our treasurer colleagues and investors to make sure these issues are rectified."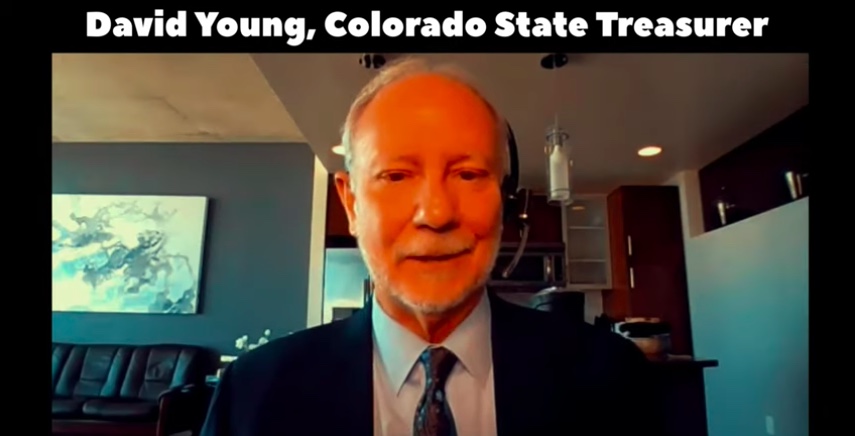 Connecticut Assistant Treasurer Christine Shaw agreed, "I want to underscore how important it is to hear first hand from workers. In Connecticut we have seen real success in enforcing our responsible contractor policy. The treasurers on this call and other public pension trustees can bring private equity firms to the table to discuss why these issues are material to our interests."
Signal Restoration CEO Mark Davis proposed a high road approach to restoring communities, and stated, "There is enough money in this process to go around. Anyone who isn't paying the proper weight standards, who isn't investing in training, and who isn't paying over-time and all of these other components truly is being greedy."
Signal Restoration's collaboration is in contrast with the practices of other companies owned by private equity firms, such as The Blackstone Group-owned SERVPRO.
SERVPRO is a disaster restoration company with a track record of practices that create headline risk that may jeopardize long-term value. Blackstone's SERVPRO and other companies in the disaster restoration industry were profiled recently in the New Yorker("The Migrant Workers Who Follow Climate Disasters").
Co-sponsors of the session included The Ford Foundation, Laborers' International Union of North America, For the Long Term, Resilience Force, the Private Equity Stakeholder Project, the Amalgamated Charitable Foundation, among others. The briefing served to spotlight how investors and other stakeholders can partner with employers and workers to transform this entirely new workforce and industry. It is just one of the efforts underway to improve the performance of the emerging disaster restoration/resilience economy, a multi-billion-dollar industry that reaches into every state and community that must manage fires, hurricanes, flooding and related disasters due to climate change.
Climate-related disasters are increasing in both frequency and impact, destroying schools, homes, hospitals, even entire communities. Yet the people we depend on to prepare for disasters and to help rebuild our communities after disasters are largely unrecognized and mistreated even as their work has become more urgent. This may create workforce, litigation, regulatory and reputational risks.
Resilience Force is building America's response to disasters by bringing together all stakeholders: employers, front line workers, contractors, policy makers, training providers, disaster recovery specialists and others.
Resilience Force has been working for the last two years with workers employed by SERVPRO franchisees and their subcontractors, and other disaster recovery companies. These workers clean up and rebuild after hurricanes and other disasters. They have reported a range of serious issues such as wage theft, dangerous and even deadly working conditions, no workers compensation or disability coverage if injured on the job, and lack of health insurance.
On February 7, Resilience Force announced a breakthrough agreement between Resilience Force and Signal Restoration, one of the largest emergency response and property disaster restoration contractors on the continent with 350 offices. Signal committed to a set of labor protection standards that will ensure a more effective and reliable approach to disaster response, recovery, and rebuilding.
The standards will cover workers employed directly by Signal as well as those employed by any of Signal Restoration's subcontractors. "Anyone that's affiliated with us going forward, these are the standards. They will sign on to them as well, or they won't do work with us," Signal CEO Mark Davis said.
The agreement between Resilience Force and Signal Restoration also includes plans to "establish training hubs and partnerships" in four locations – New Orleans, Detroit, Miami, and Sonoma County, Florida.
Session attendees aim to dramatically improve the resilience worker industry and ensure a more effective approach to disaster preparation, response, recovery, and rebuilding.