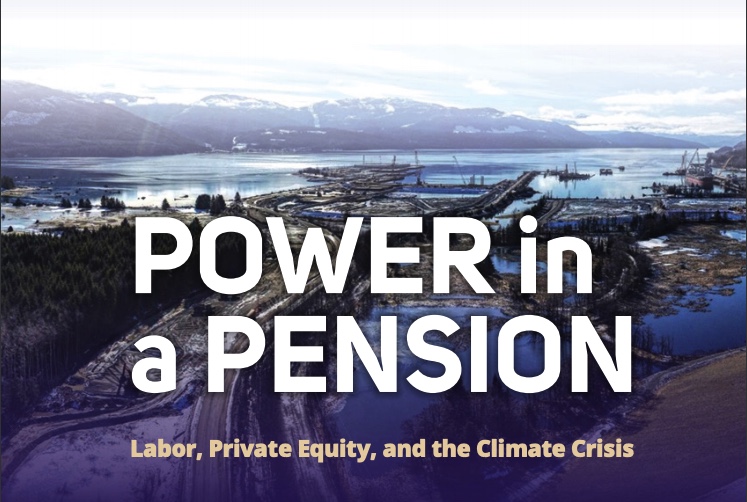 Report by The University of Washington's Harry Bridges Center for Labor Studies: Private Equity's Fossil Fuel Assets Exposes Pension Funds and Marginalized Communities to Investment and Climate Risks
The University of Washington's Harry Bridges Center for Labor Studies has released a report exploring private equity's impacts on the climate and marginalized communities, while using public pension fund capital. 
As a major private equity investor, public pension funds – essentially labor's retirement capital – are exposed to fossil fuel assets, some of which are the country's largest emitters of greenhouse gases. With this year's private equity fundraising on pace to challenge its best year ever, it is all the more important to understand how its continued fossil fuel investments impact marginalized communities and expose the retirement futures of teachers, firefighters and other government sector workers to climate risks. 
This report is informed by panelists at a first-of-its-kind forum the Center hosted on May 19, 2021. The Power in a Pension forum brought stakeholders together to discuss how labor unions, pension fund trustees, and Indigenous rights and grassroots organizations are working to effect change and explore avenues for further collaboration. Pension fund trustees and representatives of dozens of investors and asset managers with more than $10 trillion in combined assets participated in the forum. 
The report details how private equity's fossil fuel assets continue to subject other Indigenous, Black, and marginalized communities of color to similar environmental and health risks. Climate Director at the Private Equity Stakeholder Project Alyssa Giachino explained how these risks are further compounded by the private equity industry's lack of transparency, enabling its portfolio companies to "shift the externalities, the responsibility of their climate and community impacts, off their own books. But communities and our planet are paying the price." 
The report reinforces findings that although publicly traded fossil fuel companies face pressure from shareholders to cut emissions and sell environmentally harmful assets, private equity firms continue to acquire those assets, thereby negating any progress on climate impacts and exposing investors to greater climate and investment risks. Greater transparency on private equity-owned energy assets, would help pension funds steer clear of private equity's greenwashing tactics – efforts that only tout the private equity firm's environmental and sustainability commitments, but fail to disclose the extent of their environmental and community harm. 
To reduce the risk of simply shifting fossil fuel assets from investors' public market portfolio to their private market portfolio, where fossil fuel extraction and operations can continue with little oversight, the report calls on public pension fund trustees, many of whom are labor union members and state elected officials, to advocate for better climate-related reporting and disclosure. 
Read the full report here.