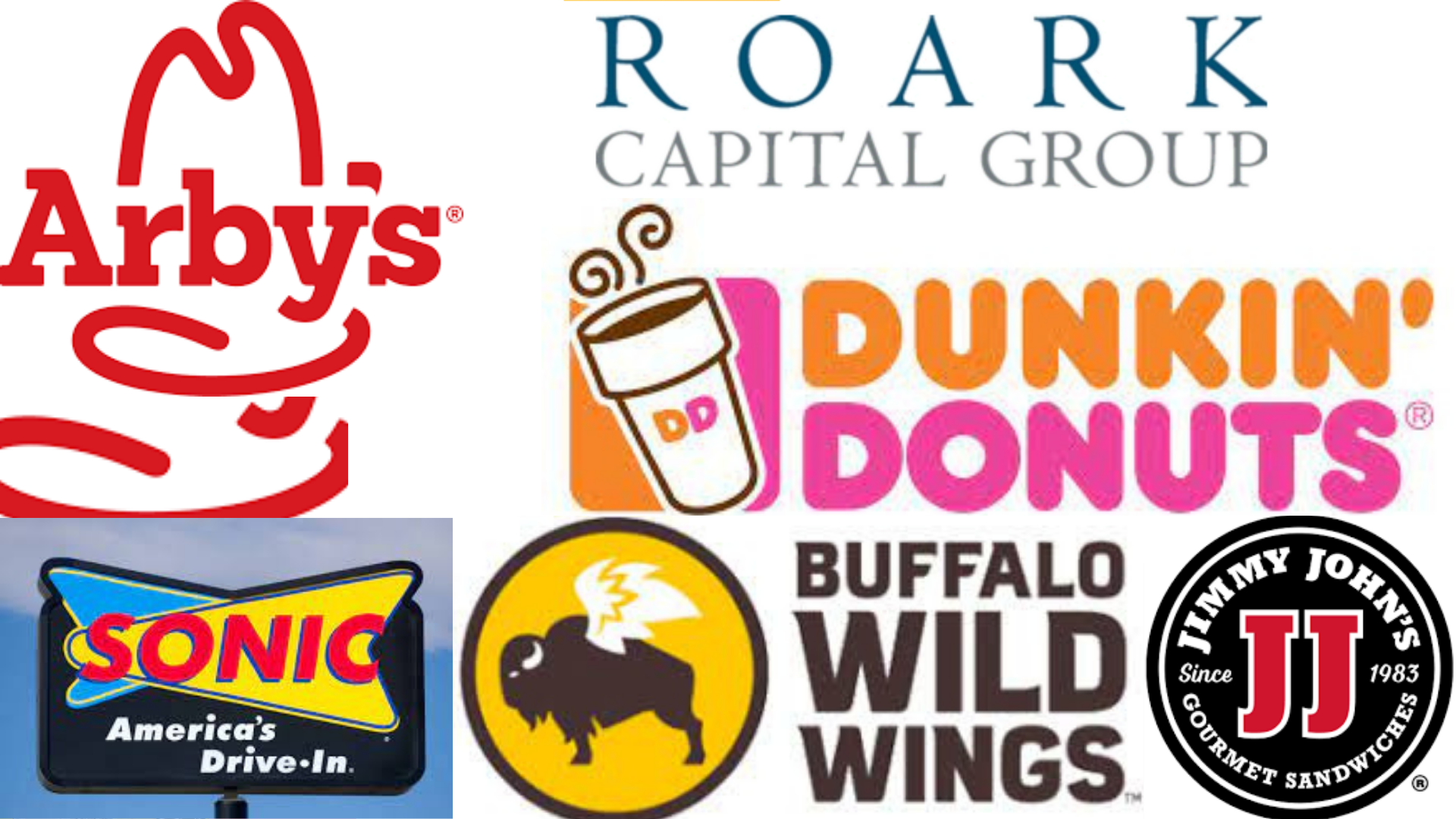 Roark Capital CEO Donated Thousands to Former Senator David Perdue as He Sought to Overturn the Presidential Election
Roark Capital is an Atlanta-based private equity firm with $23 billion in assets under management. Roark specializes in franchised businesses in the restaurant, retail, and health and wellness sectors. Roark's Inspire Brands division, which includes well-known brand names like Dunkin' Donuts, Jimmy Johns, Arby's, Hardees, Sonic, and Buffalo Wild Wings, has over 650,000 employees and is the second largest restaurant company in the U.S., behind McDonalds.[1]
On December 31, 2020, Neal Aronson, the founder and managing partner of Roark, gave $5,600 to U.S. Senator David Perdue of Georgia. Aronson's contribution came after Perdue had spent almost two months spreading the baseless conspiracy of a stolen presidential election.[2]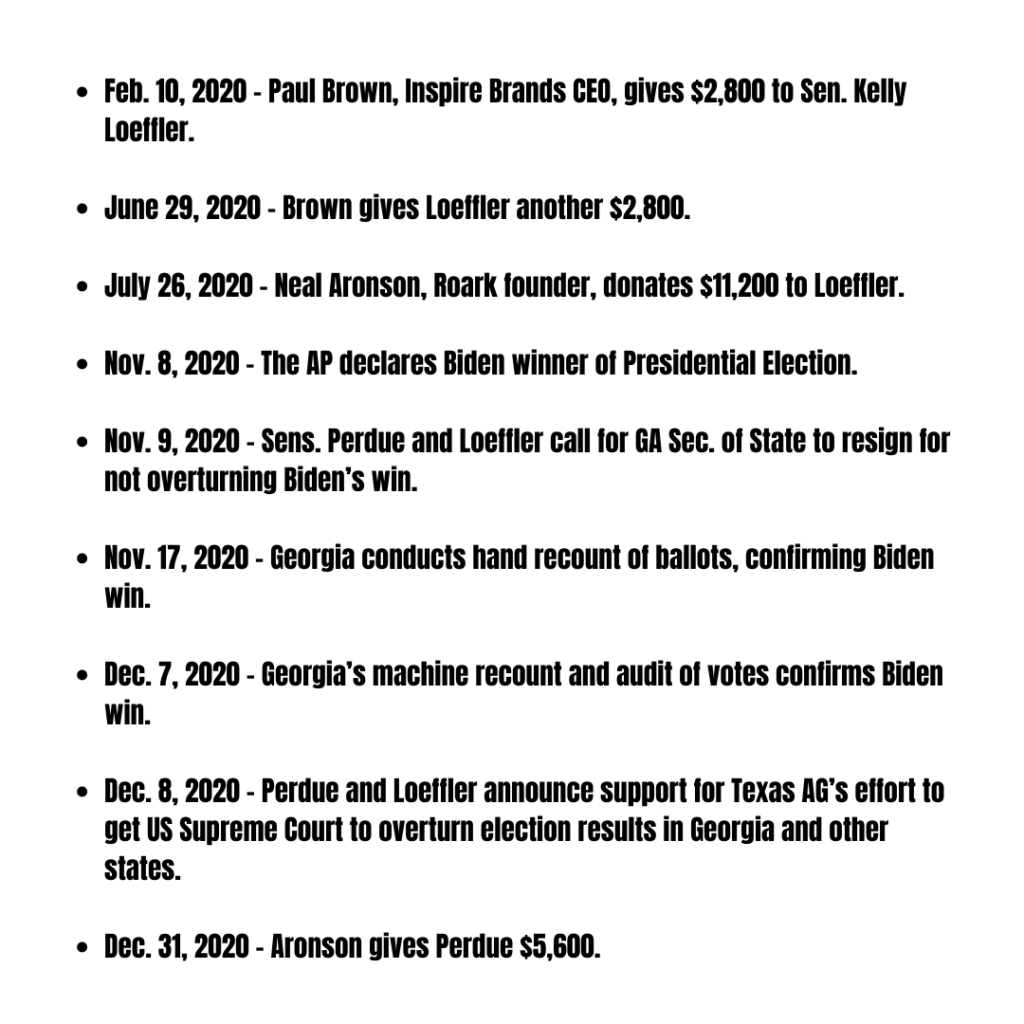 In mid-January of this year, a number of the largest corporations in the country, such as AT&T, Amazon, and Walmart, said they would cut off contributions to any politicians who opposed certifying the 2020 Electoral College results.[3]
Blue Cross Blue Shield announced that it would "suspend contributions to those lawmakers who voted to undermine our democracy," adding that while "a contrast of ideas, ideological differences and partisanship are all part of our politics, weakening our political system and eroding public confidence in it must never be."[4]
Even trade groups such as the Managed Fund Association, which represents the hedge fund industry, paused all of its PAC contributions.[5]
Sen. David Perdue was one of the first members of Congress to falsely claim that the Presidential Election was fraudulent, despite having no evidence of election fraud. On November 9, the day after the Associated Press and other news organizations declared Joe Biden the winner, Perdue and fellow Georgia Senator Kelly Loeffler issued a joint statement calling for the Georgia Secretary of State to resign. Perdue and Loeffler wanted the Secretary of State to overturn Biden's lead of 11,000 votes in Georgia.
"The Secretary of State has failed to deliver honest and transparent elections," their statement said. "He has failed the people of Georgia, and he should step down immediately."[6]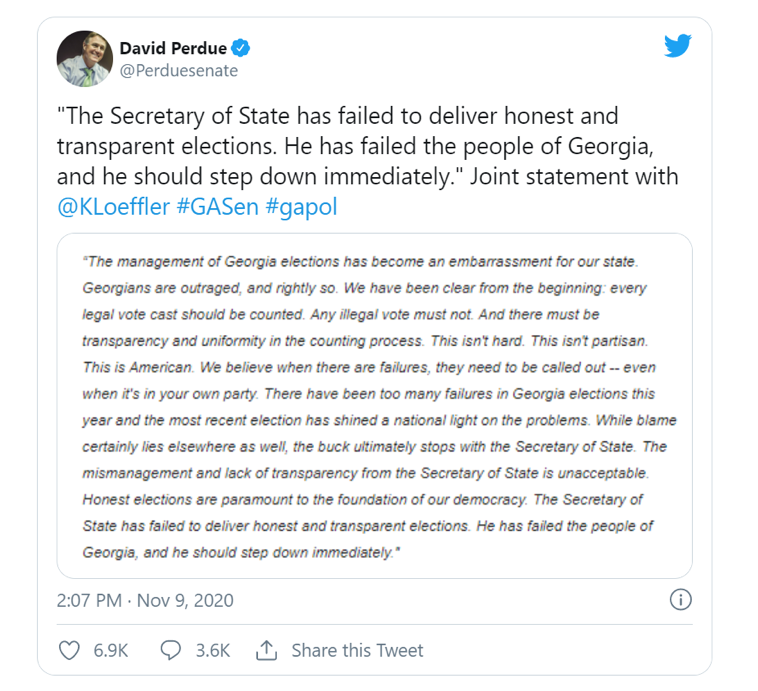 On December 8, Perdue and Loeffler issued an even more extreme joint statement, this time announcing their support for the Texas Attorney General's call for the Supreme Court to overturn the Presidential election results in Georgia, Michigan, Pennsylvania and Wisconsin[8].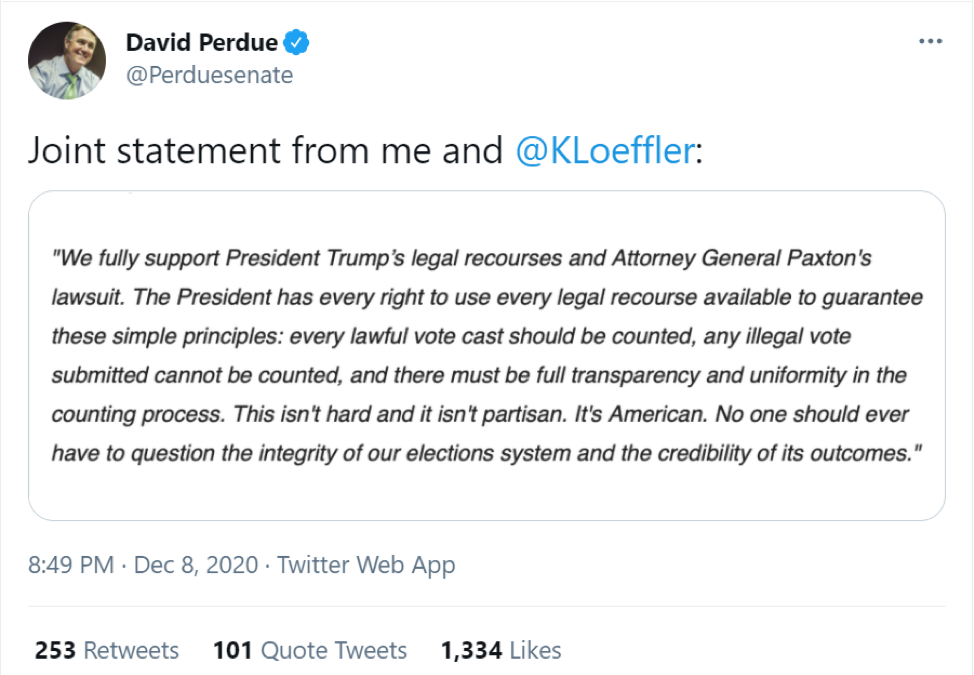 Aronson made his contribution to Perdue on December 31, 2020, and just a few days later, on January 4, 2021, Perdue urged his fellow GOP lawmakers to object during the Electoral College certification process. "I am encouraging my colleagues to object. This is something that the American people demand right now…There are huge irregularities in Georgia. They need to be investigated. And they need to be corrected, in my opinion."
Perdue noted that back in early December, he had called for the resignation of the Secretary of State and for a special session of the General Assembly to investigate.[10]
Perdue lost his seat to John Ossoff in the election on January 6, but he did not let that stop him from continuing to spread falsehoods about a stolen election.
Perdue has pointed to non-existent voter fraud as justification for the draconian new election law passed in Georgia that restricts access to voting and criminalizes handing out water to people who are waiting in line to vote.[11]
Some of Georgia's largest corporations have spoken out against the bill. Delta Air Lines' CEO said, the law "includes provisions that will make it harder for many underrepresented voters, particularly Black voters, to exercise their constitutional right to elect their representatives. That is wrong," he said. He also contradicted Perdue, saying, "The entire rationale for the bill was based on a lie: that there was widespread voter fraud in Georgia in the 2020 elections. This is simply not true."[12]
In contrast, Inspire Brands, which is among the largest privately held companies in Georgia,[13] issued a non-committal statement that it "values inclusivity" and believes that "every American should have equal access to their right to vote."[14]
Aronson and Roark Capital have been silent on the matter, even as other Private Equity firms have taken a stand against the law. For example, the CEO of Vista Equity Partners signed on to a letter that called on all U.S. corporate leaders to publicly condemn the Georgia law and to use their money and influence to change it.[15]
---
[1]https://inspirebrands.com/wp-content/uploads/2021/03/Inspire-Brands-Fact-Sheet_March-2021.pdf
[2]https://www.opensecrets.org/donor-lookup/results?cand=david+perdue&cycle=2020&employ=&name=&order=asc&sort=A&state=&zip=
[3]https://thehill.com/business-a-lobbying/533795-here-are-the-companies-suspending-political-contributions-following-the
[4]https://www.mediamatters.org/fox-news/these-companies-dropped-gops-insurrection-caucus-are-still-running-ads-fox
[5]https://thehill.com/homenews/house/533711-wave-of-companies-cut-off-donations-much-of-it-to-gop
[6]https://www.wabe.org/republicans-perdue-loeffler-call-for-gops-raffensperger-to-resign/
[7]https://www.wabe.org/republicans-perdue-loeffler-call-for-gops-raffensperger-to-resign/
[8]https://www.newyorker.com/news/us-journal/georgia-trump-fans-say-the-2020-election-was-a-sham-will-they-vote-in-this-one
[9]https://twitter.com/Perduesenate/status/1336503241652236288
[10]https://nypost.com/2021/01/04/david-purdue-backs-gop-effort-to-object-to-electoral-college-certification/
[11]https://www.nytimes.com/2021/04/02/us/politics/georgia-voting-law-annotated.html
[12]https://www.cnn.com/2021/03/31/business/brian-kemp-ed-bastian-delta-georgia-voter-law/index.html
[13]https://www.bizjournals.com/atlanta/subscriber-only/2020/10/02/atlantas-50-largest-private-companies.html
[14]https://www.nytimes.com/2021/04/01/business/dealbook/corporate-pranks-april-fools-day.html
[15]https://www.bloomberg.com/news/articles/2021-03-31/black-executives-call-on-peers-to-fight-new-state-voting-laws
---