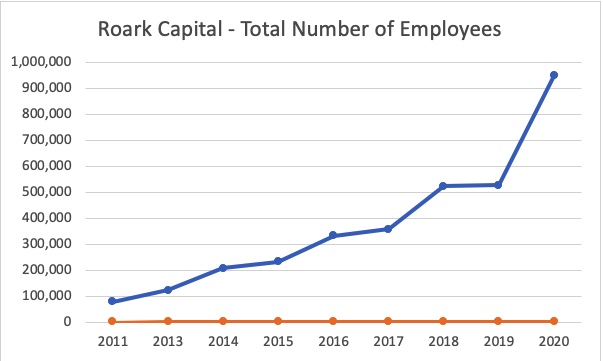 Roark Capital, Warburg Pincus Both Near a Million Employees at Their Portfolio Companies Following Recent Acquisitions
In the last six months, a few private equity buyouts have dramatically increased the number of people working for private equity-owned companies.
In October 2020, Roark Capital acquired Dunkin' Brands, which has 330,000 people working at its Dunkin' Donuts and Baskin Robbins stores. This, along with other acquisitions last year, pushed the total number of people working at Roark-owned companies or their franchisees to close to 1 million.
In March 2021, private equity firm Warburg Pincus purchased the security company G4S, which has over 533,000 employees worldwide. Warburg Pincus already owned the security firm Allied Universal which has 300,000 employees. Together with a several smaller companies, Warburg Pincus-owned companies now employ over 850,000 people.
Based on PESP's review of portfolio companies, the top five US private equity firms by employees are:
Roark Capital – 950,000+ employees
Warburg Pincus – 850,000+ employees
Apollo Global Management – 497,000+ employees
KKR – 417,000+ employees
Cerberus Capital – 365,000+ employees
Roark Capital – 950,000+ Total Employees (including employees of franchises)
 
Company
Industry
# of Employees
Year Acquired
Inspire Brands (Arbys, Baskin Robbins, Buffalo Wild Wings, Dunkin, Jimmy Johns, Rusty Taco, Sonic)
Food service
650,000
2011-2020
CKE Restaurants (Carl's Jr., Hardee's, Green Burrito)
Food service
75,000
2013
Cheesecake Factory (17% stake) (Also Flower Child, North Italia)
Food service
46,250
2020
Service Master (AmeriSpec, Furniture Medic, Merry Maids, Service Master)
Facility Management
46,000
2020
Massage Envy
Retail
35,000
2019
Culver Franchising System (minority interest)
Food service
25,000
2017
Focus Brands (Auntie Annes, Carvel, Cinnabon, Jamba, McAlister's Deli, Moe's Southwest Grill, Schlotzsky's, Seattle's Best)
Food service
10,200
2001-2020
Anytime Fitness
Gyms
10,000
2014
Carstar
Auto Services
8,000
2015
Miller's Ale House
Food service
8,000
2013
Orange Theory Fitness
Gyms
7,300
2016
Abra
Auto Services
5,000
2019
Primrose Schools
Childcare/ Early Ed
3,650
2006
Batteries + Bulbs
Retail
3,000
2007
Drybar
Retail
3,000
2016
Nothing Bundt Cakes
Food Service
2,100
2021
Automotive Training Institute
Auto Service
1,600
2019
Pet Valu
Retail
1,600
2009
Great Expressions Dental Centers
Health care
900
2016
800-Raditaor
Auto Services
500
2015
Divisions Maintenance Group
Facility Management
500
2020
Maaco
Auto Services
500
2008
Pet Supermarket
Retail
500
2015
Uniban
Retail
350
2019
IMO Car Wash Group
Auto Services
250
2017
Solterra Recycling
Facility Management
200
2014
Warburg Pincus – 830,000+ Total Employees
Company
Industry
# of Employees
Year Acquired
Allied Universal/ G4S
Security
833,000
2018, 2020
CityMD
Healthcare
8,000
2017
Gabe's/ Rugged Wearhouse
Retail
6,300
2017
Sotera Health
Healthcare
3,000
2015
Service Logic
Facility Management
3,000
2020
Pregis
Manufacturing
2,250
2018
KKR – 450,000+ Total Employees
Company
Industry
# of Employees
Year Acquired
Envision Healthcare
Healthcare-Patient transportation, Staffing
69,000
2018
Brightspring/ Pharmerica
Healthcare-Home care, Pharma
56,000
2019
Fiserv (13% stake)
Information Technology
44,000
2019
Global Medical Response
Healthcare-Patient transportation
38,000
2017
Laureate Education (LAUR) (11% stake)
Education
32,000
2007
U.S. Foods (10% stake)
Foodservice Distributor
26,000
2020
Apple Leisure Group
Leisure facilities, Travel
25,000
2017
Academy Sports + Outdoors
Retail
22,000
2011
Brightview Landscapes (BV) (48% stake)
Facility management
19,700
2013
Coty
Cosmetics
18,260
2020
Heartland Dental Care
Healthcare-Dental
13,000
2018
Fleet Farm
Retail
8,000
2016
USI Insurance Services
Insurance
8,000
2017
BMC Software
Information Technology
6,785
2018
Cardenas Markets
Retail-Grocery
6,630
2016
PetVet Care Centers
Veterinary
4,000
2018
The Nature's Bounty Co.
Food Manufacturing
4,150
2017
Epic Games
Information Technology
5,000
2018
Bay Club
Gyms
4,000
2018
Focus Financial Partners (10% stake)
Wealth management
4,000
2017
Borden Dairy
Food Production
3,300
2020
Apollo Global Management – 497,000+ Total Employees
Company
Industry
# of Employees
Year Acquired
Alorica
Call Centers
100,000
2019
Swissport
Airline Service
45,000
2020
LifePoint Health
Healthcare-Hospitals
60,000
2018
Venetian Resorts and Sands Expo
Hospitality/ Leisure
11,200
2021
Michaels
Retail
45,000
2021
Constellis Group
Security
22,000
2016
Tech Data/ SYNNEX
Information Tech
22,000
 
ADT
Electronic Security
20,500
2016
ClubCorp
Leisure facilities
20,000
2017
Expedia
Travel
20,000
2016
Continuum Global Solutions
BPO-Call Centers
17,000
2019
CEC Entertainment
(Chuck E Cheese)
Food service
16,400
2014
Qdoba
Food service
16,000
2018
The Fresh Market
Retail-Grocery
13,000
2016
Smart & Final Stores
Retail-Grocery
11,200
2019
Apollo Education Group
Education
18,500
2017
New Holland Apparel
Apparel
9,000
2016
Diamond Resorts
Hospitality/ Leisure
8,250
2016
Shutterfly
Printing
7,300
2019
Lumileds Lighting
Manufacturing
7,000
2017
Maxim Crane Works
Construction
3,750
2016
McGraw Hill Education
Education
2,900
2013
Sun Country Airlines
Transportation
1,700
2018
Cerberus Capital – 390,000+ Total Employees
Company
Industry
# of Employees
Year Acquired
Albertsons (32% stake)
Retail-Grocery
300,000
2006, 2013
WFS Global
Airline service
23,000
2018
Electrical Components International
Manufacturing
20,000
2018
Kellermeyer Bergensons Services
Facility management
11,000
2019
ABC Technologies
Manufacturing
7,500
2016
National Dentex
Dental
4,000
2020