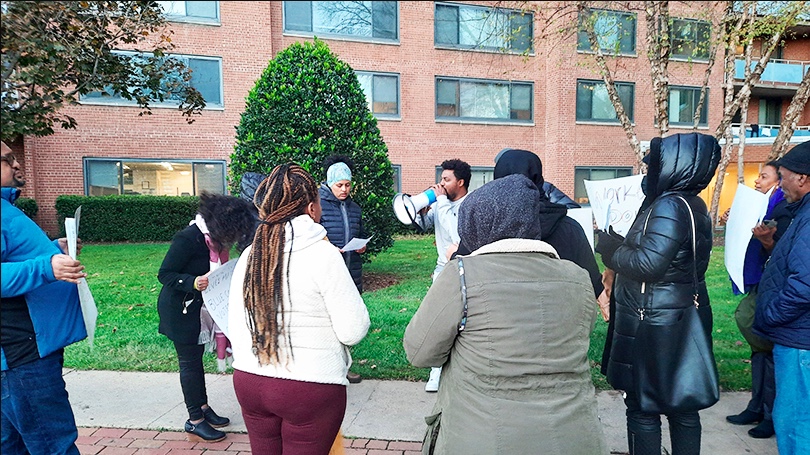 Tenants Fight Back Against CIM Group
"That has put tenants and landlords on a collision course. The battle between the Southern Towers tenants and CIM could presage what's to come across America."
A recent Insider article detailed problems at the Southern Towers apartment complex in Northern Virginia and the campaign by African Communities Together (ACT) to fight back against the CIM Group, the apartment complex's private equity-owner
"A band of immigrants went to war with their $31 billion landlord. It's a sneak peek at what's to come across America," Insider, Dec. 27, 2022
In 2020, private equity company CIM Group purchased Southern Towers, a 2,000+ unit apartment complex in Alexandria, Virginia, that has been home to thousands of hardworking, blue-collar families, the majority of whom are African immigrants.
Tenants hoped that CIM would bring positive changes to the complex, but
"instead of improvements and upgrades, tenants received eviction notices during a nationwide ban on evictions — and mold, pest, and other maintenance issues went unresolved. The tenants …  were worried by their new landlord's agenda. They wondered whether CIM wanted them gone, in favor of the 25,000 Amazon employees who would soon work at the company's planned second headquarters just 5 miles away."
"They're pushing us out of our city — they're pushing us out of the place we've built for years," tenant Sami Bourma told the reporter.
The reporter interviewed former CIM property managers, one of whom said of the condition of Southern Towers.  "They bought a lemon. They didn't realize it wasn't just a lemon. It was a rotten lemon."
The former manager described the apartment as having leaks, mold, and infestations of roaches and mice.
Insider also cited a report by ACT that found that in its first six months of owning Southern Towers, CIM filed over 500 eviction notices against 255 households during the federal eviction moratorium. This represented 21% of all eviction filings during this time, although Southern Towers made up just 6% of the city's rental stock.
The eviction notices impacted the community. "Many tenants, perhaps unaware of their rights or terrified of going to court, left the Towers after receiving a notice."
However, other tenants began organizing against CIM. The article describes how tenants began working with ACT to engage pension funds that have invested billions of dollars in CIM. After tenants and ACT spoke at a meeting of the Pennsylvania Public School Employees' Retirement System (PSERS), which had invested with CIM, tenants won a series of meetings with CIM. After several meetings, CIM committed to fix broken elevators and playground equipment and cleaned several tenants' air conditioning units of mold.  However, there is still much more that needs to be done.
"We're not going to leave," Bourma said. "We're going to continue to put pressure on. You can make your money, but we need a peaceful place to live."