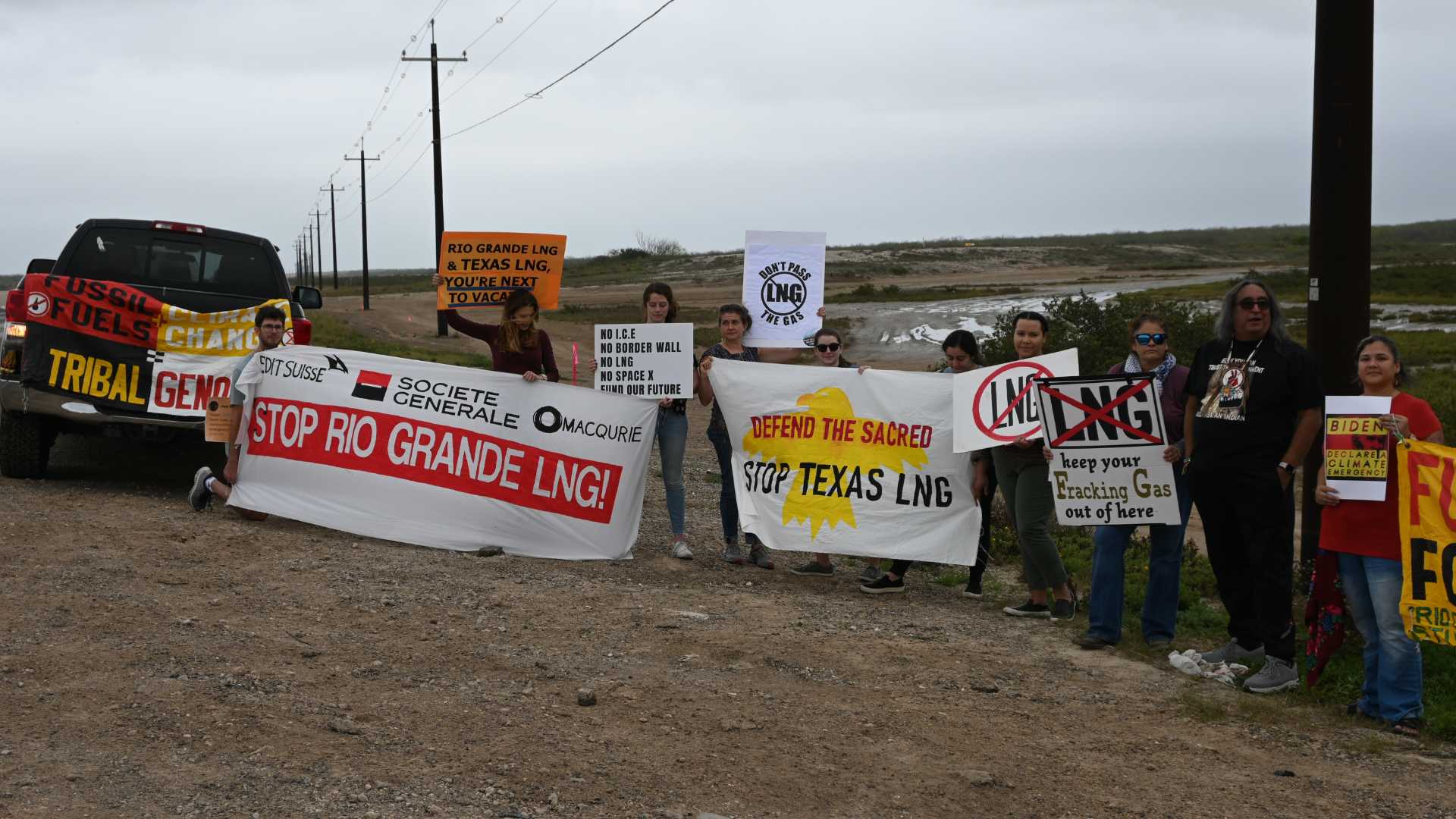 Texas communities demand end of LNG project at Washington pension meeting
Texas communities demand the end of Rio Grande LNG at latest Washington State Pension Board meeting
Private equity firm Global Infrastructure Partners invested $3.5 billion into the proposed Rio Grande LNG export terminal.
On Thursday, community activists and tribal groups directly affected by the proposed Rio Grande Liquified Natural Gas (LNG) Terminal in South Texas addressed the Washington State Investment Board (WSIB), demanding the state pension fund seek to halt the polluting LNG project.
Despite Washington State's leadership on addressing climate change, WSIB is one of the largest investors in the Global Infrastructure Partners (GIP) fund that is developing the LNG terminal.
Climate change is a systemic risk that must be urgently addressed in WSIB's entire portfolio. Earlier this year, the WSIB invested in Global Infrastructure Partners Fund V via a $400 million commitment. GIP committed $3.5 billion to the proposed Rio Grande LNG export terminal in Texas.  This controversial project is already facing community and legal opposition. If built, this project is estimated to emit the equivalent emissions of 44 coal power plants every year, about 163 million tons of carbon dioxide equivalent.
GIP's Rio Grande is among several proposed LNG terminals that have been "repeatedly delayed due to rising construction, labor and borrowing costs" and volatile gas prices, according to Reuters. Additionally, Future global demand for LNG is also highly uncertain. The IEA forecasts that demand for gas, oil and coal will all peak before 2030, and has noted that demand for gas growth has slowed considerably, leading to concerns about a "glut of LNG." Sinking millions of dollars into massive gas infrastructure exposes WA SIB to financial and environmental risks.
Community activists and cities in South Texas directly oppose the Rio Grande LNG terminal. The terminal would be the largest single-source polluter in South Texas and would severely degrade local fishing, shrimping, and nature tourism industries.
Carrizo/Comecrudo Tribe of Texas member Christopher Basaldú 
"Global Infrastructure Partners' destructive project, Rio Grande LNG does not have consent from the original Indigenous people of this land, the Carrizo Comecrudo Nation. They have already destroyed many acres of sacred land and destroyed sacred sites, and it wishes to continue to destroy and pollute sacred lands and delicate wetlands that support endangered and threatened plant and animal species. The owner of Rio Grande LNG has ignored all requests for consultation from the Carrizo Comecrudo Nation and local community. Rio Grande LNG is both a continuation of the ongoing genocide of Native people and a blatant money grab enacting environmental injustice. This unnecessary project can only add to increasing climate chaos and catastrophe in the age of global boiling."
Bekah Hinojosa of Brownsville, Texas, and of South Texas Environmental Justice Network
"For nearly a decade, we have confronted investors, banks, companies, and permitting agencies involved with Global Infrastructure Partners' Rio Grande LNG and urged them to reject this dangerous gas project that would destroy our community's way of life. We joined the meeting to confront the board about our community's opposition to the proposed Rio Grande LNG project because it would pollute the waterways where shrimp lay their eggs, damage the nearby Laguna Atascosa wildlife refuge, and be the biggest polluter in our low-income Latine and Indigenous community."
Washington State has seen its own battle over Liquified Natural Gas terminals with many tribal, community and advocacy groups coming together to fight the Tacoma Liquified Natural Gas facility. Continued build-out of LNG infrastructure locks communities into continued reliance on outdated fossil fuels and puts communities and ecosystems at risk across the United States.
Divest Washington, a local network calling for divestment from fossil fuels
"We at Divest Washington were shocked and saddened to learn of this WSIB private equity investment. We stand in solidarity with the Carrizo Comecrudo Nation, the South Texas communities harmed by this LNG Terminal, and with our youth who face intensified climate chaos because of this project. The State of Washington should not be invested in fossil fuels."
LNG has been widely debunked as a clean source of energy. Natural gas is predominantly methane, a greenhouse gas that is 86 times more damaging than CO2, during its first two decades in the atmosphere, and is responsible for 30 percent of the rise in global temperatures since the industrial revolution. Methane leaks into the atmosphere, making it the second biggest driver of climate change.
Continued investments by pension funds in LNG infrastructure come in the face of recent reports that global emissions are not on a path to reach our 1.5-degree celsius goals. The United States continues to build LNG terminals which will contribute to increased greenhouse gas emissions.