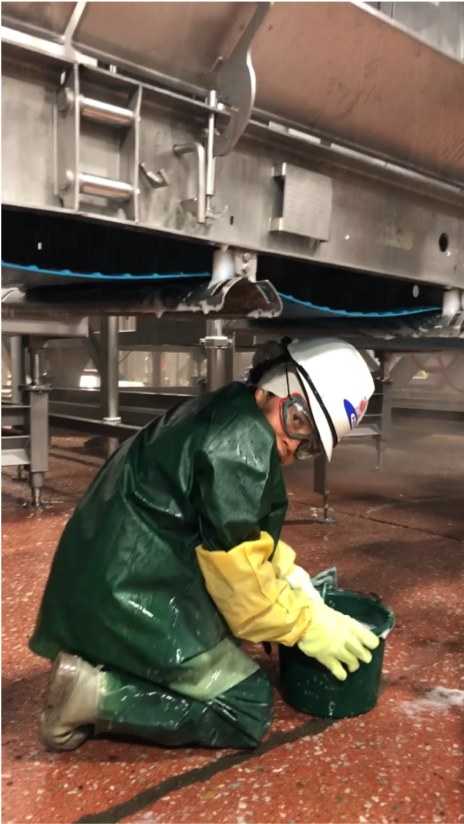 The Terrible Gets Worse at Blackstone's Packer's Sanitation
Earlier this month, a US District Court judge in Nebraska granted an injunction sought by the US Department of Labor to halt alleged "oppressive child labor" by Packers Sanitation Services Inc (PSSI), a cleaning company owned by private equity firm The Blackstone Group.
On November 9, the US Department of Labor asked a federal court to issue a nationwide temporary restraining order and injunction against Packers Sanitation – one of the nation's leading providers of food safety sanitation – to stop the company from illegally employing dozens of minor-aged workers while the department continues its investigation of the company's labor practices.
Financial Times, November 11, 2022: Blackstone-owned sanitation company ordered to stop using child labour
As CNBC reported, "The company has had a troubled worker safety record in recent years: three PSSI workers have died on the job since 2018, including one who was decapitated cleaning a chicken chiller, according to Occupational Health and Safety Administration records highlighted in a March report by the watchdog group Private Equity Stakeholder Project."
CNBC, November 12, 2022: Food sanitation company accused of employing at least 31 children on graveyard shifts in slaughterhouses
In March 2022, The Private Equity Stakeholder Project released a report, Profit Over Safety: Private Equity's Leveraged Bet on Packers Sanitation, detailing how The Blackstone Group's Packers Sanitation Services Inc has stood out as a dangerous workplace even as Blackstone and Packers' previous private equity owners have collected hundreds of millions of dollars in dividends from the company. Since May 2018, when Blackstone acquired PSSI, the US Occupational Safety and Health Administration (OSHA) has conducted investigations of at least four amputations and three fatalities of PSSI employees, including a decapitation.
PSSI, which is headquartered in Grant County, Nebraska, and employs 17,000 people who clean 700 food processing plants nationwide has allegedly hired 31 minors between 13 and 17 years old to clean meat packing plants in Minnesota and Nebraska. The lawsuit said several of those minors, including a 13-year-old, suffered chemical burns and other injuries.
The Department of Labor alleged that minors were working overnight shifts in hazardous occupations. PSSI also allegedly interfered with an investigation by intimidating minors and deleting or manipulating employment files.
Wisconsin Public Radio, November 16, 2022: Wisconsin-based company under investigation for allegedly using child labor
Wisconsin Public Radio also included in its reporting PESP's findings in its 2022 report on PSSI's hazardous working conditions and examination of PSSI's OSHA violations. "Since 2018, the company has been investigated for four employee amputations and three deaths, including one decapitation." The decapitation "cut the head off a worker who was trying to clean a machine that was turned on while his head was inside it."
Other cited incidents from the report included an incident in Milwaukee in July 2019 where an "employee was cleaning a corkscrew mixing conveyor and attempted to remove a blockage with his right hand, amputating his index fingertip."
Also from the report MPR shared how OSHA also cited the company, along with three others, in connection with a nitrogen leak that killed six workers and injured nearly a dozen at a Georgia poultry processing plant.
According to a 2017 report by the National Employment Law Project (NELP) looking at OSHA severe injury data, PSSI stood out as a particularly dangerous workplace with one of the highest numbers of serious injury reports compared to its relatively small number of employees.
As Minnesota Public Radio reported, accusations of Blackstone's PSSI employing children to clean slaughterhouses, including two plants in Minnesota, has led the Minnesota state agency that oversees public employee retirement funds to take pause.
Minnesota Public Radio, November 22, 2022: Minnesota scrutinizes its pension investments amid child labor probe
The Minnesota State Board of Investment has pension money in more than two dozen funds that the Blackstone Group manages and is a multibillion-dollar investor. While the fund that controls the company accused of child labor violations is not on the state's list of investments, Minnesota officials say they are reviewing their positions in Blackstone amid those ethical concerns, according to MPR.
MPR reviewed how the child labor accusations surfaced earlier this month when the U.S. Labor Department alleged in a civil suit that PSSI hired at least 31 minors for overnight cleaning shifts at three meat processing plants, including one in Worthington and another in Marshall in southwestern Minnesota.
"A limited partnership formed by the Blackstone Group purchased PSSI for an undisclosed amount in 2018, according to a report from the Private Equity Stakeholder Project, a financial industry watchdog.
"PSSI's workplace problems have been on the radar of federal investigators for several years.
"Federal Occupational Safety and Health Administration officials conducted multiple investigations after PSSI workers were injured or killed on the job," said Jim Baker, executive director of the Private Equity Stakeholder Project.
"Among its findings, OSHA in 2019 discovered that a PSSI employee working at a poultry processing plant in Teachey, N.C., was killed after getting trapped in a piece of equipment. Five months later, a PSSI worker at a plant in Eufaula, Ala., was decapitated while cleaning a chiller.
"Private equity firms are known for sharply cutting costs at the companies that they acquire to maximize the return on their investments.
"We're concerned that some of that cost cutting could be directly impacting worker safety," Baker said in an interview with MPR News.
MPR reported PESP's citing of a 2017 report from the National Employment Law Project, a nonprofit worker advocacy group, which found that from January 2015 to September 2016, PSSI reported 24 severe injuries to OSHA among its 17,000 employees. By comparison AT&T, which had 280,000 workers, reported 28 severe injuries.
See also:
Minnesota Public Radio, November 30, 200: Feds allege 11 more teens on payroll of slaughterhouse cleaning contractor