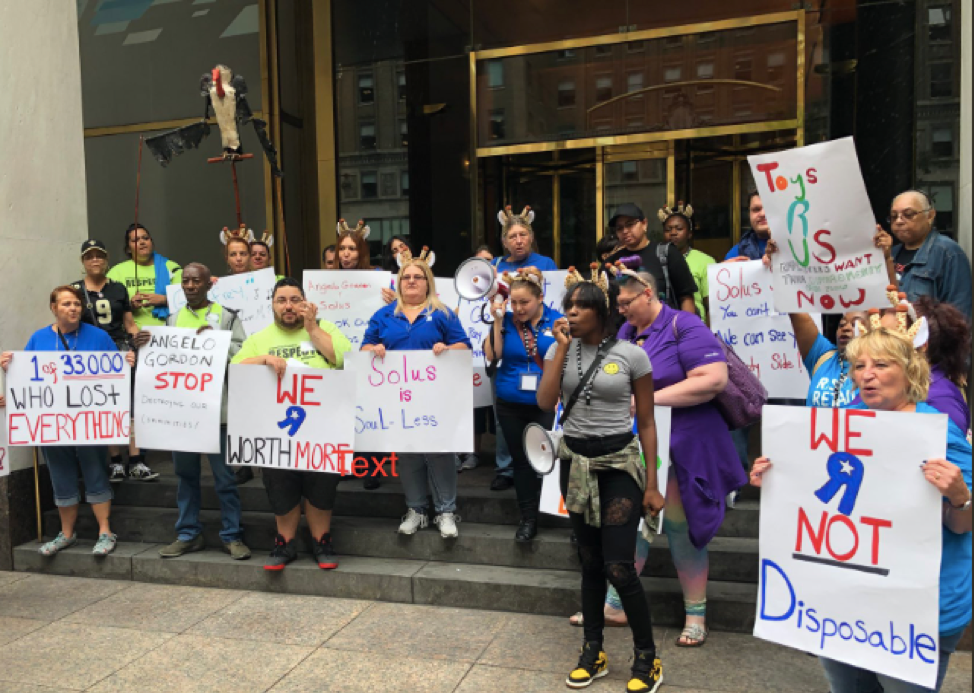 Toys 'R' Us employees announce $20 million hardship fund with private equity firms KKR and Bain Capital, call on Toys 'R' Us creditors to contribute
When Toys 'R' Us shut down earlier this year, 33,000 workers lost their jobs.  Now, two of the company's former owners and creditors, KKR and Bain Capital, have contributed $20 million to a fund to support laid off Toys 'R' Us employees. 
Recent media coverage:
For months, former Toys 'R' Us employees and their allies — Organization United for Respect (OUR) and its Rise Up Retail campaign along with Private Equity Stakeholder Project and Center for Popular Democracy — have called for fair compensation. The fund represents the first important step in ensuring that Toys 'R' Us employees who lost their livelihood receive the support they were promised and deserve. And it marks an unprecedented move to help thousands of families who face financial hardship due to the store closures and bankruptcies plaguing the industry.
"Today, our Toys 'R' Us family made history. We organized to overcome the odds and did something no one has ever done before. This fund will help the thousands of dedicated employees who lost their jobs and their livelihoods. This fund begins to ensure the hard working people who spent their lives building Toys 'R' Us and making children happy are not left out in the cold. We are proud to be a part of an effort to help so many families. We just hope that Solus, Angelo Gordon and Vornado decide to follow KKR and Bain's lead and contribute too. It's the right thing to do," said Debbie Beard, Toys 'R' employee for 31 years. 
KKR and Bain Capital, former owners of Toys 'R' Us, created this fund in recognition of the impact that the store closures had on the families of long-time employees. The fund is structured to allow other firms to contribute, paving the way for Solus, Angelo Gordon, Vornado and others to do their part to support Toys 'R' Us families in need.
The fund is administered by a third party, Kenneth Feinberg and Camille Birios, who previously administered the 9/11 Fund, BP Oil Spill Fund, GM Ignition Switch Compensation Fund, OneFund Boston, and the OneOrlando Fund.  Former Toys 'R' Us employees will have opportunities to give input into the structure of how the monies should be distributed on a series of conference calls with the Administrator in coming weeks.