TPG Capital and Blackstone affiliates at center of Puerto Rico foreclosure crisis
Recently, private equity firms Blackstone Group and TPG Capital drew media attention for foreclosing on homeowners in hurricane-ravaged Puerto Rico.
From the New York Times, Dec 16, 2017, "The Next Crisis for Puerto Rico: A Crush of Foreclosures":
"Blackstone owns a company, Finance of America Reverse, that specializes in a type of home loan called a reverse mortgage, which is guaranteed by the federal government.

There are 10,000 reverse mortgages in Puerto Rico, and Finance of America controls about 40 percent of the market, according to the Department of Housing and Urban Development, which oversees the government insurance fund that guarantees a lender will be repaid on a reverse mortgage.

Court records show that the Blackstone-controlled company is aggressive in its pursuit of — and foreclosures on — borrowers."
From The Intercept, Dec 22, 2017 "Puerto Rico Homeowners Brace for Another Disaster: Foreclosures":
"Roosevelt Cayman Asset Co., has 289 active foreclosure cases in federal court and another 56 in local Puerto Rican courts. Federal courts, typically not a venue for foreclosure cases, are seen as faster than local courts, so offshore companies like Roosevelt lean heavily on them.

Roosevelt is an affiliate of Rushmore Loan Management Services, which in turn services loans owned by private equity giant TPG Capital, managers of $73 billion in assets."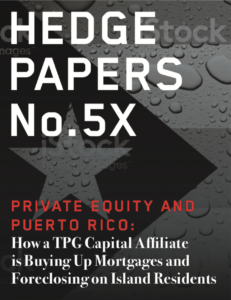 In December, watchdog group Hedgeclippers released a report "Private Equity and Puerto Rico: How a TPG Capital Affiliate is Buying Up Mortgages and Foreclosing on Island Residents."
Even prior to recent hurricanes, Puerto Rico faced an unprecedented foreclosure crisis that has destabilized families and communities. In June 2017, an average of 18 families lost homes every day to foreclosure in Puerto Rico, more than double the rate a decade ago during the global financial crisis. A record 5,424 homes were foreclosed last year, up 130 percent from nearly a decade ago, when the government first began tracking those numbers.
Recently, community groups and Puerto Rican diaspora groups sent letters to TPG Capital (TPG letter here) and Blackstone Group (Blackstone letter here) requesting meetings to discuss the firms' foreclosures. TPG Capital responded and has put a temporary halt (though March) on many, but not all, of its foreclosure cases in Puerto Rico. Blackstone has not responded (but has said a response is in the works).