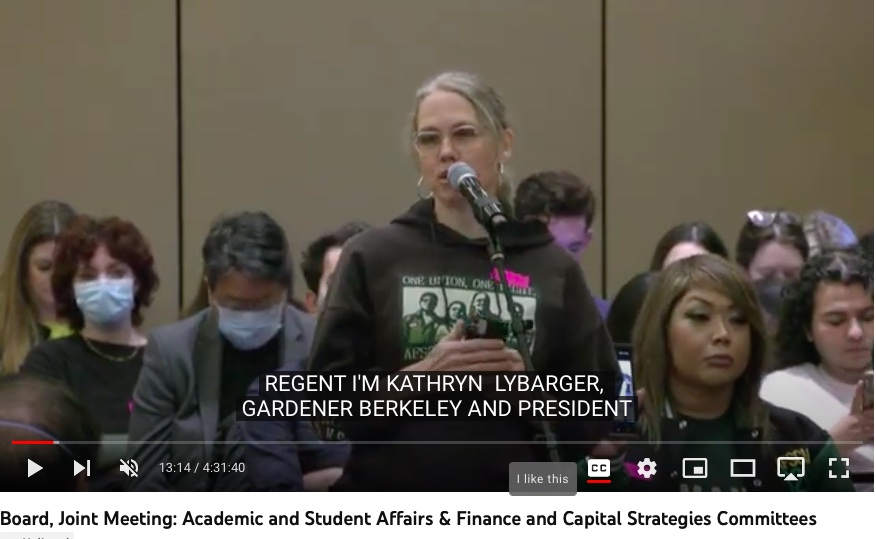 University of California feels heat over $4 billion Blackstone investment
In early January, the University of California (UC) announced that it was investing $4 billion in the Blackstone Real Estate Income Trust (BREIT).  The announcement provoked a backlash from Blackstone tenants and unions representing UC workers who criticized the deal.
In a letter to UC administrators, a coalition of unions representing 110,000 university employees wrote that UC's investment would worsen the housing crisis and make the cost of housing even more unaffordable. "We call on UC to divest immediately from its recently acquired BREIT holdings, along with the additional $2 billion the University already invests in Blackstone through the UC Retirement Plan and its General Endowment fund," the letter said.
"University of California's $4-billion real estate investment will worsen housing crisis, unions say," Los Angeles Times, January 20, 2023
At the January UC Regents meeting, Kathryn Lybarger, President of AFSCME 3299 told regents, "We are dismayed at the University's move to invest $4 billion of UC workers' hard-earned money in Blackstone, a company using an extractive real estate investment model that has accelerated our national housing crisis, and in turn, UC's own housing crisis."
Ten tenants who rent from Blackstone in San Diego and are members of the Alliance of Californians for Community Empowerment (ACCE) also addressed the regents meeting "to share stories of cockroach infestations, maintenance issues, and fears of rising rents and evictions."
"Blackstone's real-estate strategy, laid out in a leaked transcript, sets the stage for tenant battles over evictions and rising rents," Business Insider, January 19, 2023
Business Insider related the story of one of those tenants who has epilepsy and "requested moving from a second-floor unit into a first-floor apartment after her doctor recommended that living on the ground floor would be safer after an epilepsy flare-up. Blackstone initially approved her request, Gina said. But it told her last year the apartment would cost her $1,925 per month, an increase of nearly 50% from the $1,300 rent she paid, and that her housing assistance wouldn't cover rent. Gina had to stay put in her upstairs apartment — where she was also battling cockroaches and a faulty heater."