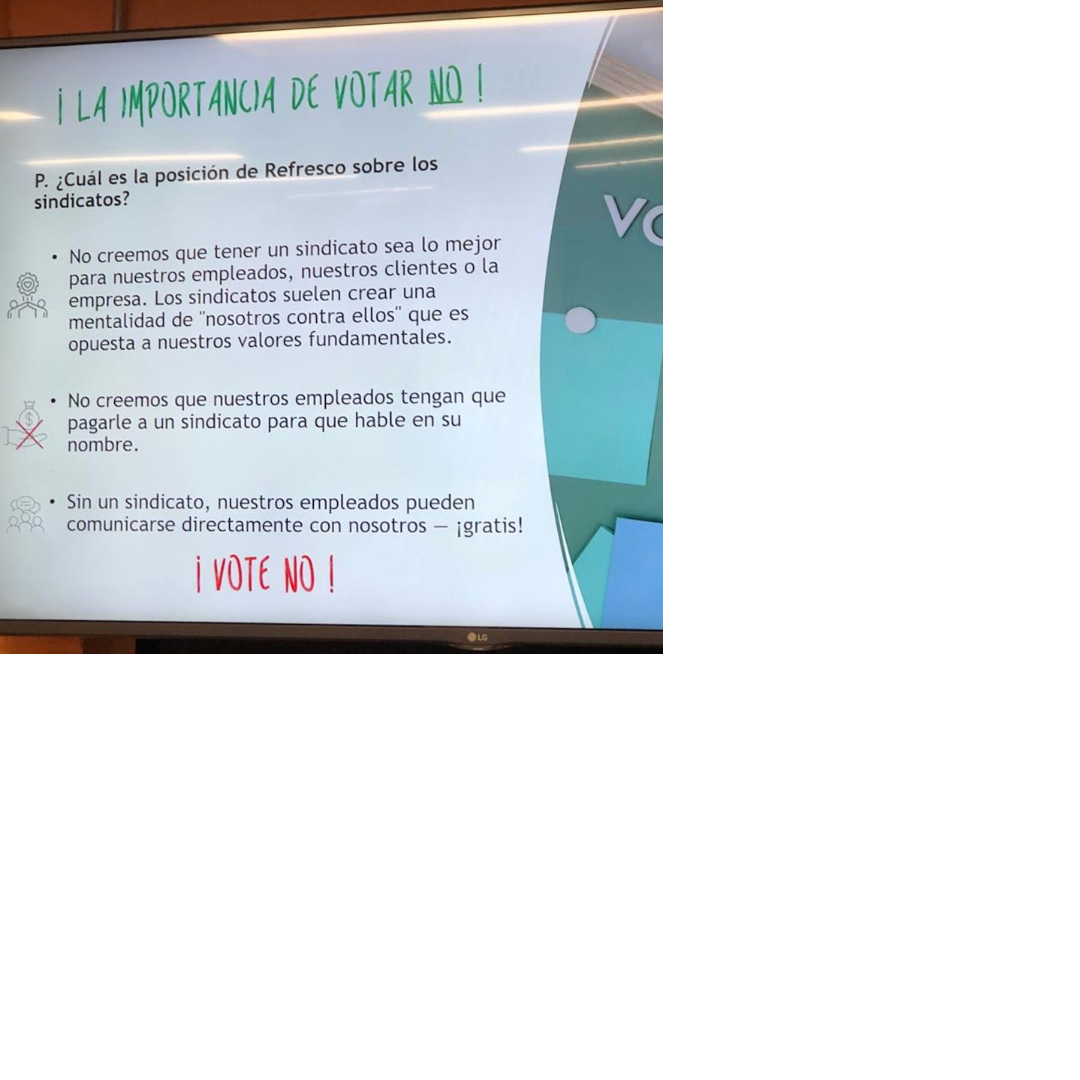 Will KKR allow workers the freedom to choose a union?
Private equity firm KKR recently acquired a majority stake in Refresco, the world's largest independent bottling company. Refresco produces beverages such as BodyArmor Sports Drink for Coca-Cola, Gatorade for Pepsi, Arizona Iced Tea, and Tropicana juices.
This spring, workers at the Refresco bottling plant in New Jersey will be voting on whether they want to join the United Electrical, Radio, and Machine Workers of America union (UE). KKR should ensure that Refresco remains neutral and not interfere with workers' right to a free and fair union election.
In June 2021, a majority of the almost 250 workers at the New Jersey bottling plant voted to join the UE to counter the abusive treatment by supervisors, low wages, minimal benefits, sexual harassment, constant schedule changes, and an unforgiving attendance system that penalized workers for getting sick.
Refresco had hired a notorious union busting law firm that has a long history of trying to prevent workers from organizing. Workers were not intimidated by the aggressive anti-union campaign, and a majority of the workers voted to unionize. However, Refresco refused to recognize and bargain with the union, contesting the results of the election because the polling site opened five minutes late. Refresco dragged out the process through objections, appeals, and requests for extension, until ten months later in April 2022, they got the National Labor Relations Board to order a new election.
KKR should ensure that for this election, Refresco refrain from anti-union practices, such as:
Requiring workers to attend mandatory "captive audience meetings," where Refresco or its consultants deliver anti-union messages
Flooding the workplace with anti-union literature, while banning union organizers from communicating with workers at the workplace
Firing or disciplining union leaders or supporters (The union recently filed an Unfair Labor Practice complaint, alleging that Refresco retaliated against a worker because he supported the union)
Suggesting that Refresco will close the plant if workers vote for the union
Having supervisors meet one on one with their direct subordinates to interrogate them about whether they support the union and to deliver anti-union messages
These types of coercive practices make it impossible for workers to freely exercise their right to unionize. Just this month, the National Labor Relations Board (NLRB) General Counsel Jennifer Abruzzo issued a memo that she will ask the Board to find that captive audience meetings are a violation of the law.
KKR must ensure that workers at Refresco are given a free choice to have a union.