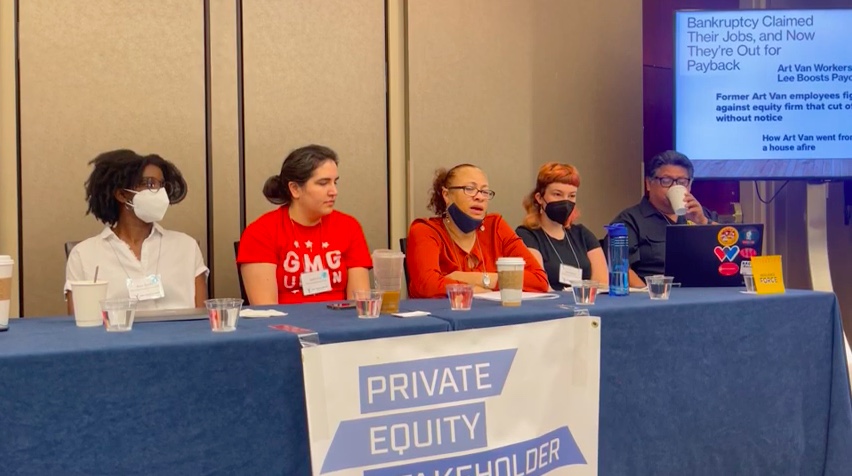 Workers Organizing Against Private Equity: PESP Hosts Successful Panel at Labor Notes
At the recent Labor Notes conference in Chicago, The Private Equity Stakeholder Project hosted a panel on organizing against private equity featuring researchers from PESP and workers from companies owned by private equity firms, representing the retail, manufacturing, disaster restoration, and media industries.
The panel opened with a brief introduction to how private equity investments are distinct from public investments, highlighting how the burden of private equity's cost-cutting strategy falls on workers. PESP also explained the role of pension funds in private equity: public pensions make up about a third of private equity funding. Workers may be invested in private equity through their retirement funds and have no idea where their money is going.
Panelists spoke to a packed space with standing room only!
The panelists included:
Shirley Smith, who lives in Michigan and worked at Art Van Furniture for 23 years: "Art Van was a family-owned furniture company. It was a great place to work, with great benefits, and offered financial stability. I was a single mom that purchased and paid for my home and built a nest egg for my future. TH Lee, a Private Equity Fund, purchased us in 2017 and snatched that future away." In 2020, Art Van filed for bankruptcy and laid off 3,100 employees in Michigan. After working there for more than two decades, Shirley was abruptly laid off with no severance.
Along with other workers demanding severance from Art Van owner TH Lee, Shirley spoke to public pensions in California, New York, and Pennsylvania that invested in the profitable private equity firm. After months of increasing public pressure and launching a successful petition, TH Lee first created a hardship fund of $1.1 million. Workers demanded more, winning an additional $1 million in the fund: "this is a bittersweet victory for us, as it falls far short of the fair severance each of us deserves… we didn't know what would happen, but we did know that if we remained silent, they would have walked away without giving us a dime." Now, Shirley is an organizer with United for Respect, and is supporting guaranteed severance legislation in Michigan and the federal Stop Wall Street Looting Act.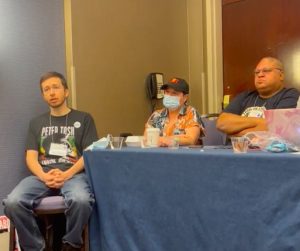 Anthony Sanchez and Licinia Ochoa work at a Refresco plant in New Jersey, bottling Gatorade, BodyArmor, Arizona iced tea, and Tropicana juices. Earlier this year, French private equity firm PAI Partners sold Refresco to KKR, one of the largest private equity firms in the world.
In a June 2021 election, Licinia, Anthony, and a majority of the almost 250 workers at the plant supported joining the UE to counter the abusive treatment by supervisors, low wages, minimal benefits, sexual harassment, constant schedule changes, and an unforgiving attendance system that penalized workers for getting sick.
Anthony explained how Refresco refused to recognize and bargain with the union: "The company again did everything it could to misinform and lie to workers about the union and get people to vote NO but the majority of us voted YES again and we beat Refresco for the second time in less than a year… In fact, we won by more than last year. They underestimated us." Workers at Refresco will continue to organize for a fair first contract.
Zella Roberts worked in North Carolina as a car-hop at Sonic Drive-In, which is owned by Roark Capital. Car-hops are tipped employees, and Sonic had no option for customers to tip by card, which is the primary way customers pay. Zella started a petition asking Sonic to upgrade its payment systems to allow for this, and presented the issue to investors across the country: "I spoke at several pension funds, including Los Angeles City Employees Retirement Systems, New Jersey State Investment Council, Arizona State Retirement System, and Oregon Investment Council… I found it empowering to stand up for my fellow workers and demand to be seen as a person."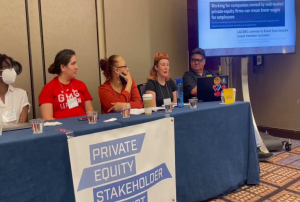 As of January 2022, following years of pressure from Zella and other workers, Sonic upgraded its system to allow customers to tip by card when using the Sonic app, and in March of 2022 Sonic began rolling out the option to tip via card in the stalls as well.
Daniel Castellano came to the U.S. from Peru 16 years ago under the H-2B guest worker visa program to help rebuild New Orleans after Hurricane Katrina. He began organizing with other guestworkers to counter the exploitative conditions and helped found the National Guestworker Alliance and then Resilience Force, which organizes disaster restoration workers. He spoke to how companies pit immigrant and local workers against each other, hoping to keep workers separated and unorganized.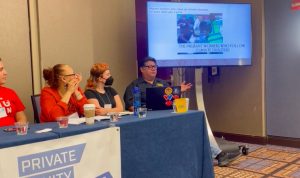 Despite this, Daniel continues to organize broad coalitions of workers. Earlier this year, the Private Equity Stakeholder Project and Resilience Force organized a briefing for investors, at which several state treasurers heard from ServPro workers about the problems they face.
Caitlin Cruz, representing journalists from the Gizmodo Media Group, told the story of how journalists won their digital strike and closed with a powerful statement about powerful institutions: "they are monsters, but they are not immortal."
Though the panel represented workers across a range of industries, private equity's reach goes even further. Audience members recounted their own experiences with private equity as it relates to housing, print media, health care, education, and more. Attendees also asked rich questions about how to know when a company is owned by private equity, what kind of legislation is in place to regulate private equity's power, and what steps they can take to get better conditions for workers in private equity portfolio companies.
Beyond the panel, PESP had a table for attendees to stop by and learn more about the organization and picked up hundreds of copies of PESP's reports on private equity and labor, healthcare, housing, and climate. PESP connected with workers and union organizers from across the country, and learned how we could support struggles against private equity. Furthermore, those who stopped by the table took action throughout the conference by participating in the CleanUp Carlyle campaign – attendees sent letters to the boards of prestigious universities on which Carlyle co-founder and co-chairman David Rubenstein sits on the board.
Since 1979, Labor Notes has offered a space for workers and union activists to create, strategize, and build community. In addition to publishing a magazine and website, Labor Notes hosts workshops and a bi-annual conference that brings together activists from around the world. This year, Labor Notes hosted its first conference since 2018, after canceling the 2020 conference due to Covid-19. More than 4,000 people attended the conference – the biggest in Labor Notes history. From Thursday to Sunday, organizers, researchers, journalists, and union members gathered for a weekend of powerful workshops.
Labor Notes was a great opportunity to learn, strategize, and take action with thousands of people building a more just society for workers and their families. We can't wait to return in 2024!