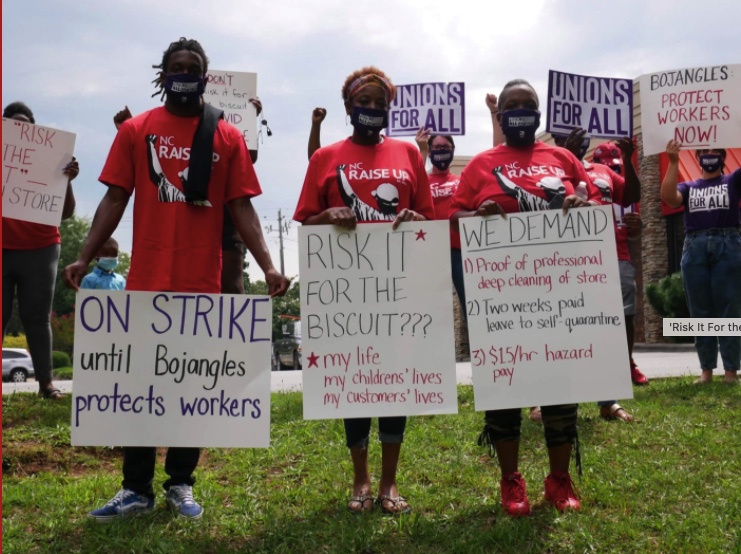 Workers Strike, Demanding Dignity and Respect from Private Equity-Owned Bojangles Restaurants
Right before the Thanksgiving holiday, Bojangles restaurant workers in Burnsville, NC, participated in their second action against private equity-owned Bojangles. They began a week-long strike on November 23 against their employer's mishandling of COVID cases and also for Bojangles' retaliation against its workers for speaking out against unsafe working conditions.
According to the Bojangles workers, their wages cannot cover the basics like food, rent, and utilities.
They also said multiple Bojangles workers were not properly notified of a COVID outbreak in stores across Western North Carolina — and that was when they decided to strike for dignity, safety and respect on the job.
An immediate raise to $15 an hour beginning on the next paycheck for ALL
Bojangles must provide PAID sick leave to all workers
Bojangles must cover the cost of COVID-19 testing and treatment for all affected crew members. When Bojangles crew members are diagnosed COVID-19 positive, Bojangles must:

Immediately close all store locations where the Crew Member(s) worked in the previous two weeks

Notify within 24 hours all crew members and the public at locations where COVID-19 positive crew members worked in the previous two weeks. Workers should be placed in quarantine and provided with two-weeks of quarantine pay

Conduct a deep clean of all locations where an employee who tested positive for COVID-19 worked in accordance with health department guidelines to ensure that returning workers and customers are safe

Make the infection public knowledge for the good of community health

Bojangles must provide COVID-19 Essential Worker Pay of at least double $15/hour for crew members who continue to serve the public during this pandemic
Two private equity firms, The Jordan Company and Durational Capital Management, acquired Bojangles in 2019 for $593 million.  The Jordan Company has over $13 billion in assets.