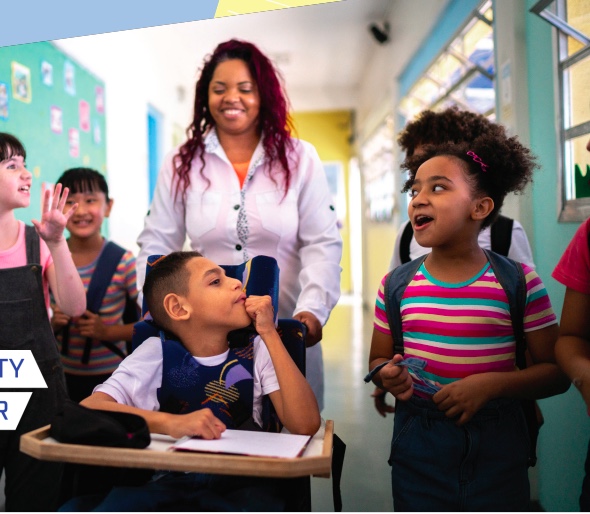 New PESP Report Examines Private Equity in Education: How Wall Street Profits from a Public Good
Private equity firms and the companies they own come in contact with students, teachers, administrators, and families in a variety of ways in the education sector. With the power to create educational content and administer tests, hire school staff, manage student data, and own for-profit schools comes the great responsibility of acting in the best interest of students, not profits. A new report from the Private Equity Stakeholder Project explores who ultimately decides what students learn in the classroom, and what happens when public funding of education begins to look more like a monopoly, benefitting Wall Street investors.   
Private equity-owned companies are major players in curriculum development and test administration in the US, providing content for students in classrooms and at home. Portfolio companies of these private equity firms not only create platforms that make learning possible but also develop and administer the instruction itself. As districts across the U.S. face teacher shortages, edtech companies are stepping in to provide platforms for supplemental or full instruction. Furthermore, several of the largest standardized testing providers are owned by private equity firms, bringing in hundreds of millions of dollars through state-wide testing contracts.
Private equity firms and the companies they own have promised to improve educational outcomes for struggling individual students and schools through new technology, personalized learning strategies, and resources for staffing and administration, but there is no conclusive data showing that school funding is better spent at private-equity owned companies than staying within the district. Private equity firms have acquired educational institutions themselves such as early childhood education centers, private and charter K-12 schools, and for-profit colleges. Overall, outcomes for higher ed students at for-profit institutions are worse than at public or private non-profit schools. Furthermore, for-profit colleges have exacerbated racial disparities and educational outcomes. 
In 2021, private equity firms completed a record number of deals in the education sector, following a trend that has seen increases each year since 2007 and the impact of private equity on our country's education systems deserves scrutiny.