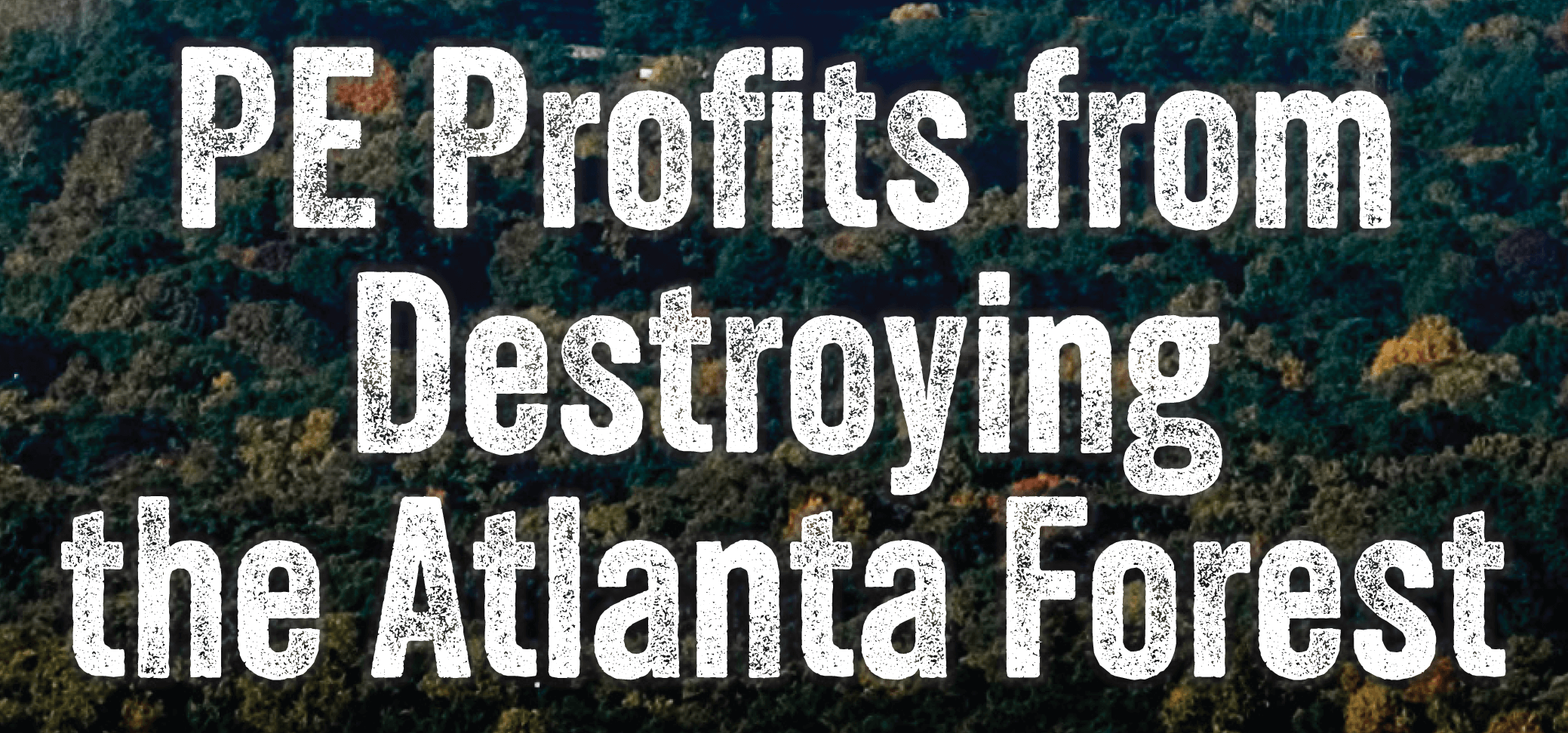 PE Profits from Destroying the Atlanta Forest
New research compiled by the Private Equity Stakeholder Project illuminates the link between private equity (PE) companies and two controversial projects in Atlanta: Cop City and Blackhall Studios. The report, "PE Profits from Destroying the Atlanta Forest," details the ways private equity capital has been utilized to fund projects that aim to demolish large swaths of the Atlanta forest. Private equity faces limited disclosure requirements around the details and activities of their investment funds. This lack of transparency has shielded PE firms from public view and scrutiny as they profit off the destruction of the forest and increased policing and violence in Atlanta.
Uncovering private equity connections to Cop City and Blackhall Studios
Private equity firm Roark Capital owns Inspire Brands, which is a large, corporate backer of the Atlanta Police Foundation (APF). As of February 2023, Roark claims $33 billion in assets under management. Inspire Brands generated $30 billion in sales in 2021. Inspire Brands also has multiple relationships with the APF. Inspire's CEO Paul Brown sits on the Atlanta Police Foundation Board of Trustees, and Marshall Freeman, who served as COO of APF for seven years, is a board member of the Inspire Brands Foundation.
The new report also calls attention to PE firm Silver Lake Management. The firm has a more than $1 billion investment in Motorola Solutions, which has sold more than $22 million worth of products and services to the Atlanta Police Department (APD) since 2016. Another Silver Lake investment, Shadowbox Studios, is encroaching on Atlanta's forest. The media company had plans to expand studio space by 1,000,000 square feet on a large swath of vital Atlanta green space.
*Map of corporate supporters of the Atlanta Police Foundation created by LittleSis.
The report shows how local communities are pushing back against these Atlanta-area projects, and how these community members look for different avenues of pressuring the projects' supporters in order to prevent any further destruction and violence. Knowing the relationships Roark Capital and Silver Lake Management have with Cop City, Blackhall Studios, APD, and APF will give activists another tool to demand accountability for the recent violence and the destruction of the Georgia environment.