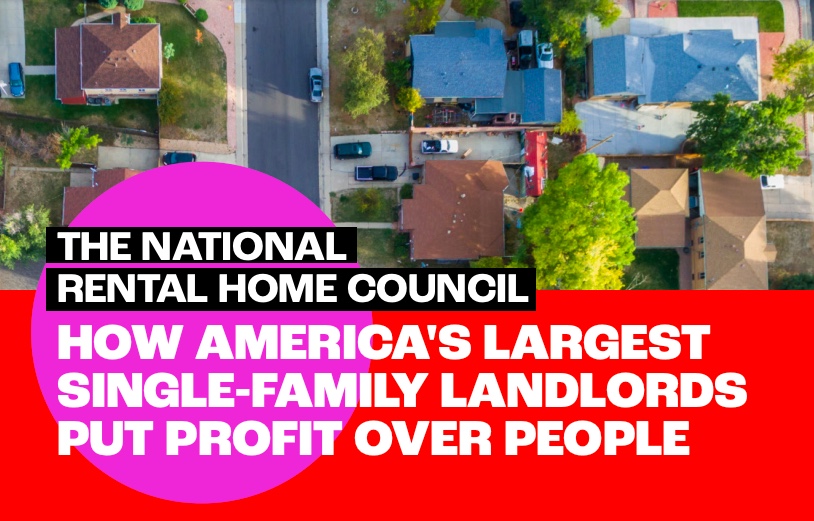 The National Rental Home Council: How America's Largest Single-Family Landlords Put Profit Over People
A new report was released last week by Action Center on Race and the Economy, Private Equity Stakeholder Project and Center for Popular Democracy. "The National Rental Home Council: How America's Largest Single-Family Landlords Put Profit Over People" explores the role of the National Rental Home Council in supporting Single-Family landlords profiting at the expense of tenants.
Over the past decade, housing in the U.S. has become increasingly consolidated into the hands of corporations, while rents and home prices have skyrocketed to unprecedented levels. The consolidation of single-family rentals into the hands of investor landlords began in the aftermath of the 2008 foreclosure crisis. The five largest single family rental (SFR) operators, cumulatively own or operate almost 300,000 homes and have come under increasing scrutiny for their negative impacts on the housing market. The National Rental Home Council (NRHC) prioritized unrestricted growth and continued dominance for these five companies, who already account for almost 300,000 of the estimated 350,000 corporate-owned SFR homes across the country.
Founded in 2014, the NRHC is the primary lobbying and advocacy group for the SFR industry. Like more established real estate trade groups such as the National Multifamily Housing Council and the National Association of Realtors, the NRHC exerts influence both directly, by lobbying for legislation and donating to elected officials, and indirectly, by repeating talking points to the press that reinforce their desired narrative about their industry. The NRHC has nearly 80 member companies and claims to speak for the whole SFR industry, including "mom and pop" landlords, but there are only four companies that have almost exclusively occupied the organization's leadership positions since its founding: Invitation Homes, Progress Residential, American Homes 4 Rent, and Tricon Residential. Executives from these four corporations have consistently held the President, Vice-President, Secretary, and Treasurer positions. By 2020, the FirstKey Homes CEO had joined the board, and is currently the NRHC chair.
We should be deeply concerned about the NRHC's plans to influence policy at the state and local level, because their leadership and largest members have a documented history of maximizing profits at the expense of tenant safety and well-being. Based on these companies' track records, we should all be concerned about their ambitious plans for continued expansion, and the billions of dollars investors have flooded the rental market with over the past year.
Although industry groups like the National Rental Home Council claim that increasing corporate ownership of single-family rentals is a positive thing, tenant stories make it clear what happens when we allow the SFR industry to pursue maximum profits at the expense of safe, decent, affordable housing for their tenants.
Read the full report here.