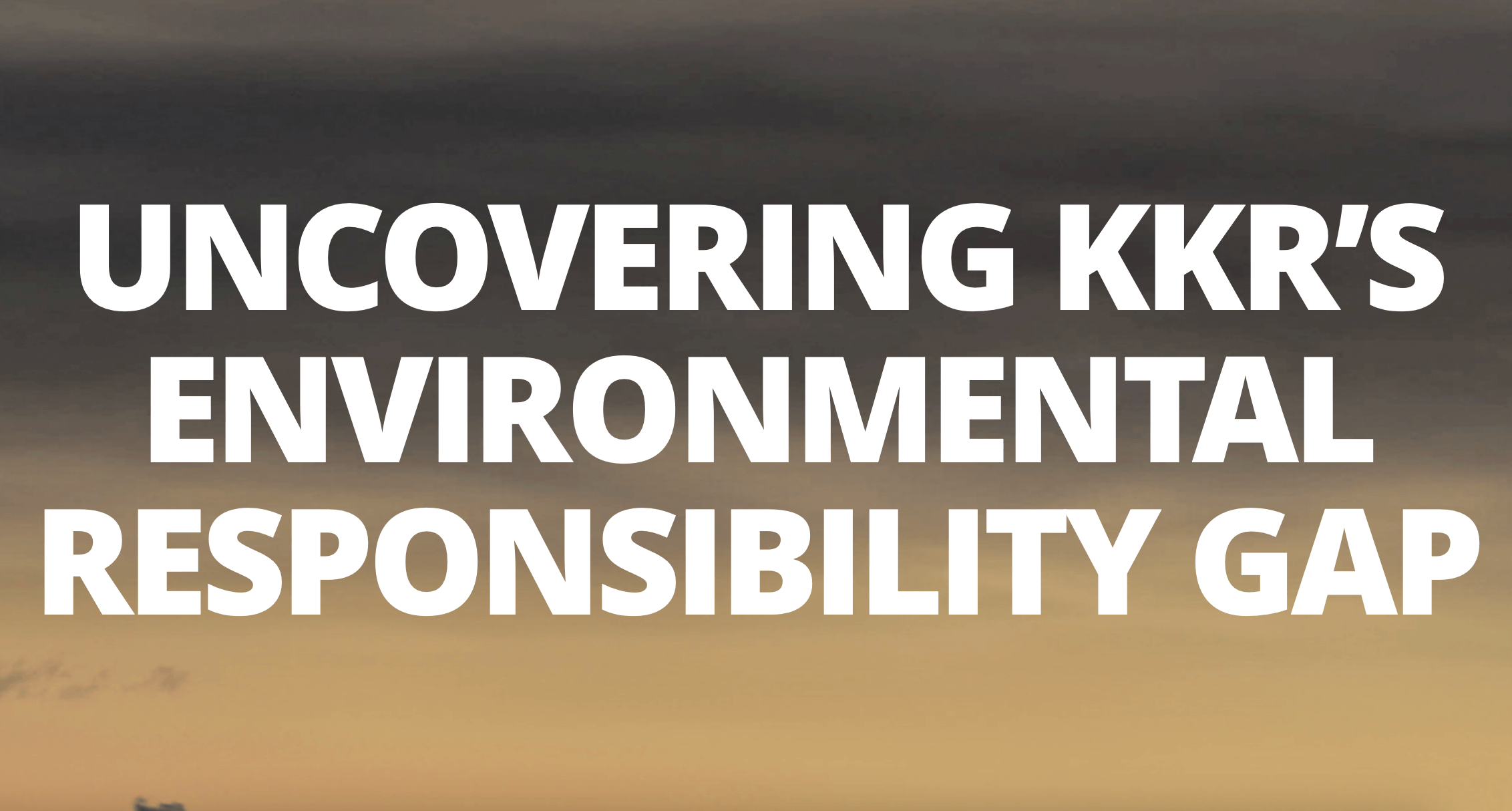 Uncovering KKR's Environmental Responsibility Gap
Private equity behemoth KKR's portfolio companies have committed numerous environmental violations and engaged in unethical business practices while contributing to the climate crisis, as KKR put money into fossil fuel projects that run decidedly counter to its preferred public image of a good steward of the Earth.
A new report, "Uncovering KKR's Environmental Responsibility Gap" examines how Kohlberg Kravis Roberts & Co. and its affiliates have run three liquefied natural gas (LNG) investments—the Coastal GasLink pipeline in Canada; the Port Arthur LNG project in Texas; and Cameron LNG in Louisiana. Environmental protection agencies have already cited two of the projects for violations. Nevertheless, KKR companies expanded the projects over vocal opposition of local communities.
Seventy-eight percent of private equity firm KKR's energy portfolio companies are invested in fossil fuels. Despite claims to being a more responsible company than other fossil fuel operators, their claims to environmental stewardship, health and safety, and community engagement appear hollow. The firm's investment practices are actively harming communities, especially low-income, Black, Latino, and Indigenous communities, which will bear the brunt years after KKR exits these investments.
Case studies in the KKR brief
BRITISH COLUMBIA, CANADA
Coastal GasLink Pipeline
In 2019, KKR and the Alberta Investment Management Corporation announced the co-acquisition of a majority stake in the Coastal GasLink Pipeline. A group of hereditary chiefs of the Wet'suwet'en National allege that the pipeline construction project is said to violate First Nations' right to free, prior, and informed consent and is resulting in environmental degradation.
TEXAS, UNITED STATES
Port Arthur LNG Project
KKR is the largest owner of the proposed large-scale LNG export terminal in Port Arthur, Texas – an industrial town with a high concentration of oil refineries. Once built, this terminal will likely increase the amount of toxic pollutants in the air, a health risk for residents, who are already exposed to some of the highest levels of lifetime cancer risk from toxic air inhalation in the country. The facility is scheduled to begin operation in 2027-28, and will enable a significant increase in greenhouse gas emissions, jeopardizing efforts to prevent dangerous climate change.
LOUISIANA, UNITED STATES
Cameron LNG Project
The facility's history of environmental violations and air and water pollution is another example of the disconnect between KKR's claims of "responsible stewardship" and the real-world impact of its investments. The Cameron Parish has struggled financially due to Louisiana's Industrial Tax Exemption Program, which excuses new facilities from property taxes for 10 years. Cameron LNG proposed a mitigation arrangement to address a state tax exemption that the parish assessor estimated would have cost the Parish up to $1.5 billion in lost tax revenue over the long run. The facility has repeatedly breached state and federal environmental regulations and sits in a severe flood risk area, raising additional alarm.
Read the full report here.