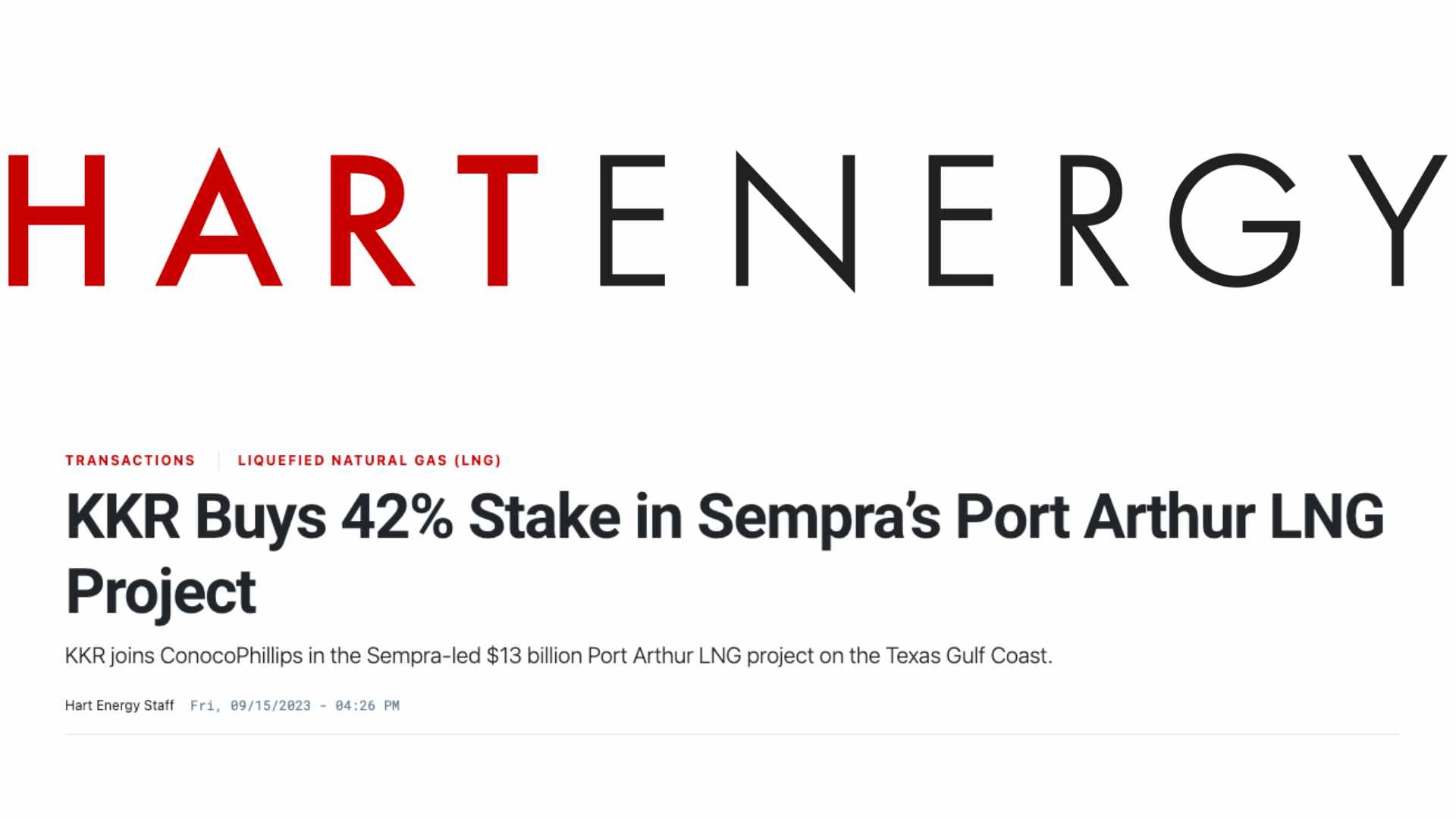 Hart Energy : KKR Buys 42% Stake in Sempra's Port Arthur LNG Project
In September, private equity firm KKR announced the completion of its 42% stake in Port Arthur LNG Phase 1, via Sempra Infrastructure. First announced this spring, KKR's commitment of new funding for the proposed LNG export terminal helped the project reach a final investment decision.
The announcement of KKR's purchase of Port Arthur equity comes as a new investigation was released last week by the Private Equity Climate Risks data project. The report, titled "Uncovering KKR's Environmental Responsibility Gap," examines how KKR and its affiliates have managed three LNG investments—including the Port Arthur LNG project in Texas. Despite citations for environmental protection violations for two of the projects, KKR companies have expanded the projects over the opposition of local communities.
The oil and gas publication Hart Energy covered the private equity sale completion as KKR joined ConocoPhillips in the Sempra-led $13 billion LNG project. Hart Energy included the disapproval that KKR's involvement in the project has received from PESP and similar, partner advocacy organizations.
"KKR's messaging on the climate risks of their investments is not consistent with their actual investment actions," said Nichole Heil, PESP climate researcher and campaigner. "Even with KKR's showcased renewable energy initiatives, 78% of the company's energy portfolio remains centered on fossil fuels. And with almost half of Port Arthur equity being owned by KKR, the firm is culpable for the community and climate harms the project produces.
"The Port Arthur terminal will increase the toxic pollutant exposure for this predominantly Black and Latino coastal town."